The Simple Woman's Daybook for December 29, 2014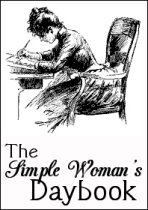 FOR TODAY

Outside my window… the sky and ground are gray after a hard frost last night.
I am thinking…
about the coming week, the end of a year, the start of new things to
revel
in.

I am thankful… for the wonderful times we got to spend with both extended families over the long weekend to celebrate the incarnation.

In the kitchen… I need to make the grocery list and plans for our New Year's food.

I am wearing… pajamas.
I am creating…
new plans for big
changes
in 2015.

I am going… to Trader Joe's and Whole Foods.

I am wondering… how late the children will sleep. I am hearing some stirring.
I am hoping…
to get back to reading
The Narnian
by Alan Jacobs.
I am looking forward to… Ohio State vs Alabama in the Sugar Bowl. Go Buckeyes!!

I am learning …
about
Simplified Organization
. I am on the first action step and have been assigned 3 quotes to find. I'll share them when I find them.

Around the house… vacuum. laundry. Seriously.

I am pondering… The need to be physically and mentally present in order to revel. I need to start closing mental browser tabs when talking and being with others.
12 Who has measured the waters in the hollow of his hand

and marked off the heavens with a span,

enclosed the dust

of the earth in a measure

and weighed the mountains in scales

and the hills in a balance?

13

Who has measured the Spirit of the

Lord

,

or what man shows him his counsel?

and who made him understand?

Who taught him the path of justice,

and taught him knowledge,

and showed him the way of understanding?

15

Behold, the nations are like a drop from a bucket,

and are accounted as the dust on the scales;

behold, he takes up the coastlands like fine dust.

16

Lebanon would not suffice for fuel,

nor are its beasts enough for a burnt offering.

17

All the nations are as nothing before him,

they are accounted by him as less than nothing and emptiness.

18

To whom then will you liken God,

or what likeness compare with him?

19

An idol! A craftsman casts it,

and a goldsmith overlays it with gold

and casts for it silver chains.

20

He who is too impoverished for an offering

chooses wood that will not rot;

he seeks out a skillful craftsman

to set up an idol that will not move.

21

Do you not know? Do you not hear?

Has it not been told you from the beginning?

Have you not understood from the foundations of the earth?

22

It is he who sits above the circle of the earth,

and its inhabitants are like grasshoppers;

who stretches out the heavens like a curtain,

and spreads them like a tent to dwell in;

23

who brings princes to nothing,

and makes the rulers of the earth as emptiness.

24

Scarcely are they planted, scarcely sown,

scarcely has their stem taken root in the earth,

when he blows on them, and they wither,

and the tempest carries them off like stubble.

25

To whom then will you compare me,

that I should be like him? says the Holy One.

26

Lift up your eyes on high and see:

who created these?

He who brings out their host by number,

calling them all by name,

by the greatness of his might,

and because he is strong in power

not one is missing.

27

Why do you say, O Jacob,

and speak, O Israel,

"My way is hidden from the

Lord

,

and my right is disregarded by my God"?

28

Have you not known? Have you not heard?

The

Lord

is the everlasting God,

the Creator of the ends of the earth.

He does not faint or grow weary;

his understanding is unsearchable.

29

He gives power to the faint,

and to him who has no might he increases strength.

30

Even youths shall faint and be weary,

and young men shall fall exhausted;




31

but they who wait for the

Lord

shall renew their strength;




they shall mount up with wings like eagles;




they shall run and not be weary;




they shall walk and not faint.
One of my favorite things…
When our pastor preaches on just the same topics I've been considering. Waiting on, pursuing, seeking, reveling in God because he is so wholly, Holy Other. We can know Him in his incomprehensibility. Just
listen
.



A few plans for the rest of the week … Still slow. Piano. Maybe some cleaning. Go Buckeyes!
A peek into my day…stocking explosion 🙂