I'm very pleased to present my eBook: I Am, I Can, I Ought, I Will: Charlotte Mason's Motto Explained for Upper Elementary Students.  
This book is a Biblical study of the underpinning ideas found in Charlotte Mason's motto: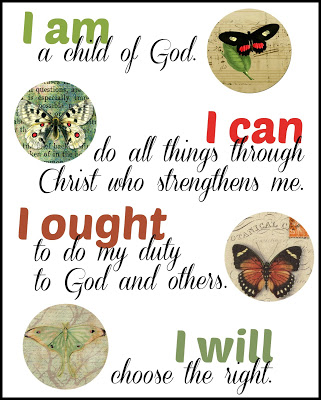 Click on picture for PDF File
"I am" discusses our relationship with God; "I can" discusses Christ's power acting through us; "I ought" shows students how the Ten Commandments and God's Law are intricately linked and given to us for our good; and "I will" encourages students to choose the right by exercising the means of grace and practicing habits of Reason, Conscience, and Affections in those choices.  There are ten short meditations for each section and easily used during a Circle or Morning Time.
Endorsements:
Brandy Vencel from

Afterthoughtsblog.net

, "

[Dawn] has given a lovely, lovely gift to the Charlotte Mason community in the form of 

her new free ebook

, which is a sort of daily meditation on Charlotte Mason's motto, "I am, I can, I ought, I will.""

Karen duBarry from Living, Unabridged, "

Even if you're not a Charlotte Mason homeschooler (I am not), you really need to see this 

new devotional on her motto "I Am, I Can, I Ought, I Will

," from Dawn at ladydusk. It's completely free but don't let the price tag fool you as to its value."

Mystie Winckler from Simply Convivial, "

We're reading it during our Morning Time and it's superb. I recommend it absolutely and whole-heartedly, even if you aren't using the Charlotte Mason method – by thinking about who we are and what we are called to do, we become more focused and able to do our work with a good will. That is true for moms and that is true for kids. 

Dawn's book will give you the words and the structure to meditate on those truths together with your kids."

Ashley Woleben from Between the Linens, "She takes the big abstract ideas, whittles them down to the essence, then applies them to practical life expanding the idea in context of how to live the idea. Her e-book,  I Am, I Can, I Ought, I Will: Charlotte Mason's Motto Explained for Upper Elementary Students 

is the perfect opportunity to teach children embodiment through scripture meditation. … 

While Dawn and I are from different dogmatic Christian denominations, her lessons were so very eloquent and intrinsic to loving Christ that I did  not find it to be an issue."