Scaffolding as Atmosphere, Discipline, and Life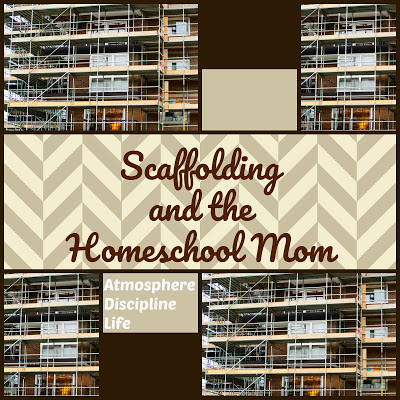 When
we think about lesson planning and curricular development, we can
easily become overwhelmed by the vast amount of resources and
approaches to any given lesson or study.

But
by using scaffolding in planning both the short- and long-term, we
can make a plan that is reasonable and approachable without being
overwhelmed.
What
is scaffolding? Scaffolding is a tool used in construction, repair,
and cleaning to help workmen reach the work at proper elevation and
location. It supports and protects them so they can focus on the work
at hand, not their balance or safety. It analogizes beautifully into
the work we do in education. We build a scaffold – whether in a
lesson or a course of study – so our students can learn at
appropriate levels and locations.
Charlotte
Mason, an educational philosopher in the early 20th
Century, posited that because children are born persons we have three
instruments available to us for teaching said persons. These
instruments teach without prodding, bribery, or guilt trips. She
says,
Therefore,
we are limited to three educational instruments–the atmosphere of
environment, the discipline of habit, and the presentation of living
ideas. The P.N.E.U. Motto is: "Education is an atmosphere, a
discipline, and a life."

Taking
these two ideas together, we can see Atmosphere, Discipline, and Life
as the scaffolding to help your students learn and grow into
maturity.
Hop over to the True North Academy blog to read the rest – some application of how scaffolding is Atmosphere, Discipline, and Life. I plan to revisit and add to this series in the coming weeks, too. I'm excited to be a monthly contributor to their blog – and have this be my first entry.
Here's the series so far:
Scaffolding is Life

Scaffolding in a Lesson

Scaffolding Under Conditions