Our Weekly Amble for January 16-20, 2017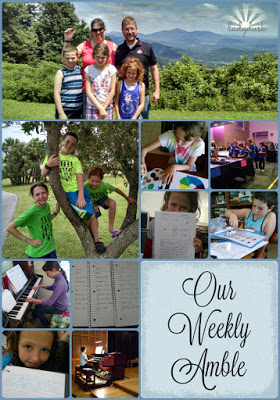 We had a pretty good week. Things weren't as smooth as they were our first week – but frankly they never are. The first week, even though restarting routine has it's challenges, they're challenges everyone kind of wants to face. They're starting back. They're ready for days to be predictable again. The second week, it feels like monotony already and they think they want freedom from a somewhat restrictive schedule. But we don't. It's a war within ourselves to eschew the boundaries we love.
Most of our schedule went as planned. We arrived at our outside places on time. We had our work done in a reasonable amount of time one day. On Thursday, on our way to organ practices, I fell out the front door with the dog. The day had already been challenging with a huge fit that required a call to Daddy to settle (that's the worst) and the internet being down. I'm still relatively sore from falling half-in, half-out of the house. That threw things off somewhat for Friday, too.
We worked throughour Whatchamacallit schedule three of four days. We listened to our folk song for the month, looked at Mary Cassatt's painting of a mother bathing her child and watched this video about it. I had recently heard about the video on the At Home podcast so was pleased to share it with my children. We fought through some of our counted cross stitching – well, M-girl is not struggling. We made our way through some more of The Chestry Oak, which I'm sure you understand I'm loving. We have one more week of our "Review month" of Morning Time. Jason has challenged the kids to refresh their Catechism for Young Children questions and answers and take them to the Elders to show they know it, so we've been reviewing that instead. It was a writing week, so we did a good part of our Writing and Rhetoric lesson, but did not Friday Free Write.
Math is going well. M-girl is still enjoying the ease of the beginning of a new math book review lessons. N-boy is working on fractions and decimals and their relationship. R-girl is in a section on geometry and measurement.
The children finished Latin for Children Book A! Huzzah! It took us 2 years and at times was exasperating, but I feel quite accomplished that we've made it. R-girl struggles the most, M-girl and N-boy are doing well. I'm considering letting M-girl work faster – one lesson per week instead of over two weeks. I'll need to ask her about that in our weekly meeting later.
We are caught up on all of our readings for Ambleside Online Year 5 with the exception of Kim which we are one chapter behind on. I'm hoping to fix that soon. The children were all very pleased that Samuel Morse's story turned out happily, loved Mr. Halliburton's story of Joab's fissure under Jerusalem, and were more engaged with peat bogs from Madam How, Lady Why than I expected.
I took the time during my preparations last week to find some video and maps to share with them regarding the last two. For Madam How, Lady Why we looked at a peat bog, a very simple video about glacial moraines, and pictures of garfish. The father also refers to pictures of Christmas Sound and Possession Bay from Captain Cook's travels, so we looked at those pictures. This is what preparation has done – we have better lessons and the text is, therefore, more enjoyable.
M-girl is doing well with the added expectations. She's copying 1 Peter into a notebook (instead of the Shorter Catechism), has a commonplace book for quotes, and a geography record book to note places in. The others also have geography records, but not the rest. I ordered Books of Centuries that should ship next week for us from Riverbend Press, so I'm not pushing her to add that quite yet. Her written narrations have improved sharply over the break. I think she has come to see, with some maturity, how much she is capable of and that she needs to be more responsible. I'm very pleased by this.
R-girl's written narrations – I only require two per week – are also much improved. She's taking her time with them. By freeing her from piano practicing, she is finishing her work more quickly every day. She also much prefers the Teddy Roosevelt biography we're reading now to the Lilias Trotter one from last term.
N-boy is still struggling with wanting to do the least amount possible and still get by. I think this is not an unusual attitude for children – it was certainly mine when I was his age – I think we need to talk about it. He struggles mightily with being the only boy in the house for most of the day.
In the evenings we've been slowly working through The Young Peacemaker which is giving us a common vocabulary for conflict and resolving it. We're also reading Swallows and Amazons, although we took a slight detour this week and Jason read Ray Bradbury's short story "A Sound of Thunder" to us and we had some intriguing discussions out of that.
We didn't go on our planned nature hike yesterday because I wasn't up for it, but Jason wanted to walk today, so he and the kids are on an adventure even as I type.