The Simple Woman's Daybook for January 23, 2016
For Today…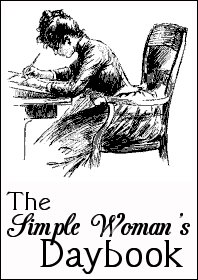 Looking out my window … it's still dark.
I am thinking … about the coming school week and the reading I still need to accomplish. And the reading I need to do before my CM group meeting tonight.
I am thankful … for likeminded friends who want to go to CiRCE's Kindred Conference and are willing to take me along with them! So excited!!

One of my favorite things … is the fellowship of the church where likeminded – but not lockstep minded – people gather to learn, grow, encourage, and love.
I am wearing … pajamas still, but I need to get dressed soon.
I am creating … new habits and routines for school review and preparation. Two weeks of weekly meetings with my children have been a blessing and something so helpful.
I am reading … To Kill A Mockingbird. Again. I started it last summer and picked it up again the other night because I was taking a bath (read: no electronics) Sometimes my phone is that much easier and books get lost in the shuffle. The chapter I read though – about the lady breaking her dependence on morphine – blew.my.mind. Some of the most powerful reading I've ever done.
I am hoping … R-girl's appointment for spacers this morning goes well. And thankful that only one of my children seems to need orthodontics. Pray for her?
I am learning … so many things. This morning I listened to yesterday's Bible reading from the ESV podcast and it was Joseph in the jail – his response to the jailor and how he worked and took responsibility even when he was grossly wronged to be there. The New Testament reading was Jesus' teaching the parable of the talents and the good and wicked servants and how they used what they had been given. Many connections and much to chew on.
In my kitchen … I smell the French Toast Casserole for breakfast. Yum.
In the school room … I still have piles of books to put away from my pre-reading. I need to make our Spiral Notebooks for the day.
Shared Quote … From Carry a Big Stick: "Happy homes are the responsibility of husbands and fathers — but inevitably it is wives and mothers who make it so." Theodore Roosevelt
A moment from my day … the family who reads together …
Closing Notes:
I've been thinking about Hobbies and the Homeschool Mom both here and as guest posts at Pam Barnhill's blog. I'd love to have your thoughts! I figure Daybookers are pretty invested in a variety of work 🙂
Linking up with The Simple Woman.