I've been reading 1 Peter 1 for a few days, and will do so for a few days more. In September, I started to read some of the single chapter books of the Bible on repeat for a week at a time. Then, I decided to do 1 Peter, reading a chapter a week (or so).
Blessed be the God and Father of our Lord Jesus Christ! According to his great mercy, he has caused us to be born again to a living hope through the resurrection of Jesus Christ from the dead, to an inheritance that is imperishable, undefiled, and unfading, kept in heaven for you, who by God's power are being guarded through faith for a salvation ready to be revealed in the last time. In this you rejoice, though now for a little while, if necessary, you have been grieved by various trials, so that the tested genuineness of your faith—more precious than gold that perishes though it is tested by fire—may be found to result in praise and glory and honor at the revelation of Jesus Christ. Though you have not seen him, you love him. Though you do not now see him, you believe in him and rejoice with joy that is inexpressible and filled with glory, obtaining the outcome of your faith, the salvation of your souls. (1 Peter 1:3-9 ESV, emphasis mine)
This passage jumped out at me as the proper, Biblical definition of *revel* my word of the year for 2015.
When we *revel* do we not "Rejoice with joy that is inexpressible and filled with glory?" Other translations show that the noun joy is modified by "inexpressible" and "filled with glory." The JB Phillips translation is lovely:
At present you trust him without being able to see him, and even now he brings you a joy that words cannot express and which has in it a hint of the glories of Heaven.
Joy that is so hard to explain in words, but can be felt in the depths of our souls and joy that is glorious. Glory is defined as (1) high renoun or honor and (2) beauty or as a verb to take great pride or pleasure in.
When I started this series, I found that *revel* means, 'to take intense pleasure or satisfaction in.'
I think that works!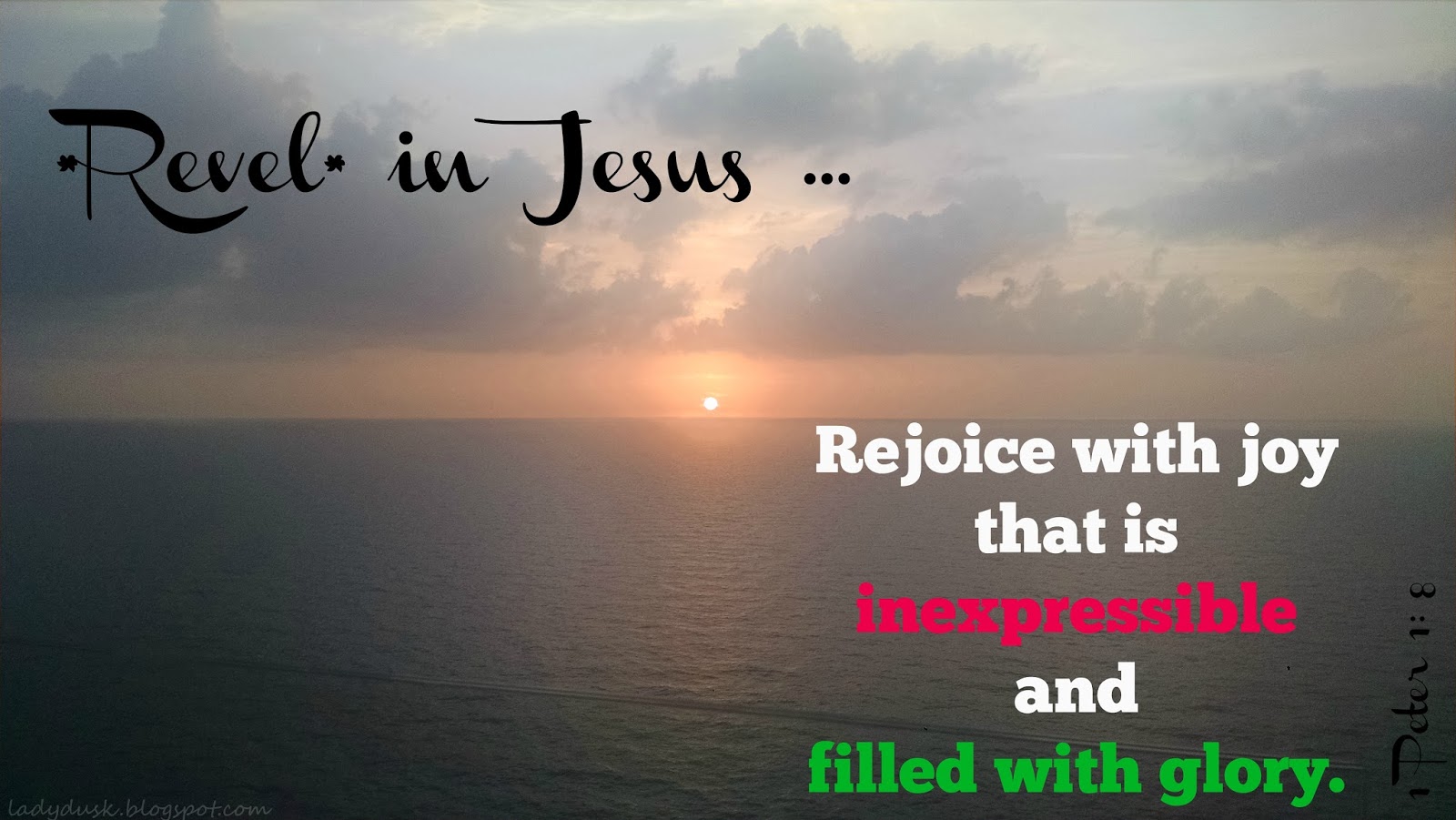 Look, then, what Peter says we are to *revel* in: Him we do not now see – Jesus whom we love.
So we believe in him, without seeing, and rejoice with joy that is inexpressible and hints at the glories of heaven.
At the beginning of the passage, we were enjoined to remember that heavenly inheritance – those glories. During his earthly ministry, Jesus instructed,
"Do not lay up for yourselves treasures on earth, where moth and rust destroy and where thieves break in and steal, but lay up for yourselves treasures in heaven, where neither moth nor rust destroys and where thieves do not break in and steal. (Matthew 6:19-20 ESV)
this month, I might add "where dogs don't eat your loveseat."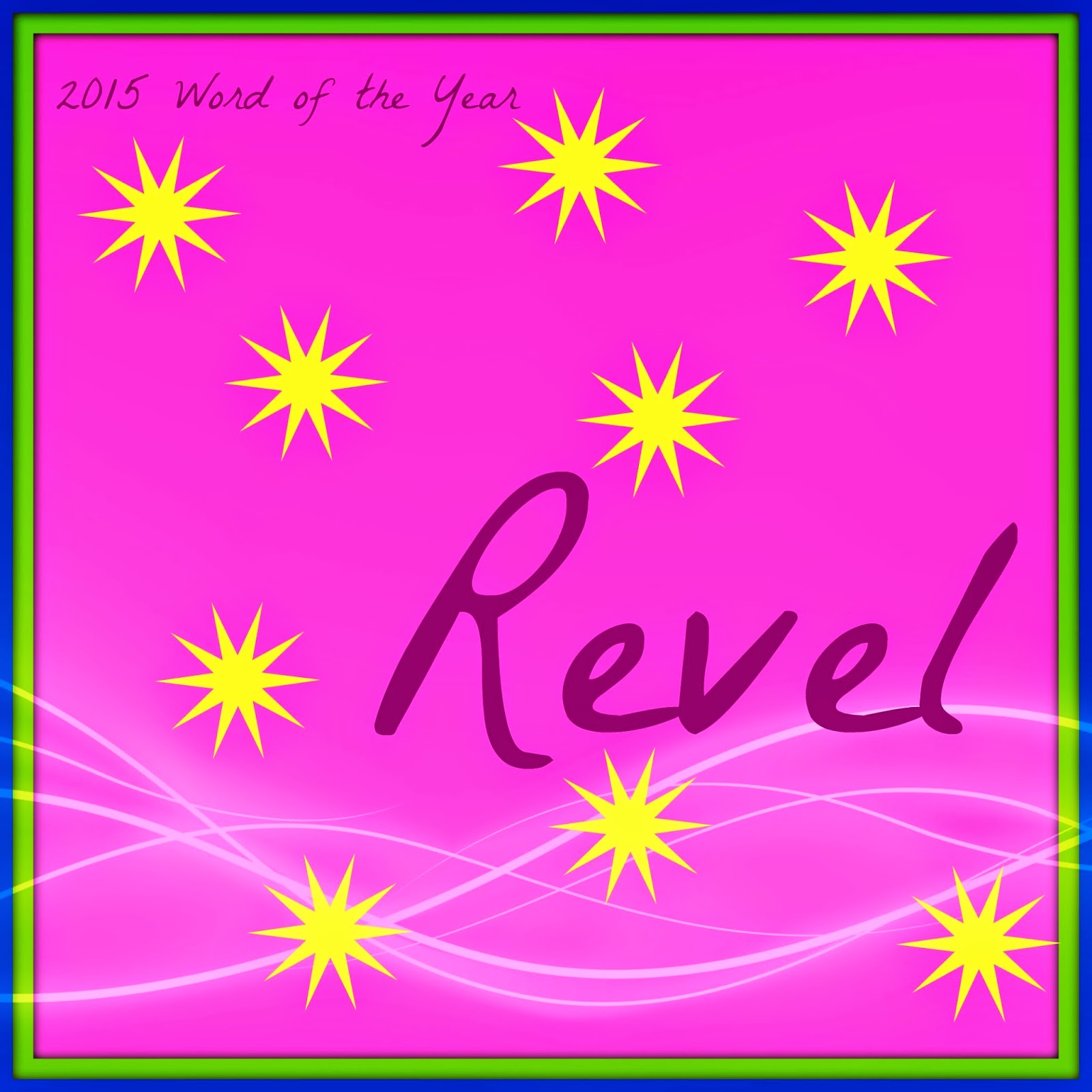 Anyway, the Father is guarding the treasure for us … imperishable, undefiled, and unfading. It is really real. Our pastor has been preaching about Philippians and this past Sunday, he preached on Philippians 2:1. "So if there is any encouragement in Christ, any comfort from love, any participation in the Spirit, any affection and sympathy … " These are treasures we begin to have access to now. Pastor says this would be better translated "As surely as" instead of "if." These words and feelings – encouragment, comfort, participation, and love – are treasures that the eternal Trinity has in their relationship, and are ours in Christ Jesus.
These treasures are union and communion with Jesus. They are community with God himself who offers grace and peace to us. The Trinity foreknew, sanctified, and obeyed in order to make that offer of grace and peace and to hold it in trust. That obedience – of Christ's death on the cross and subsequent resurrection – offer us a living hope. A now living hope where we can draw even now on those treasures given to and held for us.
Because I know all this, can I rejoice and persevere through trials? Can I praise, glory, and honor Jesus Christ and his accomplished work? Can I rejoice with joy that is inexpressible and filled with glory? Can I *revel* in Jesus?
Let's think about that in the practical every day, because, frankly, my every day life does not look much like "rejoicing with joy that is inexpressible and filled with glory." It just doesn't. I bet yours doesn't either.
I get distracted by the dog eating the furniture, the children disobeying, the surfing the internet instead of cleaning (hm.). I get wrapped up in Facebook drama and my husband's job and the sports schedule. I am cynical (talk about the opposite of joy). I am tired. I am disobedient because I'm told to rejoice though grieved by trials. I am told to rejoice with joy. (You don't know how hard it was to make those first person, singular pronouns instead of plurals.)
So, the dog: He'll improve. The couch is recoverable or replaceable. It's a thing.

The children: We'll work together, in community, to disciple and love and train and give grace remembering that we disobey too.

The surfing instead of cleaning:

I Am, I Can, I Ought, I Will, OR Do the Work of Homeschooling

(and I like to add, homekeeping. Time to grow up.)

Facebook drama: pray for those who are gossiped about and/or gossiping. Don't seek it out greedily to satisfy some selfish whim.

Husband's job: let him manage his days. Encourage him and be thankful for him and his job.

Sports Schedule: be content with your lot, trust God, be proactive

Cynical: I am convinced that

the cure for cynicism is *revel* and joy

. Not that I have obtained all this.

Tired: go to bed earlier.

Disobedient: look to Jesus, the author and completer of our faith (Hebrews 12:2) *revel* in him.
Each has a Christian response which points us to Jesus and his work on our behalf. It's a switch of attention and attitude from defeat to rejoicing in joy. To the point where I *revel* in Jesus.