Podcast Addicted: What Should I Read Next? with Anne Bogel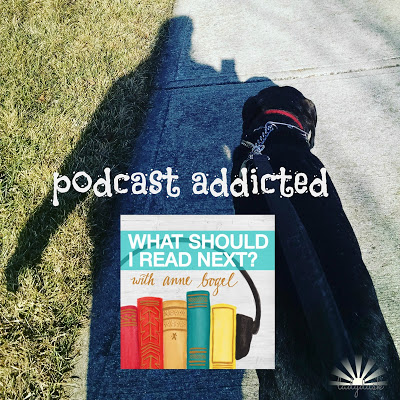 Last week's Podcast Addicted featured Read-Aloud Revival and building a family culture of books.
One of Sarah's guests this season was Anne Bogel, of Modern Mrs. Darcy fame. On that episode, Anne and Sarah talked about making time to be a reader even as a busy parent. The book slinging was fantastic. On her blog, Anne has done some "Literary Matchmaking." She did some for Sarah on RAR, too.
Out of that experience, she has begun a podcast this winter and it is all kinds of fun.
On the podcast, she interviews readers about the who, what, where, and why of their reading lives. Then the fun begins where she and her guest discuss 3 books the reader loves, one they hate, what they're reading now, and if there's anything they'd like to change. The glory is in the recommendations. Anne takes the criteria set down in the interview and makes book suggestions.
I've not read a third of the books that have been discussed on the show. I've no interest in the vast majority of the books discussed on the show (the memoir episode #13 and Caroline Starr Rose in #15 are my faves). But it is just fun. The conversation always makes me laugh. The reasons people read always make me think. I often wonder what books I'd say and how I'd possibly narrow it down. Well, I know one, I hate Bridget Jones' Diary, so that's a given.
I'd hoped she planned to do follow-up(s) with the interviewees … if they'd taken her advice and how the matches turned out. When I asked on twitter she said:
— Anne Bogel (@AnneBogel) April 6, 2016
So, there's that to look forward to!