Our Weekly Amble for February 5-9, 2018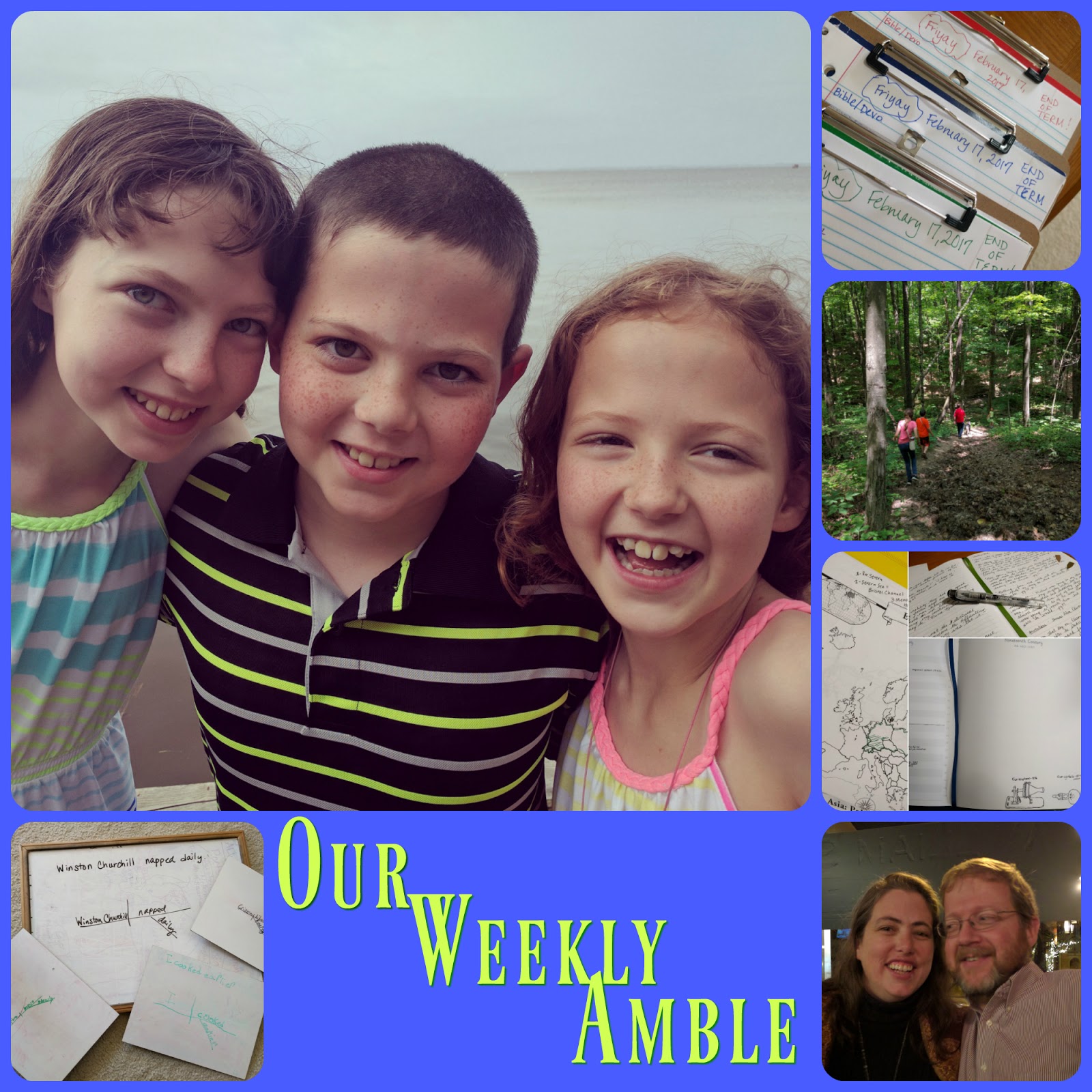 We had another really solid week of lessons to finish out our fifth week of the term.
Four days of Whatchamacallit, which is my goal. They weren't necessarily the best Morning Times ever, but they were good and we got a good deal of work. We're almost done with our memory passage in John 14. We reviewed other passages – including Genesis 1-2:4. We're singing "O Love that Will Not Let Me Go." I've started to collect accompaniment to all of our songs in Amazon Music, which is very helpful. I need to finish that. The dog still "sang" today, though.
We began a new section in Laying Down the Rails on Courage after finishing Candor. In Mathemagic we learned why it's impossible for there to be Vampires. After we read about Doric columns on Monday, M-girl pointed some out in our town "they even have the bulge!" We read some more nursery rhymes.
Our new poem, 'Matilda: Who Told Lies and Was Burned to Death" is well on it's way into the children's memories. It took a bit when I asked "What does this remind you of?" for someone to come up with The Boy Who Cried Wolf, but they got that and laughed. We've been enjoying Langston Hughes' poems, and N-boy has read some as we're in a section with blues rhythms and non-standard English, both of which I struggle with reading. Today, we reviewed all sorts of poetical language – from different feet, to different types of rhyme, and finished with assonance, dissonance, and alliteration. We applied all of these to, conveniently, the day's review poem: The Eagle by Alfred, Lord Tennyson. Ah, synchronicity. Completely unnplanned.
We're on a section in Writing and Rhetoric about outlining stories and worked through that for three days, but Friday is either most loved or loathed with the Friday Free Write. R-girl and I enjoy it, so we carry on. I drafted out a creditable poem and I think she is working on a continuing story. The others follow the rules, if not the spirit, of the process.
They have the memory work for Comedy of Errors down. We worked several sections of Primary Challenge Math. We reviewed some Latin vocab. Monday and Thursday we read scenes from Shakespeare; Tuesday and Thursday we did our Plutarch lesson. We had a brief discussion about what how debt forgiveness affects all involved – debtors and creditors. Agis and Cleomenes is more confusing to me than any story we've done prior. I hope I start to see my way clear.
We did little of our Beauty Loop this week – music and folk songs played during break. We did do a drawing lesson, and it was a success. We read a little from our novel today; I'd like to do that more.
On Wednesday, our day out was cancelled due to snow, so the kids cleaned the school room – huzzah! And we cleaned the pantry. It wasn't our most productive day ever, but it was good. Two had parkour, the other didn't have her soccer conditioning (which was OK, cause we got to go out to dinner).
They all worked on math and xtramath each day. M-girl's Latin tutor says she's doing well. The others finished Lesson 17 in Latin for Children B today. They're copying the Bible. They've been working on South Saharan Africa in their Geography workbooks.
Readings are going well. They enjoyed catching up with Tarquin in Story of the Romans after learning about him with Publicola. They read about Akhenaten and Augustus Caesar and the Egyptian pantheon and religion in Augustus Caesar's World. In Sea Around Us we continued learning about ocean currents and how they modulate temperatures. Achilles died in Black Ships Before Troy today. Galileo proved through the use of pendulums that weight doesn't affect falling – and he figured out how to figure trajectories for cannon. Everyone was excited about the explosive nature of sodium, birds that migrate over the ocean, and Livingstone's "discovery" of Victoria Falls. It was, by far, the lightest week of assignments we'll have all term.
We only practiced our Keeping Hour twice. This is something I'm trying to emphasize, and I'm struggling a little. I've scheduled it for 3:30 and I'd like to do it three days a week. I need to do a better job on Fridays of coming back and drawing after our walk. If you're interested in Keeping Hour, don't miss Mariah's guest post from Tuesday.
We finished today with a run to the store to buy sleds – we hoped! – and succeeded. We tried out the local sledding hill for the first time, then took the dog for a walk around the woods. Happily, we ran across three of the Sugar Maple collection buckets – one without a lid so we could see (and hear!) the sap drip in.