Our Weekly Amble for February 16-20, 2015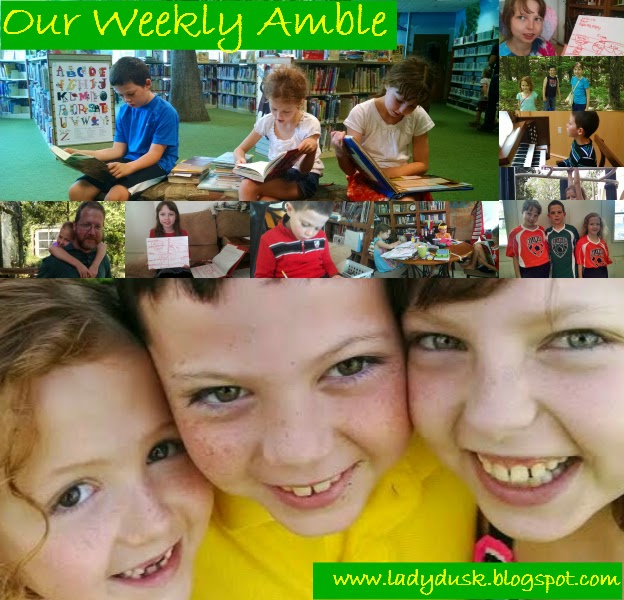 We have officially finished our first half-term of six weeks. What a great first term it has been. Don't get me wrong, we have had token fighting over school work and bad attitudes have been righted on a daily basis. There is still a lot of detraining of bad habits to be done and retraining of good habits.
But we have a start.
It has taken me about six weeks to get my assignment sheet created and tweaked just how I want it. I'm printing double-sided (manually because my printer does color not duplex. Totally worth it) Plus, I make the children their own weekly sheets, so I can fill out my Circle Time sheet and then copy it to the back of their Weekly Assignment Sheet.
Here are blank views: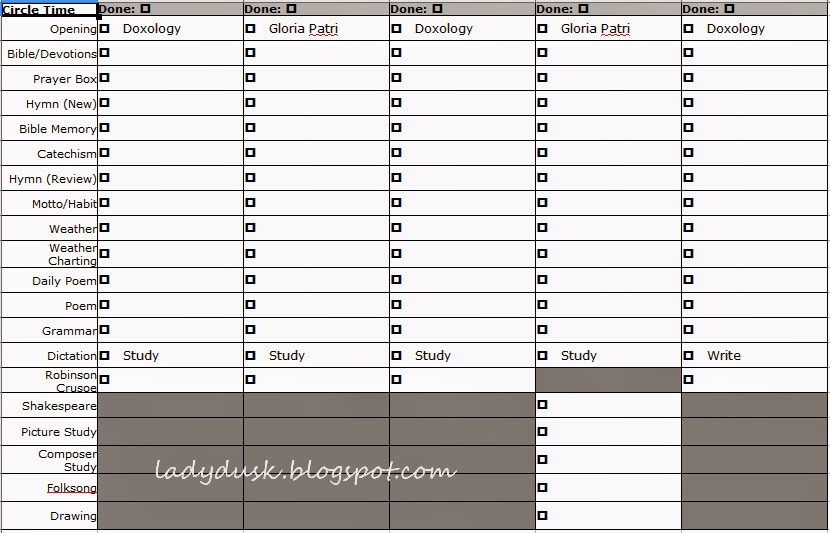 Circle Time looks something like this.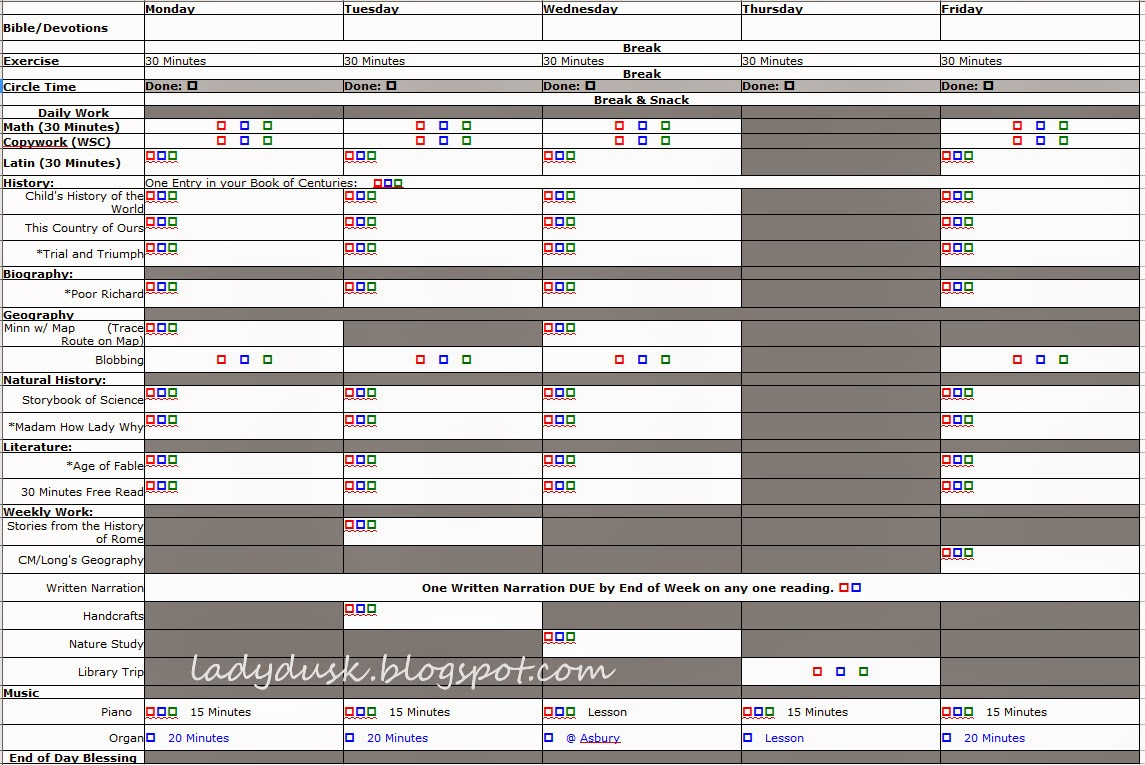 Our Weekly Assignments get plugged in on this chart.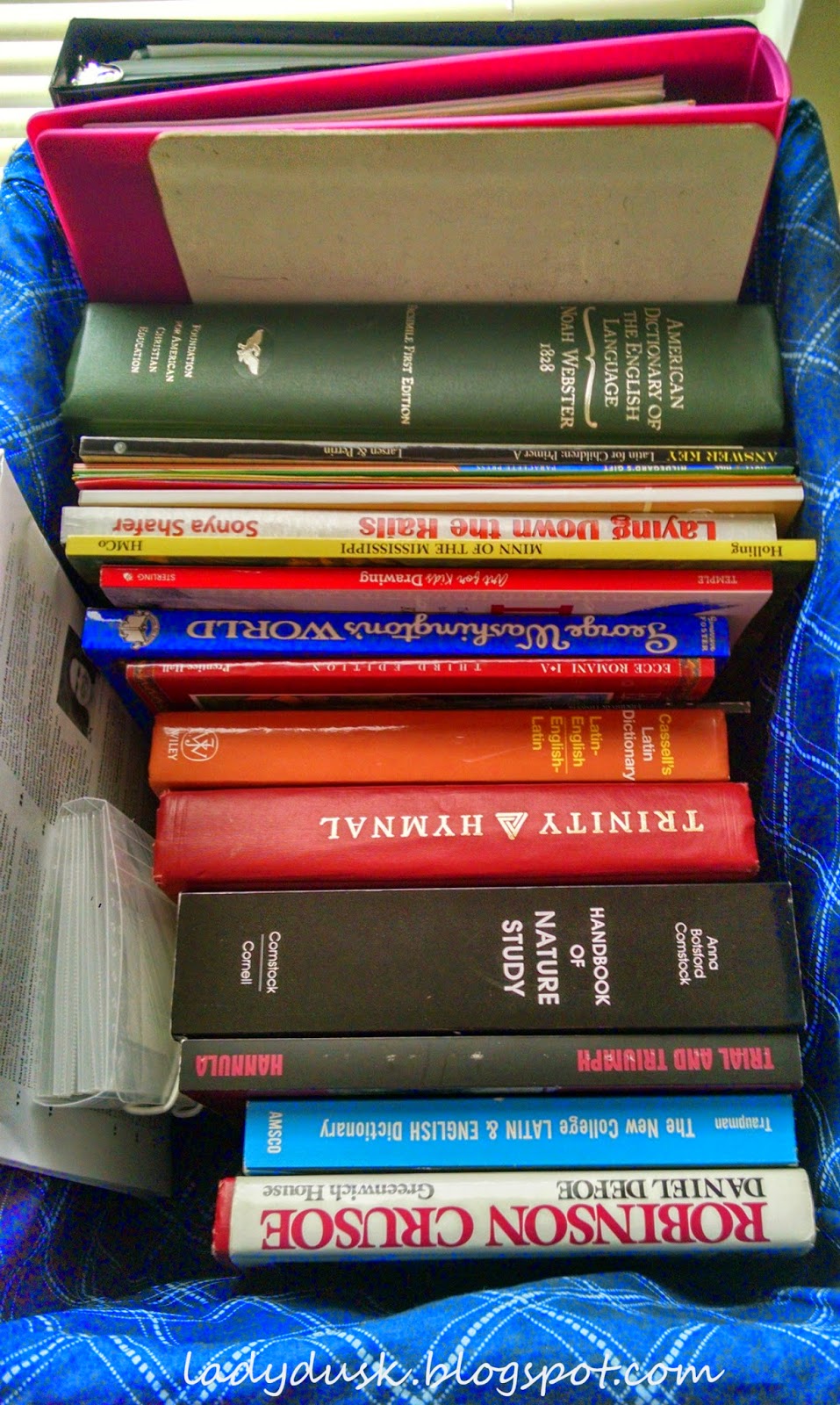 A big basket works for me!
I also have figured out how best to store our Circle Time and other school books so they're in easy reach. In the back are my Circle Time binder and Pink Planning Notebook. I also have a white board. On the side is our Prayer Box and our denomination's monthly magazine opened to the prayer requests page. I think you can tell the rest of the books (which I turned on their side only for the picture) …
I'd like to find a matching basket for the books set as free reads.
We had a good week this last week of the term. A late night Sunday meant we skipped pilates on Monday morning. The fellowship celebration after Evening Service was worth it. We also didn't exercise yesterday, although Thursdays are a planned day off we probably should have because cold shut down many of our planned activities.
We did manage to do Circle Time every day. I am completely ecstatic about how Circle Time has been working for us this winter. We prayed, sang our hymns, read the Bible, reviewed our catechism, and practiced 'The Charge of the Light Brigade.' We read about the atmosphere and charted the weather. We read poetry, reviewed capitalization rules, and read aloud from Robinson Crusoe and about Gregor Mendel. We usually had time to do at least one of our other assigned readings in the 1.5 hours I had scheduled. On Thursday, we looked at and listened to our extras, although none of the children was pleased by Fra Angelica's 'Massacre of the Innocents' and N-boy flat refused to look at it. They even did a drawing lesson; draw something without looking at your paper or lifting your pencil from your paper.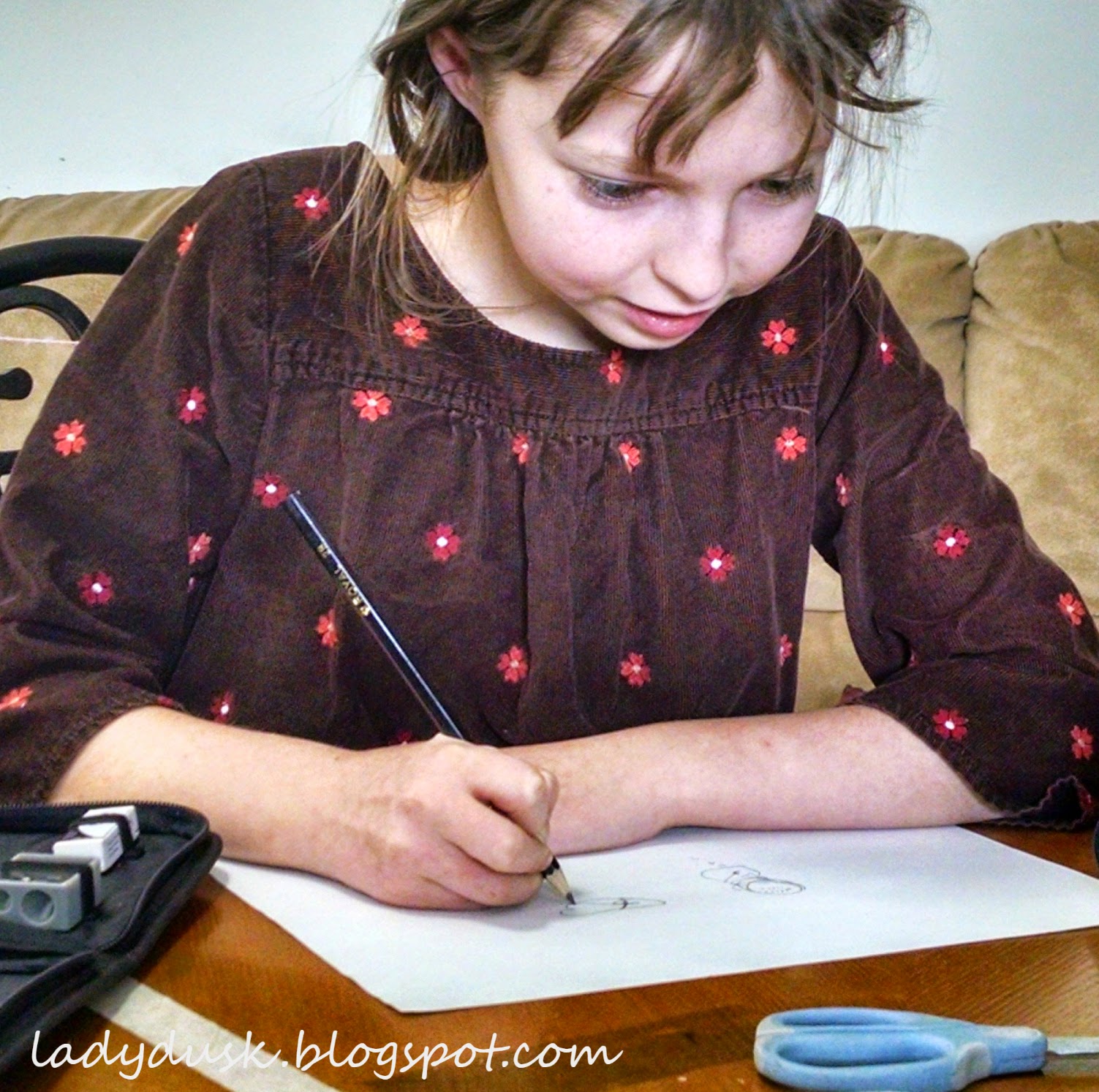 M-girl drawing her scissors.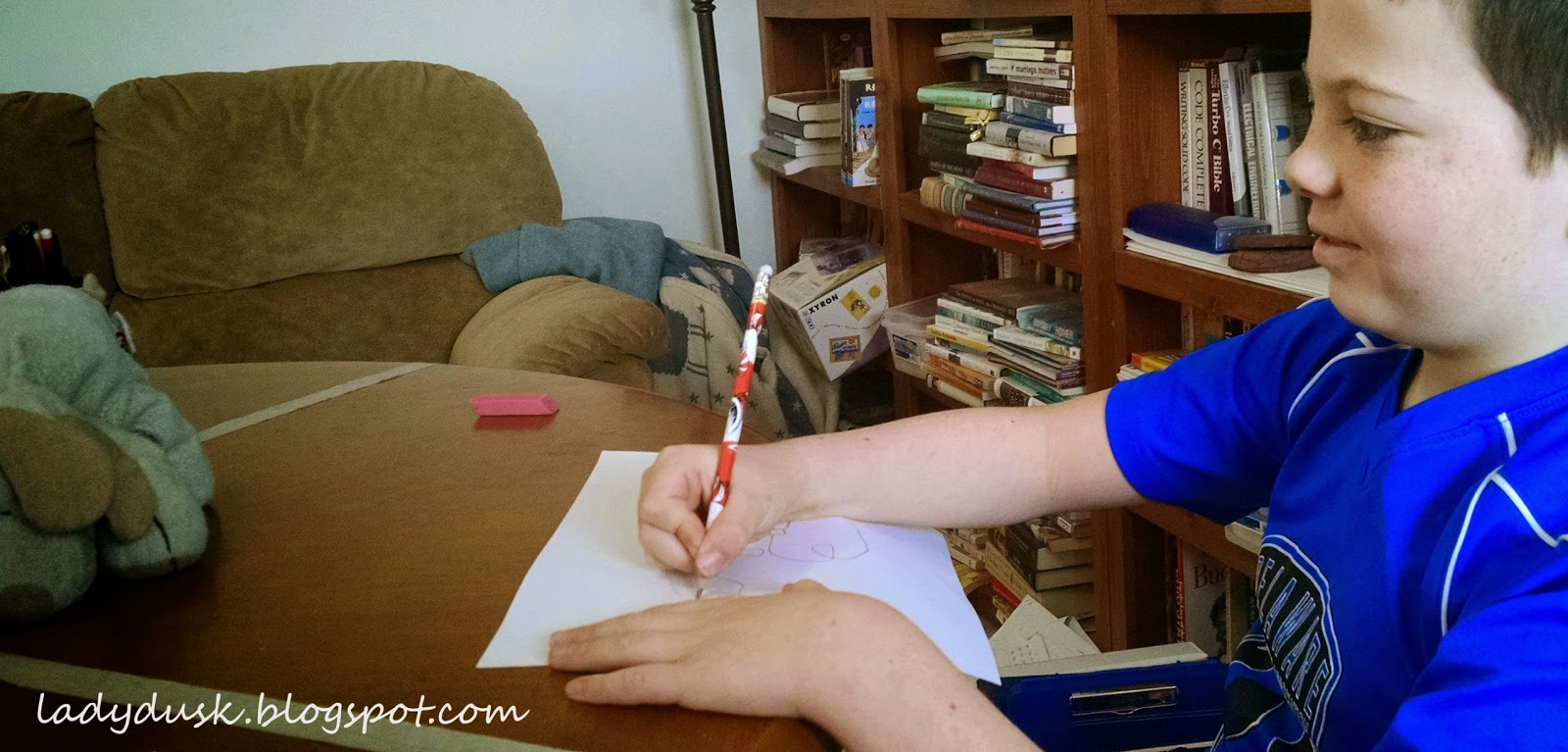 N-boy drawing his stuffed dog, Nife.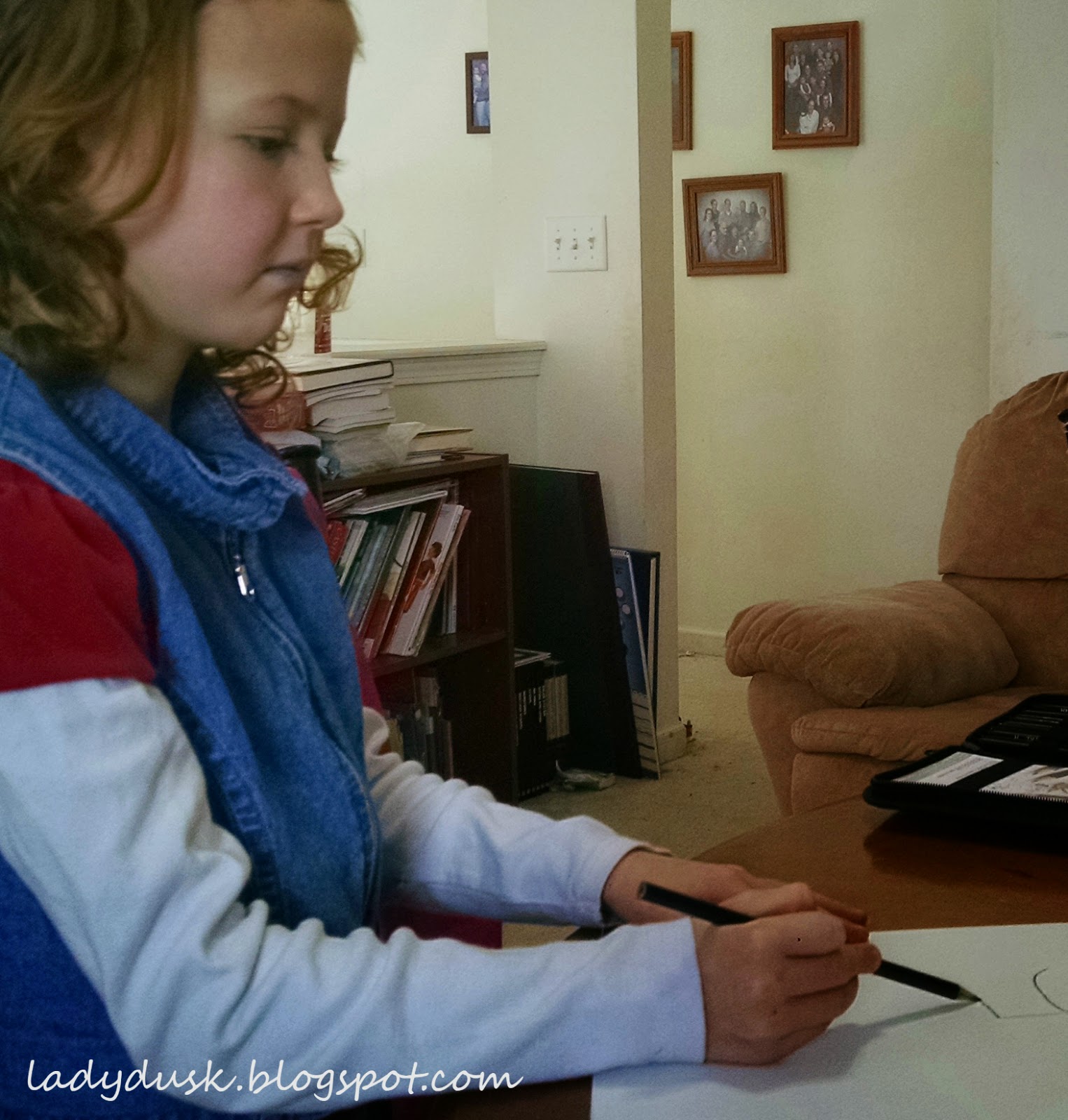 R-girl focused, she's drawing the little speakers we use for Circle Time.
Wednesday was a difficult day. N-boy's organ practice time (brief video) moved and threw our whole schedule off, so it was probably good that we got Thursday to finish Wednesday's work in a leisurely manner.
Everyone did four math lessons. M-girl and N-boy are both working on units of measure, albeit for different reasons. M-girl's are time, distance, mass, and volume. N-boy is converting between mm, cm, and m … and learning about place value. We briefly introduced the idea of decimals today. R-girl is working on multiplication. This week she's worked on 2, 5 10, and 3.
They all did copywork. The WSC uses the word 'whereinto' a lot. It's good practice. They also finished Lesson 12 in Latin for Children A. Hooray! We need to keep practicing vocabulary and conjugations and declensions, but it is going swimmingly. I think I'll be paying for Headventureland when we return from break.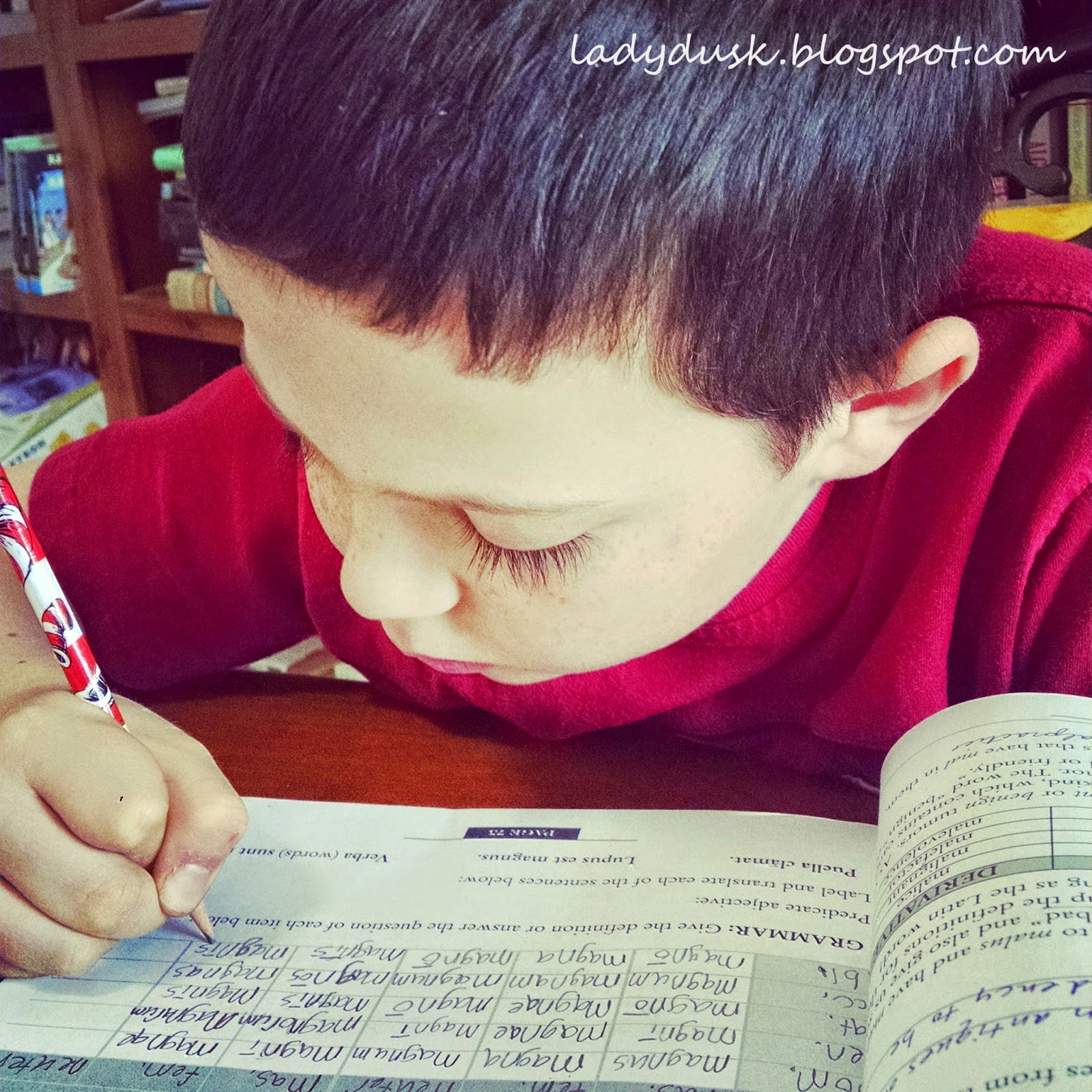 Latin for Children A Ch 12 Quiz
The readings this week were a bit darker than they've been in the past: Salem Witch Trials, the trial and sentences for the two Margarets in Trial and Triumph, Brutus' sons in Stories from the History of Rome, even Poor Richard had some dark places with war between the colonists and Native Americans. Age of Fable wasn't better with Prometheus' liver being perpetually consumed by vultures. The children held up pretty well, though it's no wonder N-boy didn't want to look at the 'Massacre of the Innocents!'
Storybook of Science remains a bright favorite. They read about metals. I found a short video that showed processing copper which the children all enjoyed. They were also interested in the making of bronze. They were less enthusiastic about Madam How and Lady Why, but we talked through the reading and the reason for reading the book both with Mommy and later with Daddy at dinner and I think things made better sense. We're working on attitudes with this one and Age of Fable. Both books started out heavy and hard to understand, and that impression is hard to let go. They'll get better. Choosing to hate it doesn't give your permission to ignore the reading; deciding to try to like it means you just might find you do.
M-girl and N-boy both chose to leave their written narrations for the end and both wrote on Stories from the History of Rome. I was pleased with their overall efforts, although we talked about some ways to improve their writing for style and clarity.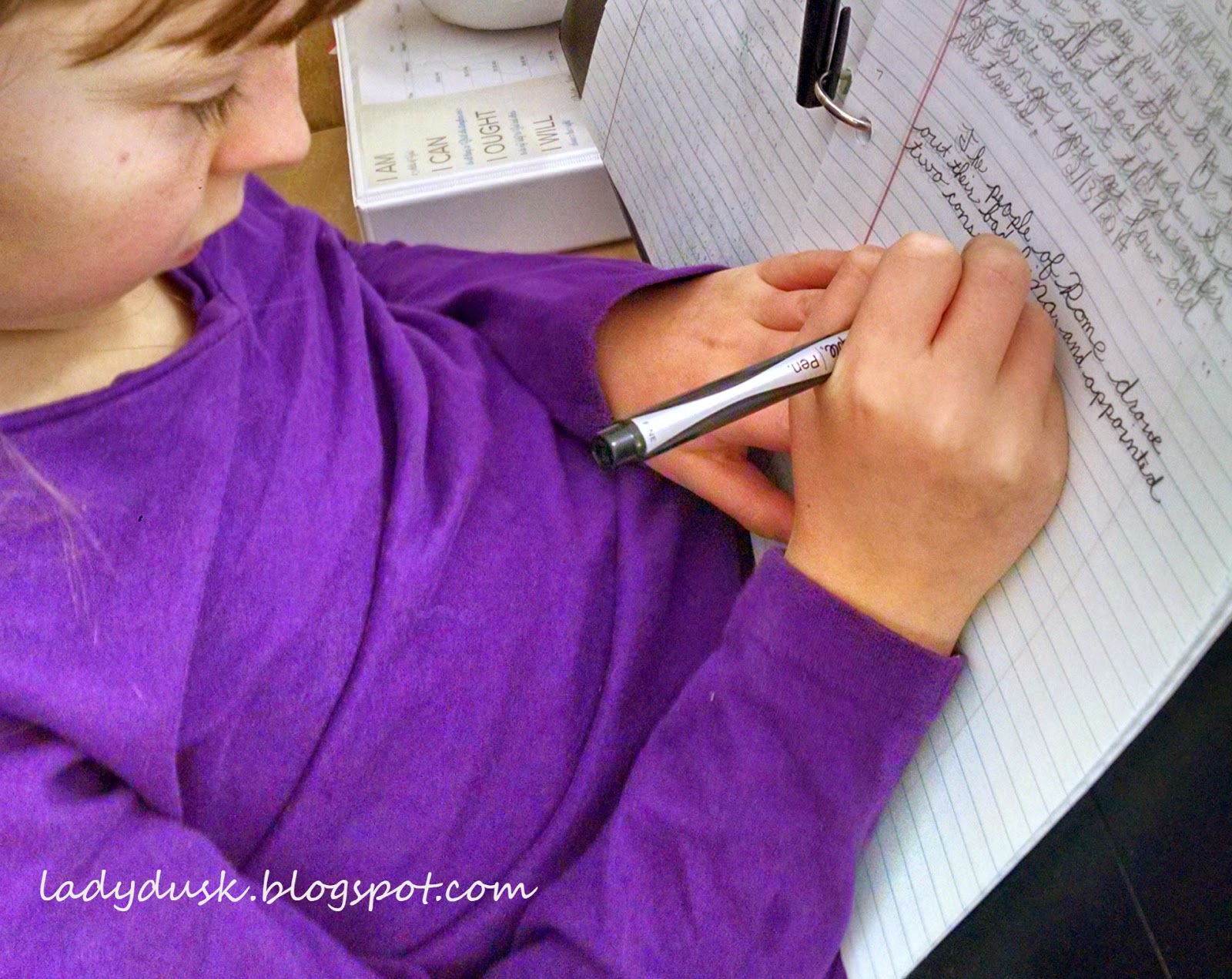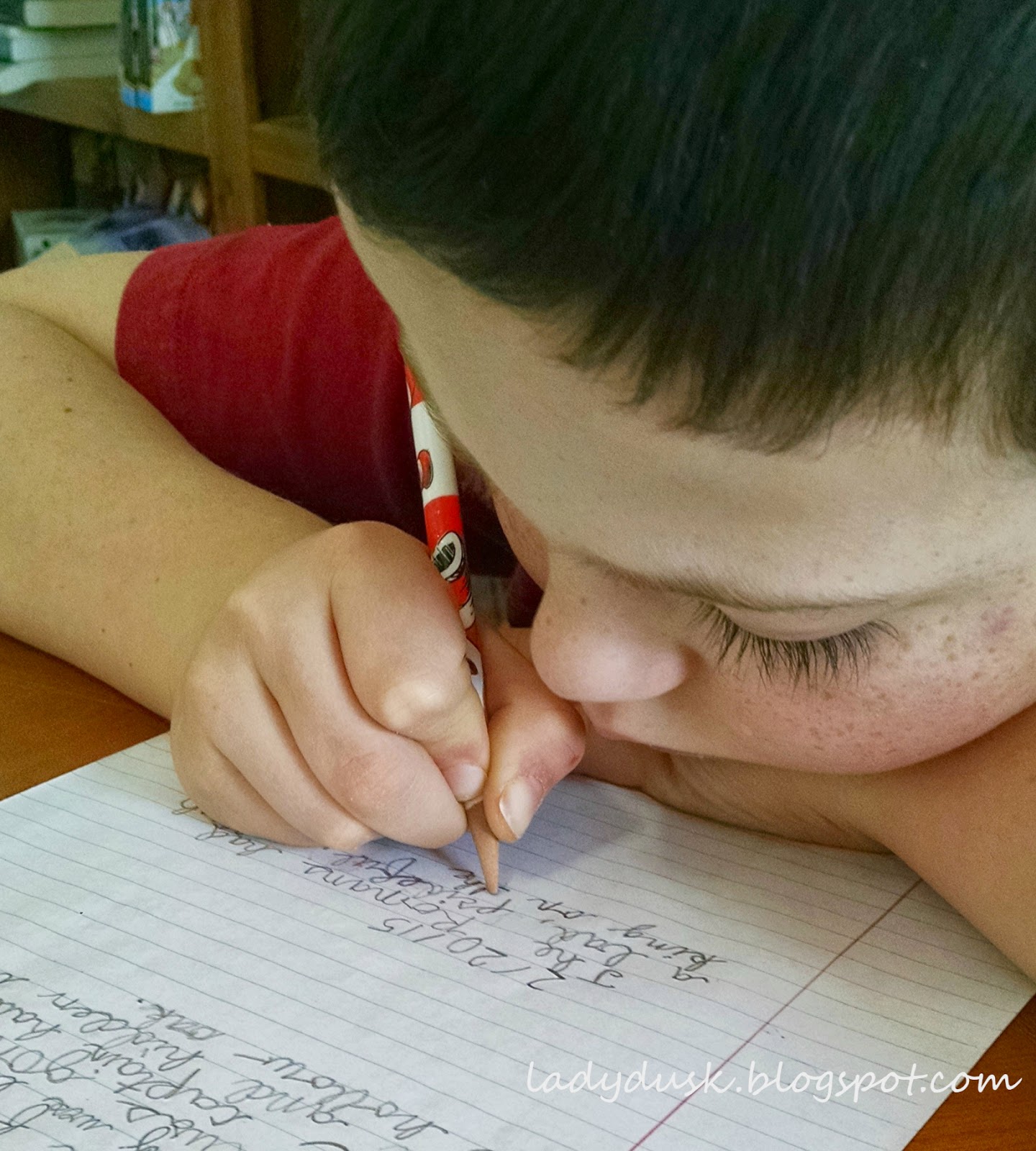 Did I mention yet how thrilled I am with AmblesideOnline? Thrilled. And we didn't even accomplish everything, no handcraft, no nature walk (brrrrrr!), no library trip. Piano lessons cancelled once again for sickness. I'm still very pleased with the work – both amount and quality thereof – we accomplished
And, if you've managed to follow along so far, here are our completed Circle Time and Assignment Charts for this past week: