Keeping Company: Convention Notebooks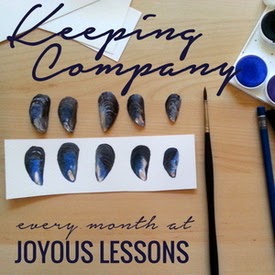 I wrote some about my convention notebook before in my HS Essentials Post. I thought I'd share more details about it for the Keeping Company in April
I do love keeping this notebook year by year. I refer to it when determining talks I wish to attend. Many of the speakers present the same lectures year by year, so using my notes, I can choose to attend or not attend as I feel the need. There are several speakers and sessions, I will always go to hear no matter how many times I've heard it. There are some speakers I like, but don't feel the need to hear their talk again.
I have pages and pages of notes going back to 2011 or so. One reason I keep notes of old talks is because I can fill in the gaps I missed the first time through. Here are my notes from two consecutive years of Martin Cothran's session on "How to Think." I used a plain blue pen the first time and added other notes in with the black on the second time through.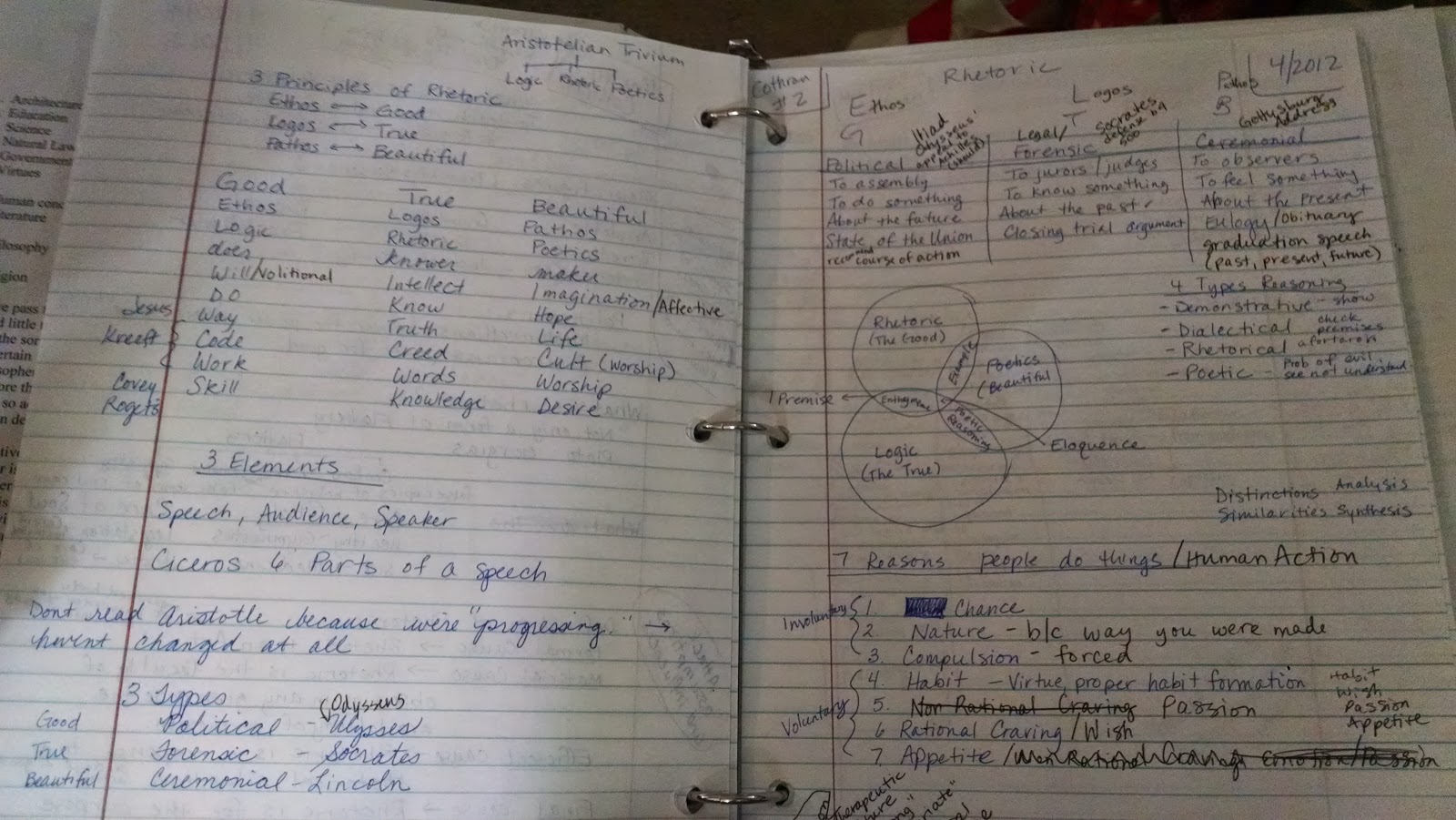 I try to be careful with my notes. Last year I began to review my notes and keep track of big ideas by circling them and putting them on a page at the front of my notebook. I shared my list already, but here's a picture of the page in my notebook. It is messy. I used different colors each day.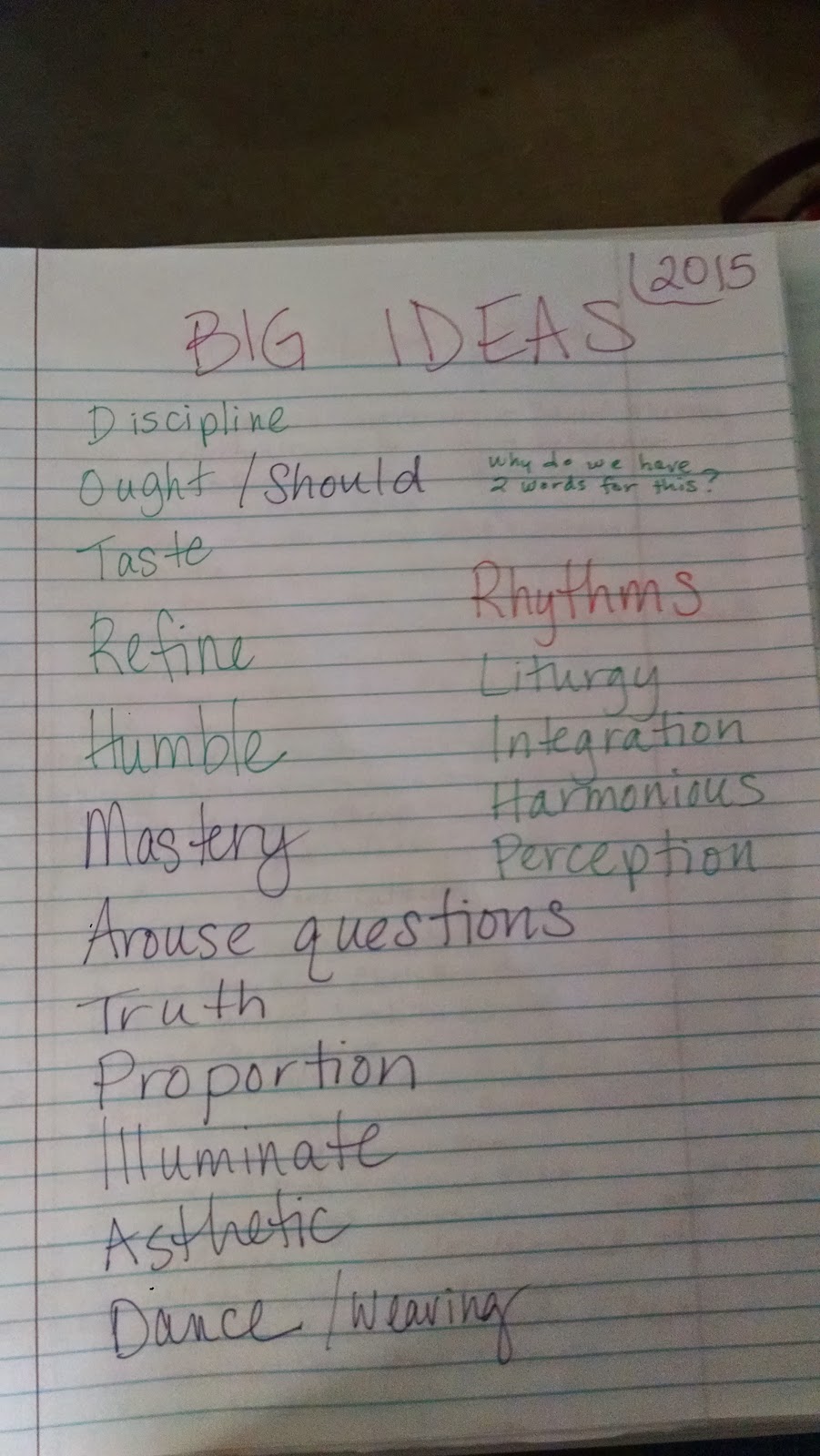 Happily, there is a half hour break between talks and I rarely have to go far between sessions for me to make my list above. Usually I circle words in my notes after a session, but occasionally I know it will end up on my list right away, and once in a while it is at an end-of-day review. Below, you can see the words truth, garden, and proportion circled. I really like garden – it fits with dance and weaving so well- but it didn't make the final cut.
You also see stars above. The stars were statements I'd consider sharing on twitter folowing the sessions. That was so much fun! I enjoyed interacting with many folks that way.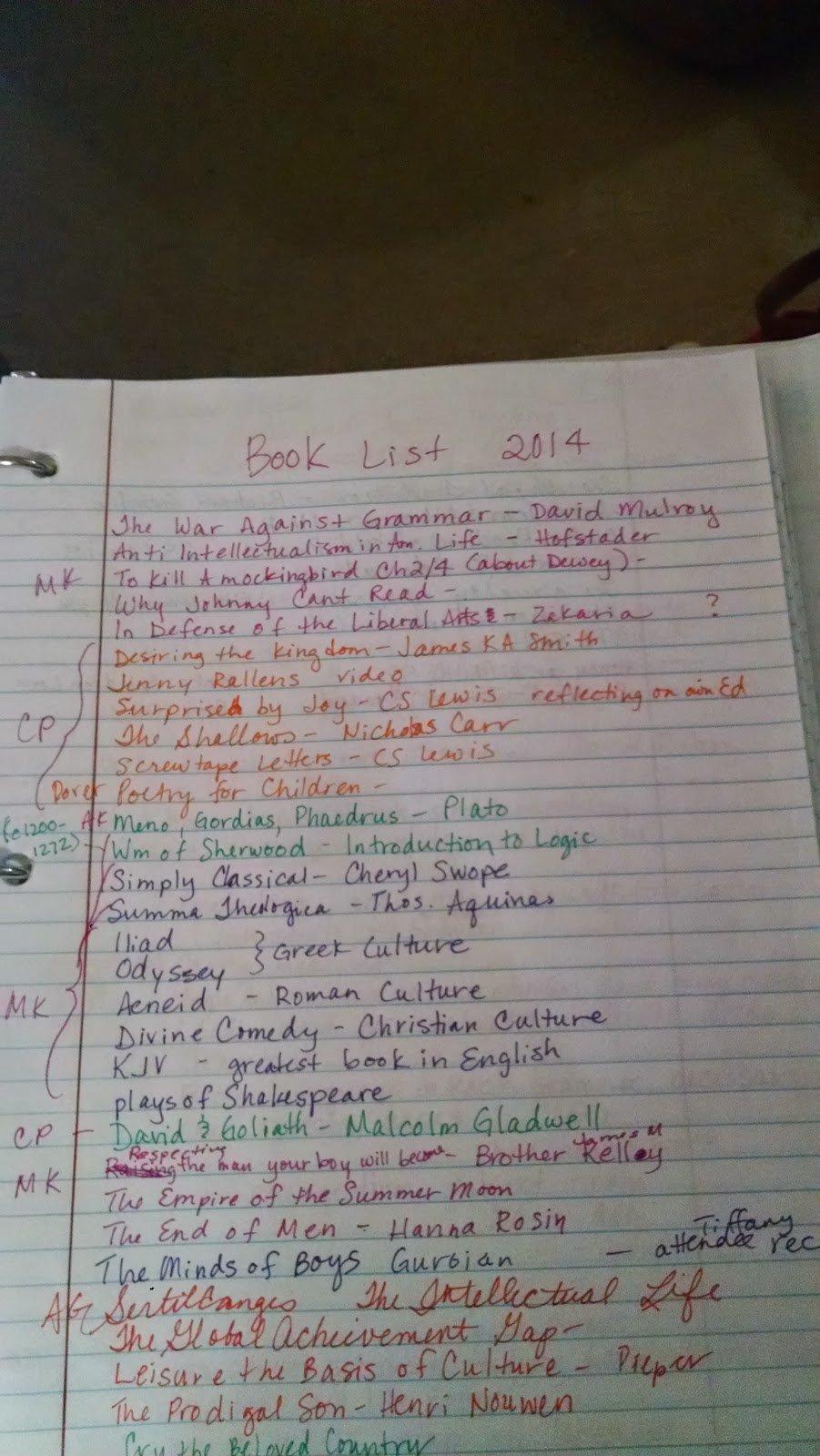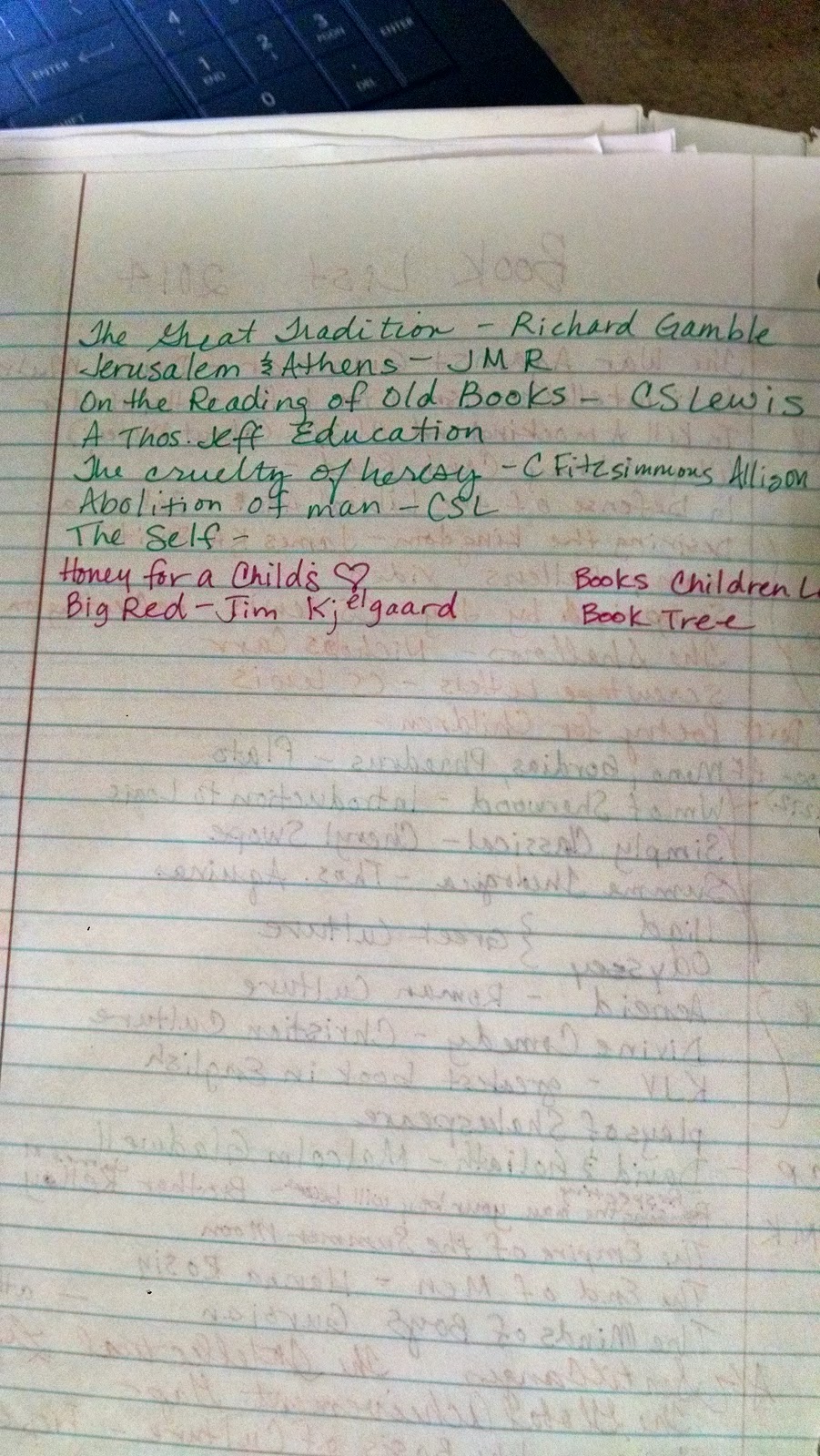 A new page I kept this year was a book list. And I see I mis-dated it, this was from 2015. These were books mentioned, even in passing, by the speakers during their sessions. Some were recommended, some not. It's an interesting list. It does not include Martin Cothran's list of books for boys nor Jan Bloom's amazing lists from her talk on seeking out books.
Finally, I know some of you might be interested in what I heard and who spoke. I put this list in the cover of my notebook. I think I went to everything on here except Barbara Beers and Michael Clay Thompson (I found I had heard that talk). Oh, and I didn't go to the two sessions with ? as we left for the day before they occurred. I'm disappointed to have missed Mr. Cothran's talk on Modern Secular Education.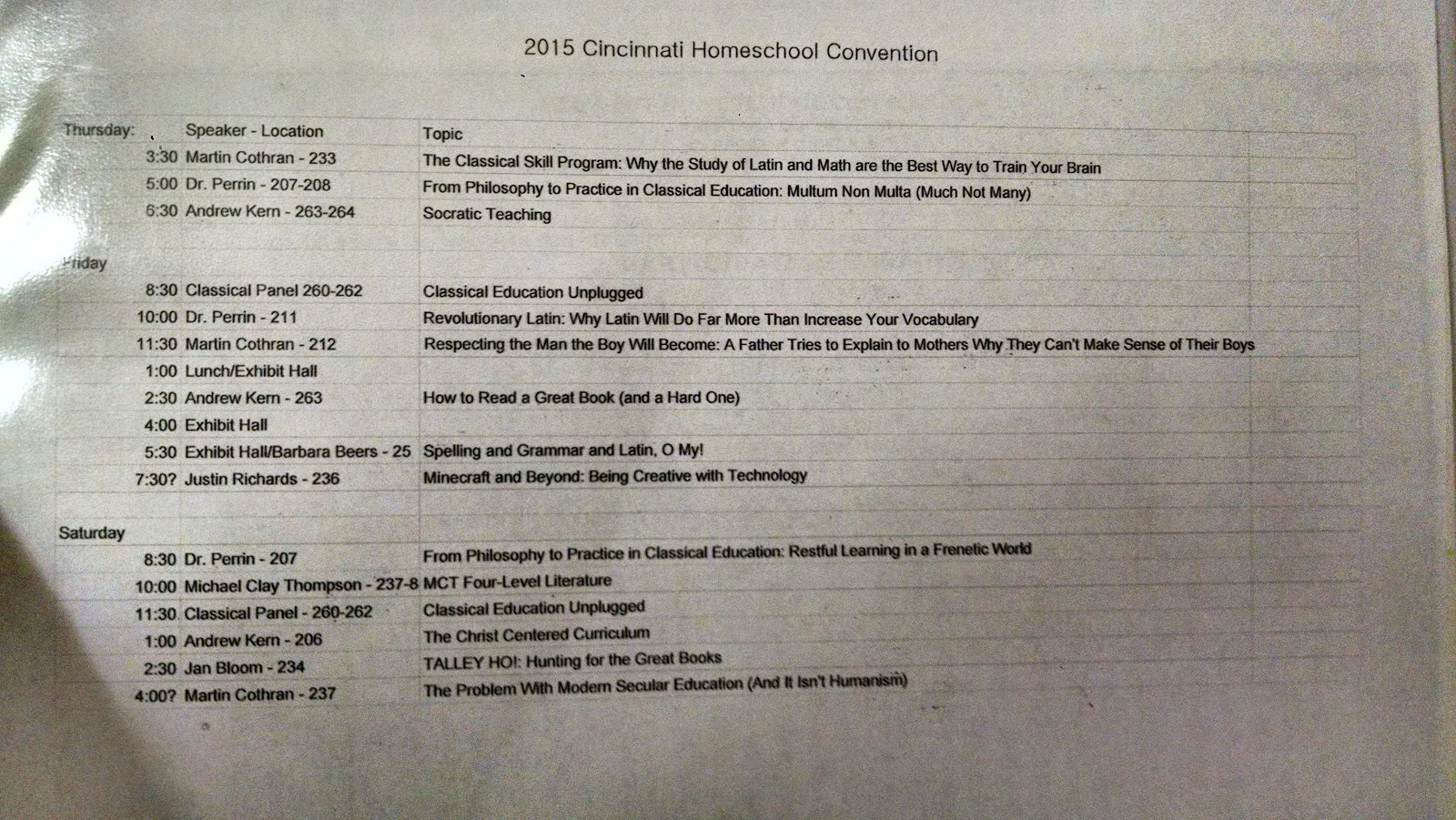 I love how this one notebook keeps what I have learned, what I am reminded of, and the continuity of conference attendance. I hope to do better with keeping those big ideas front and center during the coming year.