In which an indoorsy mom begins hiking

I don't really like "outside."
Oh, I know I'm supposed to and do feel a twinge of guilt about it, but I don't like dirt or bugs or wide variances in temperature. I'm not, however, philosophically opposed to "outside" … actually, I'm rather philosophically a fan of outside – especially for my kids. And I can stay in the temperature controlled indoors. And kill any bugs. And read a book.
My husband loves to hike. This is something he figured out about 15 years into our marriage. It started with Geocaching; through that medium he started to find places where he could walk in the woods on the regular. We have this dog, this rescue dog, who has severe abandonment issues (he ate a love seat, no joke, and my Bible). The dog needs exercised, so my husband started taking him out for 3 hour hikes on Saturdays and leaving me home with the children by myself yet another day of the week.
I decided that I liked being with him more than I disliked hiking outside.
This spring (yes – this spring when all the places and events were cancelled) hiking was still open. In the snow, in the rain, in the heat, in the thunderstorms. We have boots and coats and rain jackets and dry bags (for our phones) and off we go on an adventure most Saturdays. We started making the kids come, too. Now – if they aren't actually excited about going – they're reconciled to joining us and never complain … and are thankful to have gone. "Exposure breeds taste," as Brandy Vencel says.
I started to say we go on a "new" adventure most Saturdays, and to some extent that's true. We've found we have a favorite trail that we – more often than not – go to. We do other trails in between, but return to this one regularly. It's new and different, but familiar, every time we hike it.
It isn't just Saturdays. One of the first things we did when Jason came home to work was set a routine of daily walks: three of them. We walk before work and school, we make the kids join us at lunch time, and when he's done for the day – we walk. We talk, or don't, watch the landscaping and the patch of woods, and reconnect simply by being together. And we notice.
I guess "outside" isn't so bad, after all.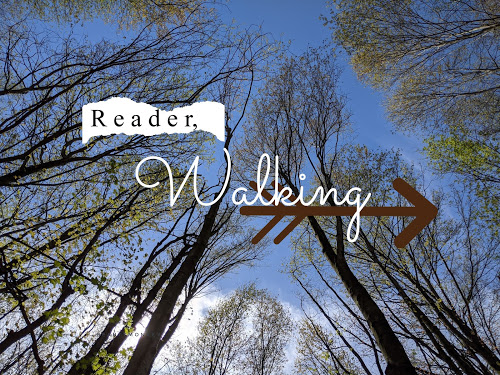 I've learned some things on these daily and weekly adventures and want to have an ongoing series – I'd like for it to become an occasional feature – as I consider "hiking as scholé", but this is where I'm currently planning to go: