I Am, I Can, I Ought, I Will: Charlotte Mason's Motto Explained for Upper Elementary Students
As many of you who have followed our story know, we changed from straddling the fence between a WTM and Charlotte Mason style of education to CM-only, using the AmblesideOnline curriculum. It was a big change, and it was a good one.
Because my children were older, I thought they could use some help seeing how the ideas behind Mason's wonderful motto could be supported Biblically. I asked to several people I respect for a study like this, and they all came back to me, "I don't know anything like that. Sounds great. You should write it." Terrified, I began.
My children and I have been using this study during our Circle Time (we're several days into the "I Will" section). The meditations are short, take only a few minutes to read and a few more if there's discussion. They've learned from using it; I learned a lot by writing it.
All that said, I'm very pleased to present my first ever eBook: I Am, I Can, I Ought, I Will: Charlotte Mason's Motto Explained for Upper Elementary Students.
This book is a Biblical study of the underpinning ideas found in Charlotte Mason's motto: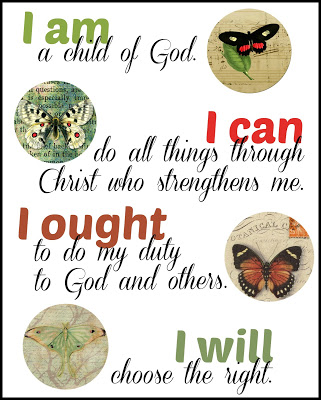 Click on picture for PDF File
"I am" discusses our relationship with God; "I can" discusses Christ's power acting through us; "I ought" shows students how the Ten Commandments and God's Law are intricately linked and given to us for our good even as children; and "I will" encourages students to choose the right and practice good habits of Reason, Conscience, and Affections in those choices. There are ten short (less than one page including scripture) meditations for each section. As I indicated above, they are easily used during a Circle or Morning Time.
This eBook is completely free, no strings attached, for pdf download. I'd love to hear any feedback you or your students have. Comments here or via email are very welcome.