Wednesdays with Words: Theology Forms and Undergirds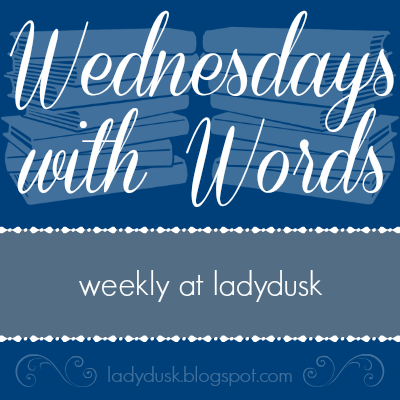 I had another passage from Mrs. Frisby and the Rats of NIMH all chosen and ready to go. And then, today, I finished The Liberal Arts Tradition – finally after four weeks of saying I hoped to finish it. The book is excellent, but not for the feint of heart … I posted my review last night.
I absolutely *loved* the Theology chapter that I read today and wish I could quote the whole chapter, but here's my favorite paragraph to wet your whistle. The passage blew Mrs. Frisby out of the water:
Theology forms the curriculum at its foundations. We saw earlier how piety, gymnastic, and music are foundational to the educational paradigm we inherited from the Greeks. Now we are in the position to appreciate how the integration of Christian theology as the culmination of the curriculum radically reorients these fundamental aspects of education. Theology forms our piety: it reveals the God who is to be feared as Lord and loved as Father; it teaches us to honor our father and mother; and it calls upon us humbly to love and to serve our neighbor. It ought also to drive us into the community of the people of God, and even to preserve in the world whatsoever things are true, honest, just, lovely, and of good report. Theology also undergirds gymnastic: it reveals the dual truth that our bodies have dignity because we bear the image of our Creator, and also that we were not created merely for bodily virtues since human beings are irreducible unions of body and soul. Bodily training is indeed profitable, but is not sufficient for complete maturity as the image of God. Theology, then, similarly undergirds musical training, not least because the Scriptures engage us musically. God reveals Himself to us in stories, poems, prayers, and songs, calling for us to taste and see that He is good — this is music in the truest sense. Theology actually integrates the musical and gymnastic elements because of the dramatic and multisensory nature of historic Christian worship. Piety, gymnastic, and music are thus fully integrated in the spiritual disciplines we are called to imitate in the Christian life. (pg 129-130, emphasis mine)
and two more quotes:
Theology unifies the curriculum; it provides a framework for the liberal arts and sciences, and the philosophies that unify them. (pg 130)
and

Theology orders our knowledge to its proper end in the worship and service of the Lord Jesus Christ. (pg 131)
What are you reading this week?
');