Wednesdays with Words: Not Because it is Old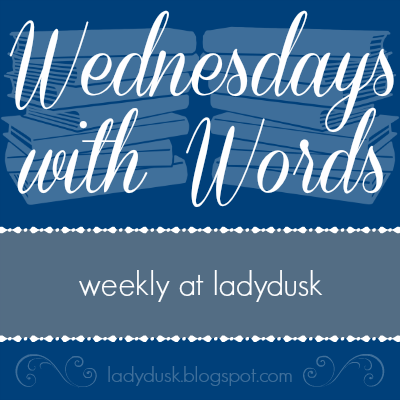 Well, I owe many of you an apology. I didn't make it to any of your posts in the last week and this week has rolled around again. I know that was one of the best things Cindy did when she began and hosted WwW; comments and consideration of your ideas all around. I will be going back to last week's posts and catching up. I apologize for the tardiness.
I also hope to get back to posting these earlier in the day. I know others have enjoyed following your links!
Anna, at Mahers Hill Academy, very kindly shared her hard copy of Karen Glass' new Consider This (which I assume many of you have read). I have barely started it, finishing the wonderful introduction by David Hicks and there are ideas there to ponder. I have been pondering our school for next Academic Year (a little) and some major changes I'm thinking of making. This book looks like it will be quite integral to those changes should Hicks' outline of what Glass has to say bear fruition.
I love history and tradition. I love historical and tradtional things. A lot of the time that's part of why I think I chose Classical Education as a framework for our homeschool. (That and I loved the academicalness of it). Hicks challenges that idea on page x:
The classical tradition as it informs teaching is good not because it is old or "classical," but because it works; and what works, whether old or new, is best.
I have wanted to hang onto a lot of ideas from The Well Trained Mind and have fought and fought against giving up and changing to a more truly Charlotte Mason inspired education, but I suppose if Hicks is right and
Glass shows, irrefutably it seems to me, how the trivium, properly understood, is applied in every teaching moment at every stage of our learning and growth … (pg xi)
that I will be doing some horse changing midstream. I'm uncomfortable with that idea and hope you will bear with me as I change.
');