The Simple Woman's Daybook for September 5, 2016
For Today…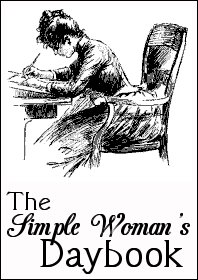 Looking out my window … it's dark and there's a sliver of a moon.
I am thinking … about our break week. The to do list in my Google Keep is ambitious
I am thankful … that we had today to do some work and enjoy some family time with friends.
One of my favorite things … getting together with friends and eating their cooking. Yum.
I am wearing … coral shirt and green-khaki shorts. It was hot today.
I am creating … lists … grocery, menu, school, to-do … lotsa lists!
I am watching (watched): lots of College Football. Ole Miss-FSU tonight, but many other games since Thursday. It's the most wonderful time of the year!
I am hoping … we make it though a lot of that ambitious to-do list. I think a lot of things will make our next nine weeks go more smoothly. I'm going to try to do 12 weeks in 9. You can pray for us!
I am learning … how important a walk is to my children's mental well-being.
In my kitchen … the cupboards are not bare after a big grocery trip and leftovers from tonight. One favorite is Blue Cheese Broccoli slaw … Broccoli Slaw packet, cranberries, pecans, blue cheese, and your favorite blue cheese dressing (I like Bolthouse Farm's yogurt based dressing) … mix together and eat!
In the school room … I plan on a quiet week with a bit of resetting and planning but not a lot of child activity.
In my garden … Jason trimmed edges and bushes and did some weeding today. It looks great!
Board room … I'm hoping to rely on my 'Snacks' board for prepping for the next term.
A moment from my day … N-boy and friends looking surprisingly grownup:
Closing Notes: I know a lot of people wait to start homeschool until after Labor Day. If that's you, I hope you have a great start! We're so excited to be on our break!!
Linking up with The Simple Woman.