So tired, brain hurts, but here are the big ideas I promised
I had a great weekend at the Cincinnati Homeschool Convention! I met Karen from living, unabridged and she is awesome! I could have talked with her a great deal more than we did and wish we lived closer. That's saying a great deal for two introverts like us.
I got to meet Sarah Mackenzie (Eek! Total fan girl moment! I called her the new Kevin Bacon) and talk with her for quite a while. She is just a gracious and generous and bubbly as she is online.
I got to meet … at the last moment … Colleen Kessler from Raising Lifelong Learners and she answered my questions for her and we had a nice, albeit quick chat. She was lovely, but we didn't take a picture.
I met a number of lovely moms while waiting between talks. I met Olivia another AmblesideOnline mom! I talked with some just starting out and some long in the trenches. I saw several of my friends from past conventions like Denise. It was so much fun.
I got to listen to and talk with Andrew Kern, Christopher Perrin (and Sarah Mackenzie!), Martin Cothran, Andrew Pudewa, and Jan Bloom. And I got to shop a little … but bought almost no curriculum. Books and art supplies were my big spends. Yay.
I got to drive to and from the conference each day with my wonderful mother-in-law, sister-in-law, and dear friend from my church. We divide and conquer the conference and then share back insights and ideas we've gleaned. It is a great way to narrate the conference.
Heather, I got "my" parking spot each day in the preferred parking garage.
But all of this isn't why you're here. I'm simply going to list my big Takeaway ideas from the weekend. Without discussion, order, or comment. Because, my brain hurts and I must sleep before I do any of that. Suffice it to say that I love these ideas and will want to think more about them with you over the coming … year?
Discipline
Ought/Should
Taste
Refine
Humble
Mastery
Arouse Questions
Truth
Proportion
Illuminate
Aesthetic
Dance
Weaving
Rhythms
Liturgy
Integration
Harmonious
Perception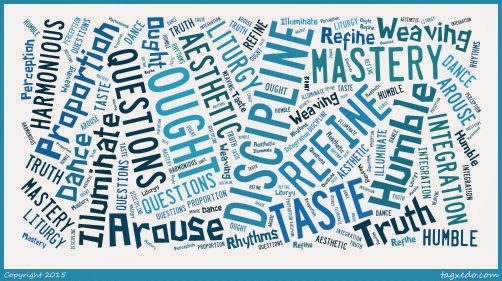 Kortney of kortneygarrison.com made this awesome word cloud of my words. I would have never thought of it, but I love it.
[phew] Do you see why it was so great?
You can see many quotes on my
twitter feed
, most are marked #GHC2015.
And now, I say, good night.