Our Weekly Amble for March 6-10, 2017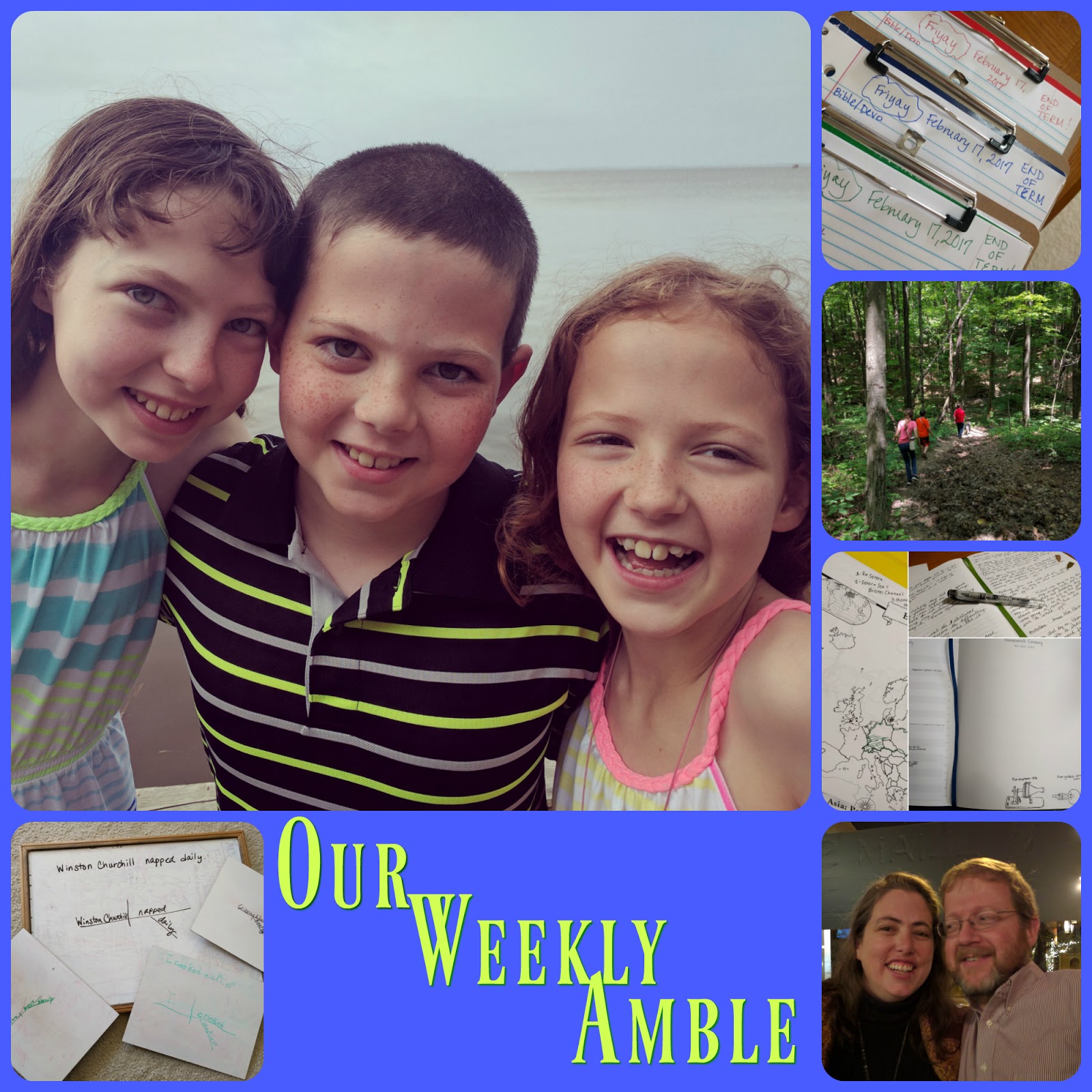 It's nice that it's Saturday. We've had a week. Parts of it were good, parts of it were challenging. Just like any other week!
I'm taking part in Brandy's Charlotte Mason Boot Camp and at the end of the week I learned about "not prodding" the students – bribery, reminders, ahem, "Just do your work" doesn't actually achieve much; rather giving the assignments and letting them move throughout the day without hounding. They'll learn that it's better to finish thouroughly in a reasonable amount of time. I need to go on with my work, though, even if they aren't finished. It's a struggle. I love Mason's reasoning, though, that we aren't doing anyone any behaviours by setting reminders for every last thing, that adulting includes doing the things that have to be done without constant interaction from the one to whom an appointment is made or work is due.
A story, perhaps.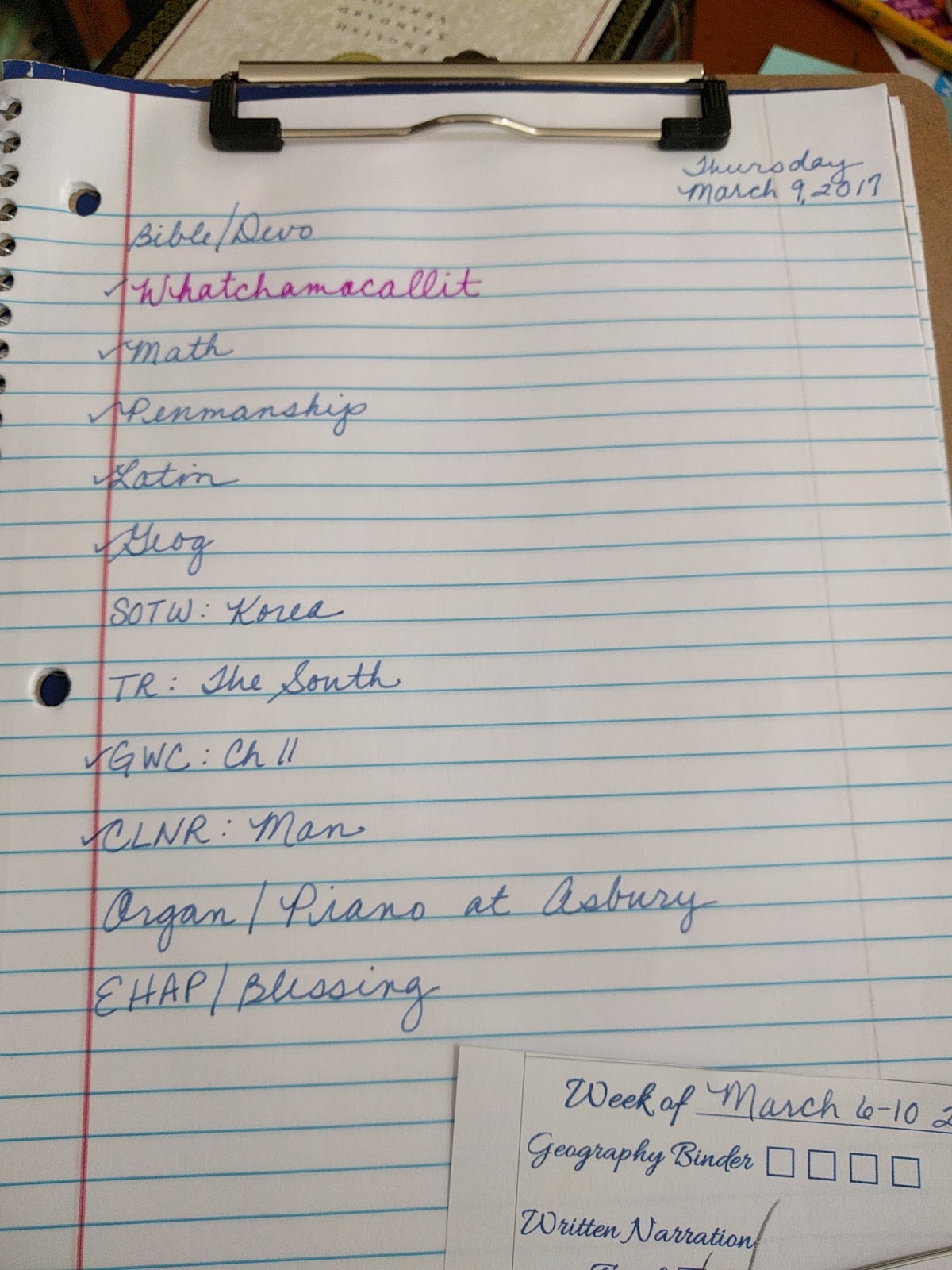 N-boy's Thursday assignments
finished by 11:30
On Thursday, one child really really wanted to go to the library in the afternoon. Their work was done by 11:30. On Friday, when there wasn't a goal to achieve, nor anything specific to fill the afternoon with, same child messed around, dawdled, and generally annoyed everyone keeping all from finishing a lesser day and making it take a much longer amount of time. I forced myself not to nag and yell and prod (I did stand in a doorway and raise eyebrows once), and the work was finished sooner than I expected when I did the doorway.
I'm trying to think of some afternoon occupations for the children to look forward to. One will certainly be no tablet usage if lessons aren't done in a reasonable amount of time, and Daddy says no pleasure reading before school. It seems that some other play occupation would be good as well.
Anyway, if this – this immediately practical and paradigm shifting thought – is what we've learned in the second full week of Boot Camp – and I've been around the CM world a while now – I'm excited about the coming weeks and what else I'm going to learn. I highly recommend the exercise when Brandy opens it up again!
This week's readings were filled with wars and rumors of wars (which led to wars); more of the character of Theodore Roosevelt; George Washington Carver's teaching techniques; rock strata in England; and television. We had some controversial topics to discuss from the readings. While we respect George Grant and many of his views, not all of his ideas regarding The South and it's sense of honor align with our Ohio ideas. We had a great discussion about areas where Daddy and I agree with Grant's positions and where we disagree. We always try to present multiple sides. I also struggled with some of the views put forth in the Christian Liberty Nature Reader, namely that we can know good and evil because of the way we were created. We talked some about the Creation and Fall and theological things.
But that is what education is. It's wrestling with ideas, talking them over, keeping or tossing, sorting through information and ideas and deciding what is worth keeping. I'm so thankful that AO gives us those challenges in such an excellent fashion.
I'm also glad that I pre-read those passages, so I knew ahead of time that we'd need to have those discussions: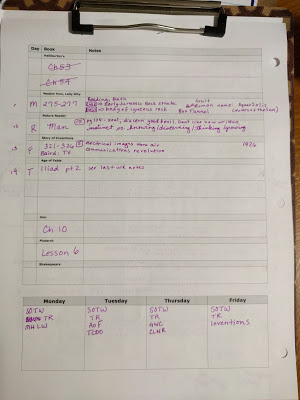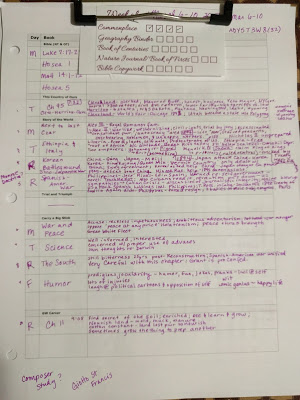 We had Whatchamacallit four days. We are learning 'Nothing but the Blood' for our hymn, which has been a song I've sung and heard, but not very often in my Presbyterian circles (moreso in the OPC than had been true in my childhood church). Continued with new stanzas of Psalm 34, and 'A Psalm of Life.' We began reading Paul Laurence Dunbar poetry, a poet I'd not heard of previous to AO, but I've already copied 2 of his poems into my commonplace.
This is where AO shines at being "multicultural." Rather than talking about it all the time, they quietly introduce an African American poet whose poetry is moving and important – I know why the caged bird sings – but is perhaps obscure and oughtn't be. We've been introduced to George Washington Carver, Phyllis Wheatley, Booker T Washington, W.E.B. DuBois, and expect others in the future.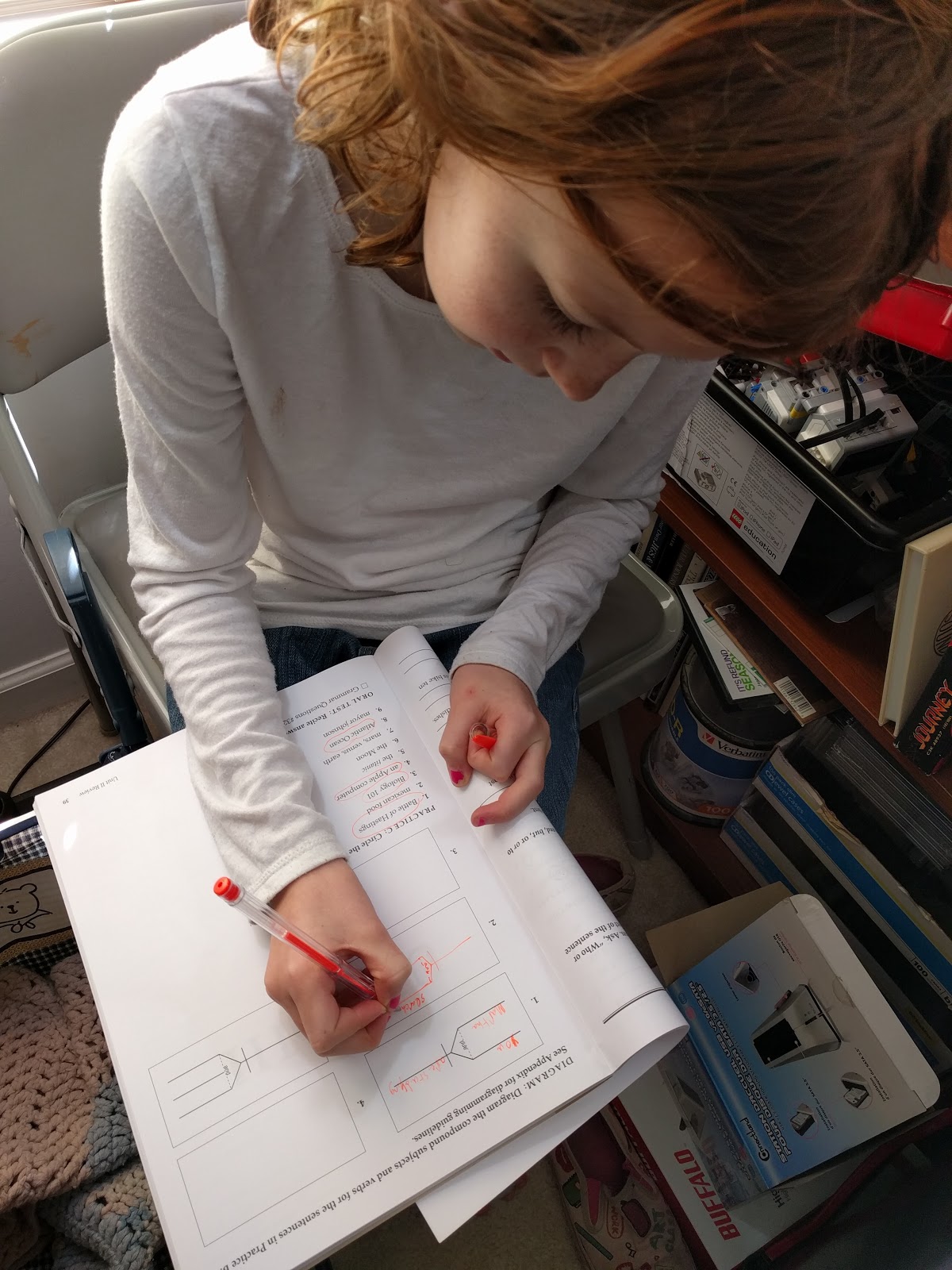 It was a grammar week, so we worked on some diagramming and did a very silly "Take Me Out to the Ballgame" Mad Lib on Friday. We're getting close to the end of The Chestry Oak. My kids are either comforting me or chanting that I would cry more because each chapter brings a spate of tears. They are so worth it!
We did Latin, M-girl finishing Lesson 6, the others Lesson 3 in Latin For Children B. M-girl put the big crossword puzzle together.
We also worked on Math – conversions between decimals and fractions for M-girl, R-girl began a section on graphing (she's in the final pages of Year 3 and they're very easy!), N-boy is also doing fractions and decimals.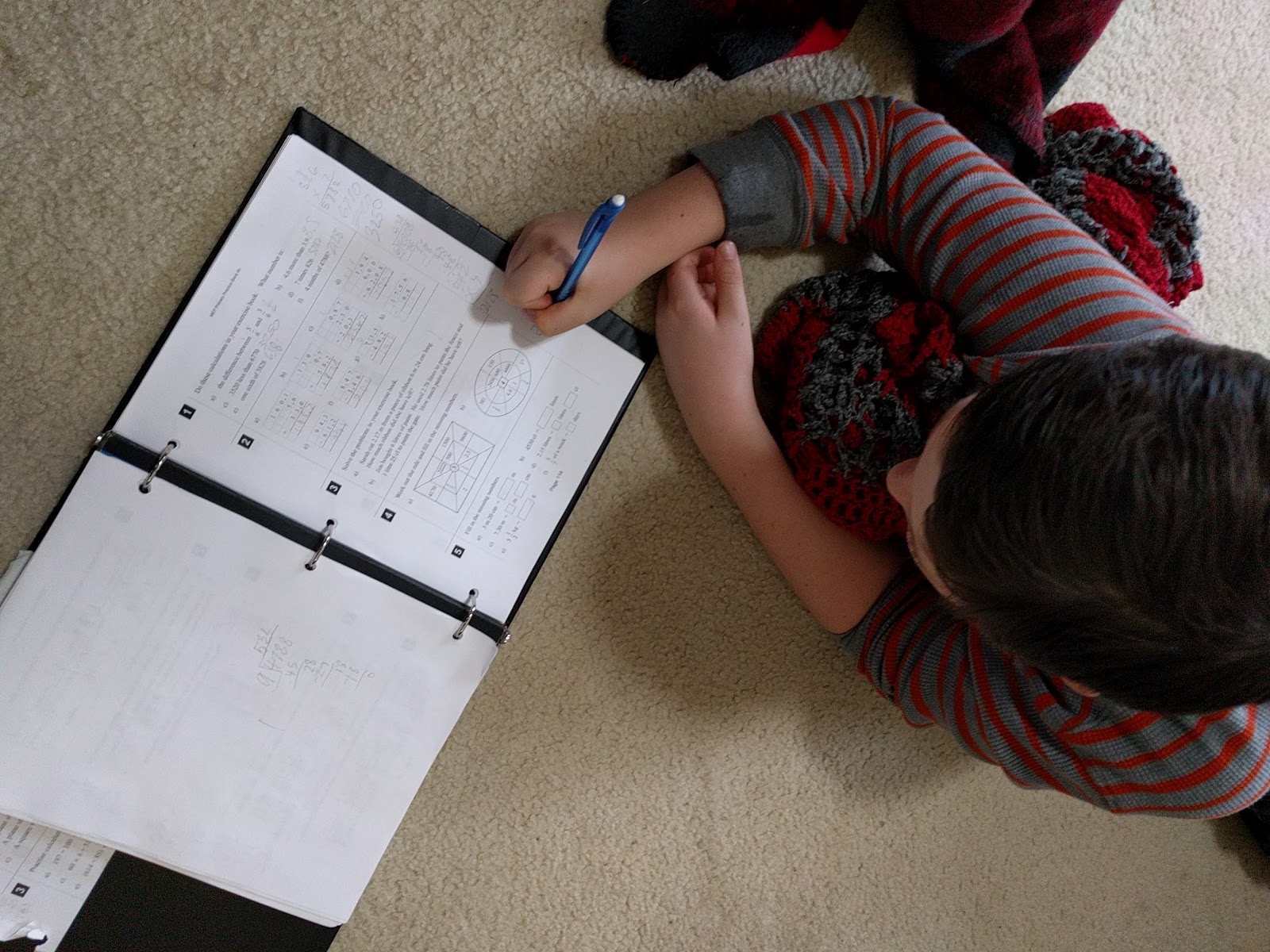 R-girl is almost done with her Westminster Shorter Catechism copywork. She would like to copy a book of the Bible like M-girl does, so I need to order her a book. She wants to do Esther. N-boy is working more slowly on his. I keep encouraging him to write.
He did write his best written narration ever this week. And it was by hand. I was pleased. M-girl started The Lost Tools of Writing this week. I was also very pleased with her Friday narration.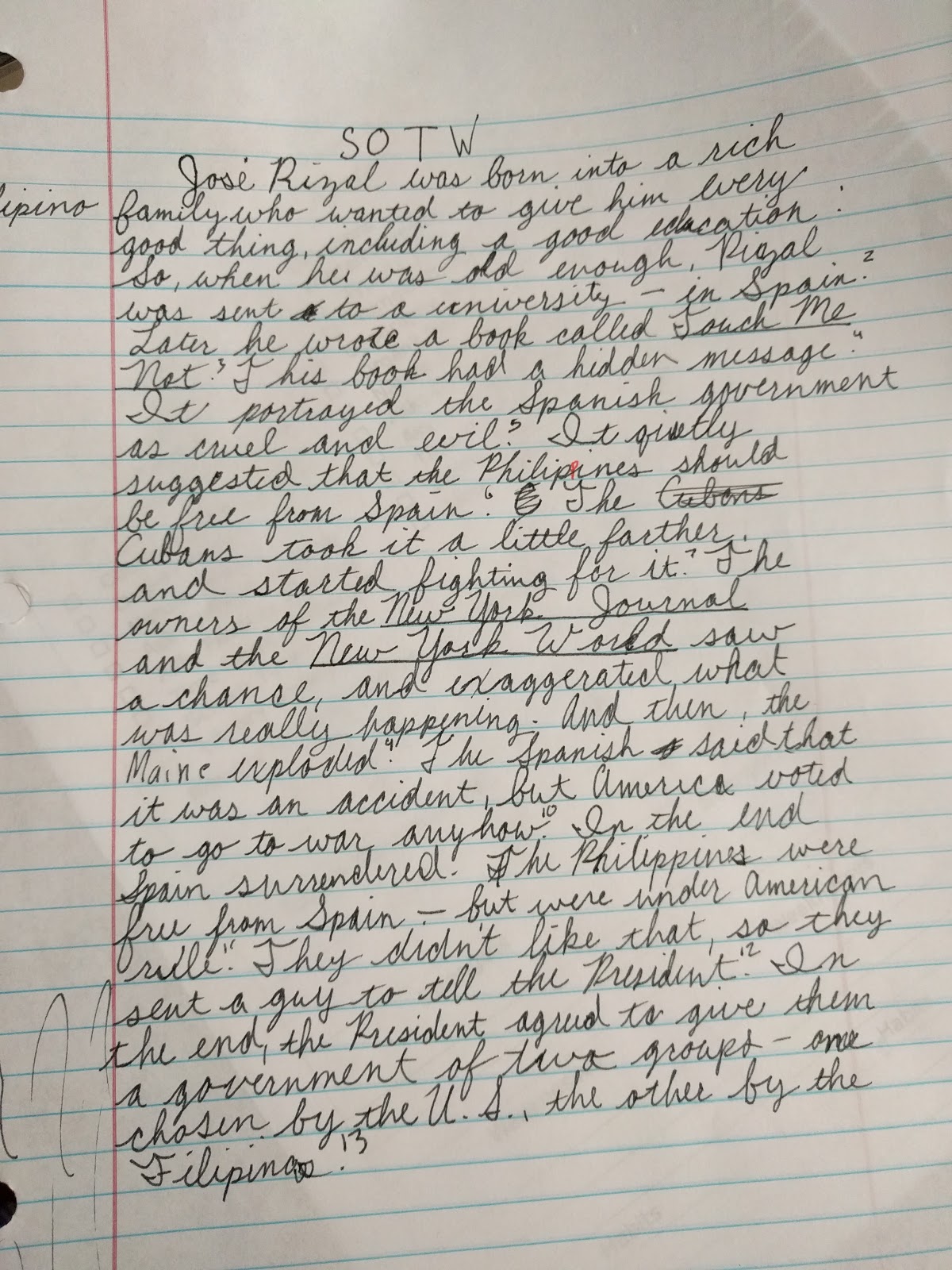 We had Friday Meetings and that went well. I'm slowly making those more our own with our family's needs. I've appreciated starting with Jennifer Mackintosh's ideas. Sometimes its good to take someone's practice and slowly incorporate your own needs. One thing I'm going to add to everyone's list is that they and I will straighten their school shelf during our meeting. R-girl worked on this project yesterday, and I think regular maintenance will help build better practices.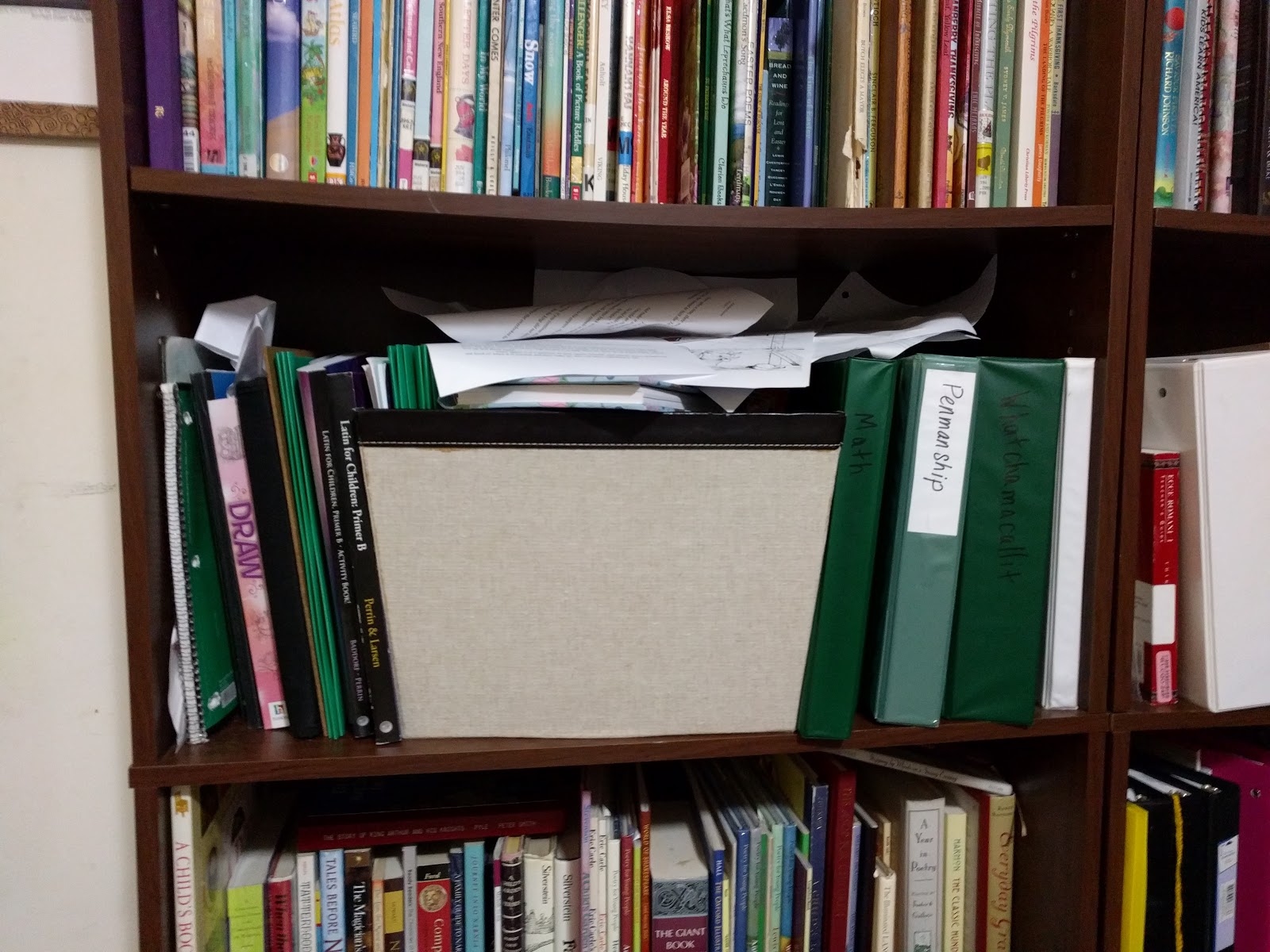 Before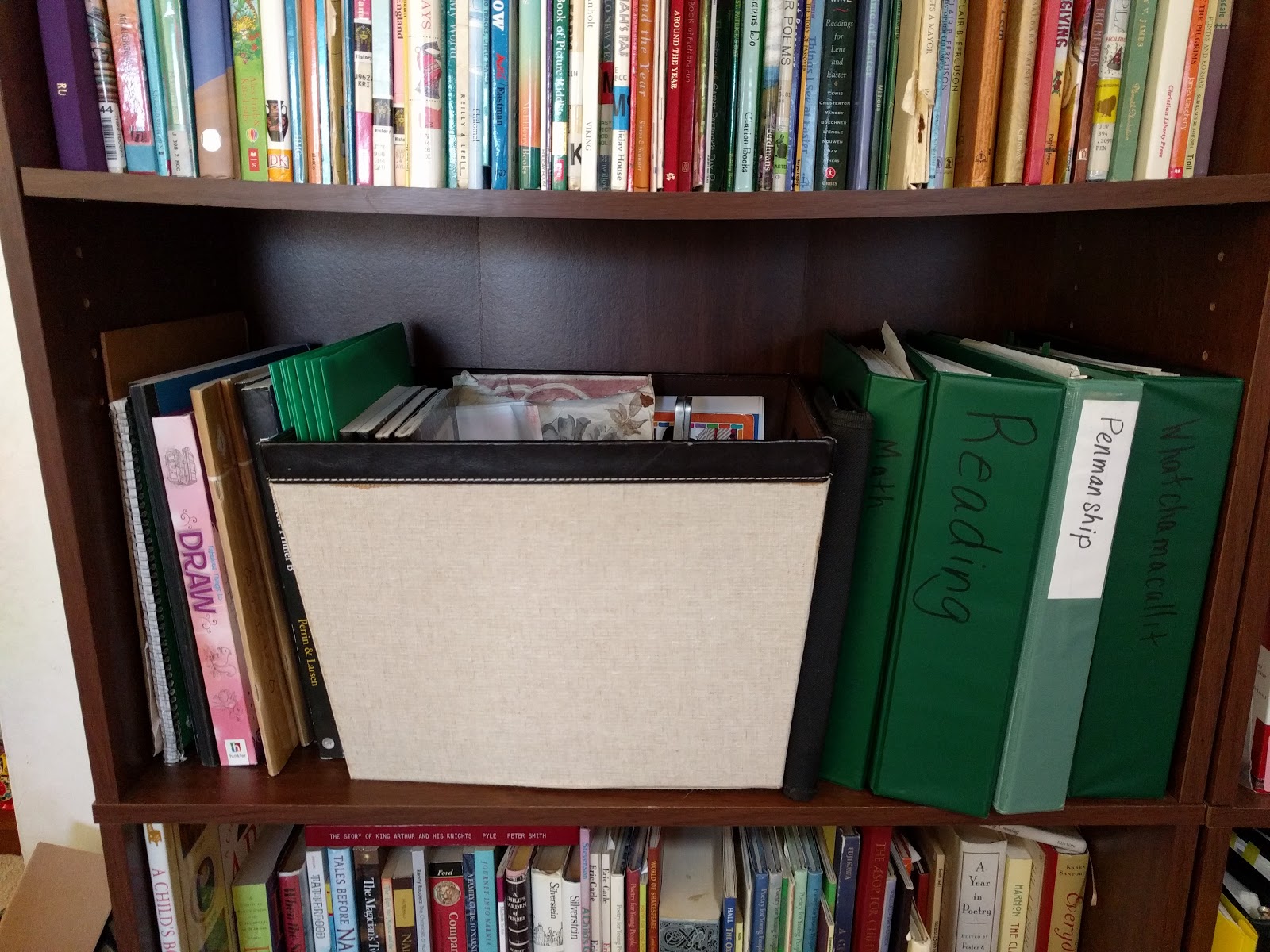 After
Keeping was slightly less successful this week for M-girl. I struggled with this somewhat this week, so I understood. I'm also thinking I'm requiring too many items for her Book of Centuries (fills up quickly!) and Commonplace book. It's one thing to establish habits, but I want to make this feasable as a lifestyle. Something I'm mulling.
How was your week?