Our Weekly Amble for January 22-16, 2018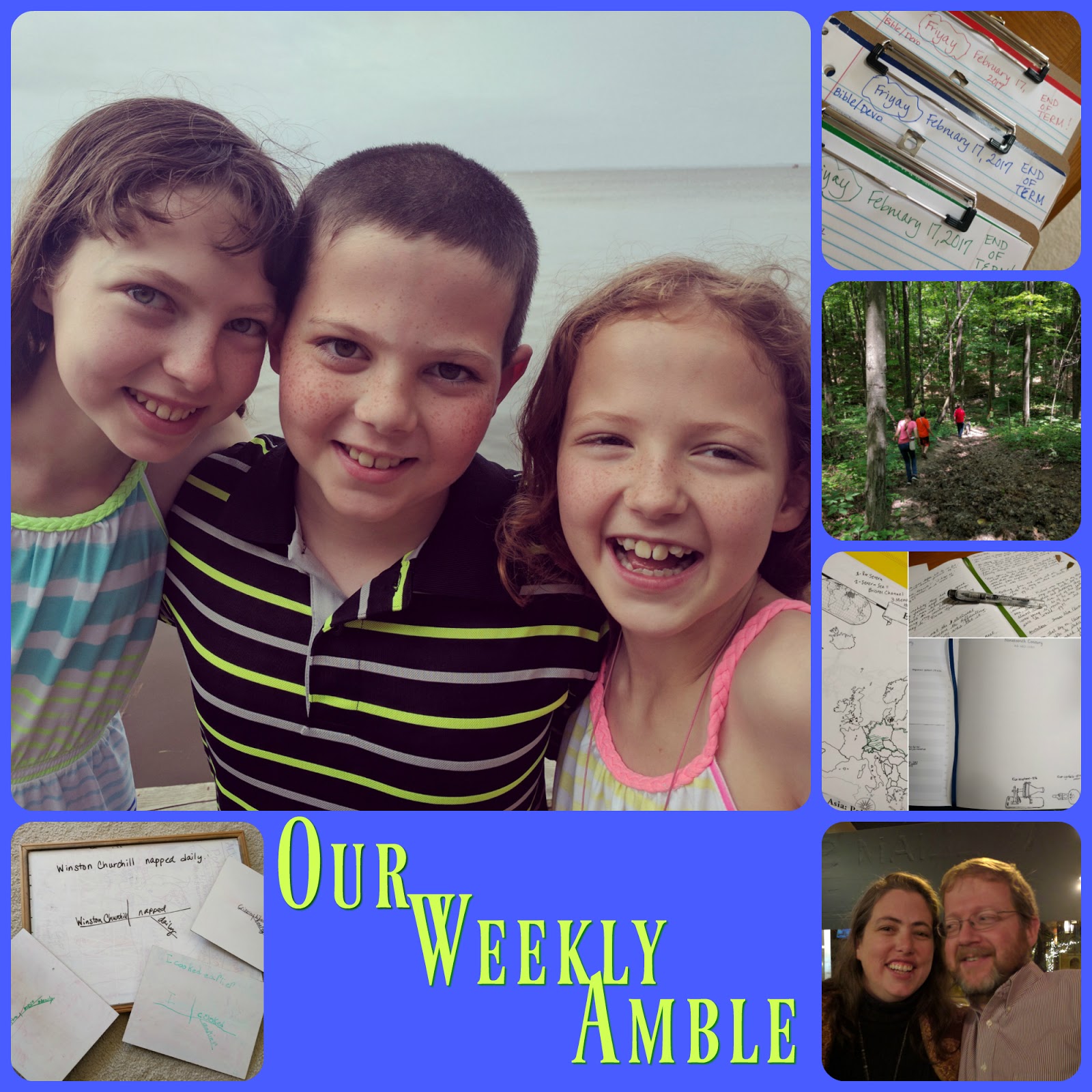 Overall, we accomplished a lot this week. We had four solid days of lessons, two days with Keeping Hour, and one Nature Walk. Woo-hoo!
Monday and Tuesday were the best days we've had in a long time. Jason was working from home because he was sick and things just go more smoothly when he's here. I hadn't done my pre-reading, but got it (mostly) caught up early in the week. I still have Black Ships Before Troy to read.
We did Whatchamacallit all four days. We reviewed hymns. The dog is either wanting to join our singing praises or registering his complaints about our singing.
We reviewed Bible memory passages and catechism. We read German Nursery Rhymes in Our Book House, about 'The Promotion of the Shepherd Boy' (because of his candor) in Laying Down the Rails, about magic numbers and names in Mathemagic (they were eerily correct), and about arches in Hillyer's Architecture book.
We worked on Writing and Rhetoric a little. The lesson was teaching about writing stories and how they use outlines. Later that day, R-girl was working on an outline for her current story. Yay!
We aren't working on new poems, but reviewing Level 1 in Linguistic Development through Poetry Memorization. When we watched Willy Wonka and the Chocolate Factory last week, M-girl piped up – hey! We know that poem. Willy Wonka quoted from Sea Fever which is in Level 2 of the program. We just love it!
We did start reading Langston Hughes' The Dream Keeper and Other Poems, which we're all enjoying. R-girl wrote a poem inspired by Hughes' poetry.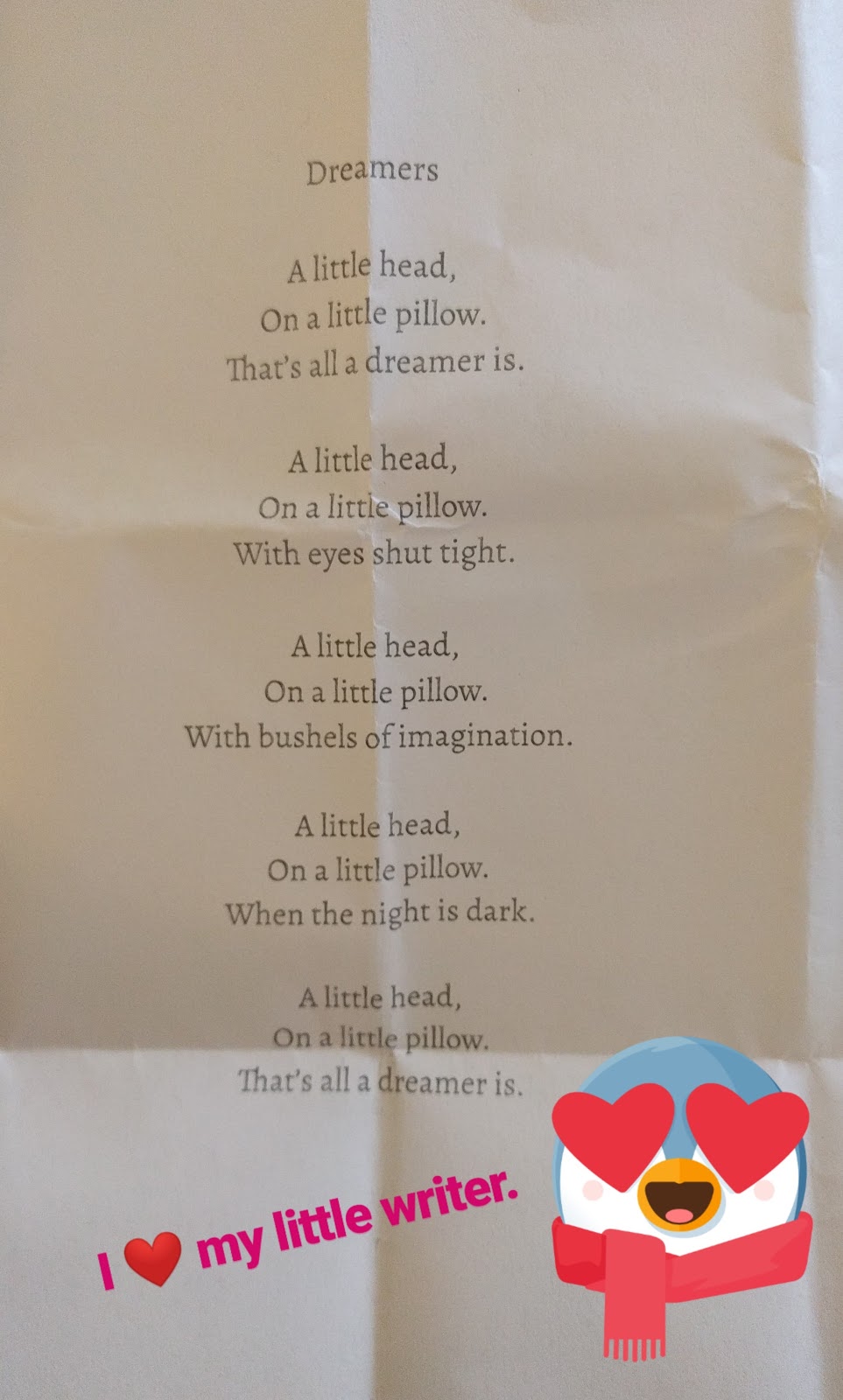 By R. Garrett
We continue working through Primary Challenge Math – a few problems each day. That gets really practical math practice and the brain juices flowing. We practiced Latin vocabulary and chants from Latin for Children A.
We also are working on memorizing passages from Comedy of Errors using Mystie's lesson plans. We did read a scene this week. That's fun. We read three sections to finish Julius Caesar for our Plutarch lessons and are ready to begin Agis and Cleomenes.
In our Beauty Loop, we did a Drawing Lesson from The Drawing Textbook. It was the best Drawing Lesson we've ever had.
We read about George Gershwin in The Gift of Music and listened to some of his compositions.
Our folksong for January was Funiculi, Funicula … the kids usually talk me into playing Danny Kaye's version of "There's a Hole in the Bottom of the Sea."
Friday saw a little bit of counted cross stitch accomplished – but not much.
We also read some from The Open Gate by Kate Seredy to close Whatchamacallit every day.
Our lessons this week included math and xtramath every day. M-girl is working on Latin Alive! which is a lot of review, but her tutor is also assigning some translation work and helping her with it. I love that. N-boy and R-girl are halfway through Latin For Children B, R-girl has lost her workbook, though.

They did the Week 3 readings for AO Year 6, Term 3. They've done a great job of reading their assignments and narrating – even doing readings on Wednesday even before we left for Bible Study. We cleaned the first floor too; it felt very accomplished! Monday, N-boy and R-girl had a makeup Parkour class and they had their regular class on Wednesday. M-girl was able to go to the winter conditioning for the first time on Wednesday and came home sore. Excellent.
They caught up on their piano lessons on Monday and organ on Tuesday. N-boy wasn't feeling well on Thursday, so he didn't go to organ practice, but they practiced at home.
We did Keeping Hour on Monday and Tuesday. I would have liked to do it on Thursday, but just didn't get that far. More on Keeping Hour in coming weeks, suffice it to say that I think this is going to be wonderful when we get used to doing it.
On Friday, we got to go for a walk in a local park. We definitely needed that after being mostly cooped up for January with sickness. Emotions were rubbing on each other in unpleasant ways and the woods was healing.