Our Weekly Amble for August 31 through September 4, 2015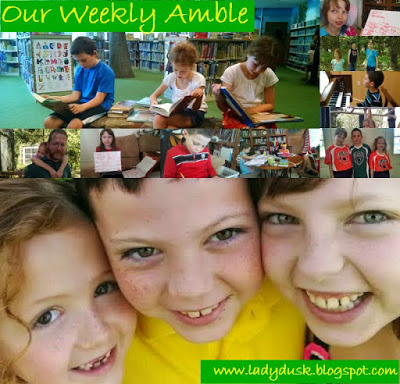 September?! Say it isn't so!
We had a good week. Most of the time. That's the joy of writing a weekly review like this. The moments can be frustrating. Seriously frustrating. Our
plans and idyllic imaginings can get derailed
as we deal with the issues and frustrations of living and learning with the same people – the ones who know which buttons to press – all the time.
We did lessons on four days, Monday, Tuesday, Wednesday, and Friday.
The biggest news of the week was we brought home our new dog,
Buck
! He has provided all sorts of educational opportunities for all of us!
One of the children and I are working on memorizing Ecclesiastes 7:9: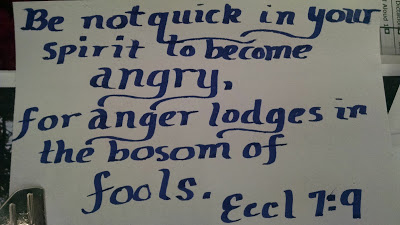 I'm sad that it's necessary – for both of us – to consider our anger.
We ran three days, Monday, Wednesday, and Friday. The children *hate* it with unrelenting hate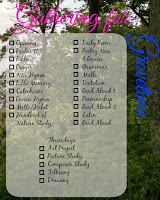 During
Grovetime
, we accomplished most of the work I had planned. I did put off the final scene of
A Midsummer Night's Dream
. It's pretty long and we were going through the play really quickly. I did some research and saw that spreading it out to 1-2 scenes per week rather than daily was a good way to go. We also only read three chapters of
Kidnapped
, I had hoped to read 5. But we didn't do Grovetime on Thursday at all and did a lot of catchup on Friday, so ran lower on time. We did our index card a day, but the novelty seems to have worn off that practice and now it's just being done to get done. I think we're going to try
Brandy's
plan of these
drawing/observing assignments
from Donna Young's Site. I printed off three weeks worth of them this morning.
We are doing very well with our new
hymn
for September, "It Is Well With My Soul." It helps that it is very familiar. I love that the girls can sing the melody and N-boy and I can sing the callbacks which is really the only reason I waited so long to learn it. Memorizing our
Bible
passage John 1:1-18 is similar. We are picking it up relatively quickly.
Catechism
, which we've been working on since M-girl was a toddler, however. Sigh. My goal is to finish the
Catechism for Young Children
by Thanksgiving and have the children go before session with it, we may need to make a little more effort. I'd really like to move on to the Shorter Catechism and
Training Hearts, Teaching Minds
in the next school year.
We finished my
eBook
this week! M-girl, in particular, seemed to connect with this the best, but all of the children said they enjoyed and learned from it. That made me happy, because while I'm happy to share it with all of you, I really wrote it for
them
(and me). If you downloaded it, I'd love to hear how it's going with your family! To take it's place in Grovetime –
Mottos & Habits
– we're using Simply Charlotte Mason's
Laying Down the Rails.
We read about cleanliness this week. I don't know if this will be a long-term thing. I'm tempted to use some of Mystie's
Monday Metaphors
and
Mottoes
.
Anna
had bought Simply Charlotte Mason's
Laying Down the Rails for Children
and is planning to sell it. I might review that, too.
We went back and read the poem and Thoreau's journal pieces about the three snakes we read about last week. We started reading about turtles at the end of the week. I love that the
Handbook of Nature Study
includes beautiful writing and storytelling in with the scientific information. Speaking of
poetry
, we're reading Emily Dickinson poetry – and almost finished with the book – for Ambleside and enjoying that. We're almost done with memorizing 'Sea Fever' by John Masefield. We got to review the earliest poems in
Linguistic Development Through Poetry Memorization
, so Ooey Gooey and The Vulture made their reappearances.
I am loving doing Grammar during Grovetime (M-girl, not so much! She asked when we were doing First Language Lessons again – I don't plan on it!) We are learning about four categories of nouns. In particular this week we discussed concrete and abstract nouns and reviewed subject and predicates. We reviewed subjects and predicates too.
We also did a studied dictation from the Abigail Adams book. R-girl did the first sentence. N-boy did the first two sentences. M-girl did three sentences. This is one way we all use the same curriculum at different levels.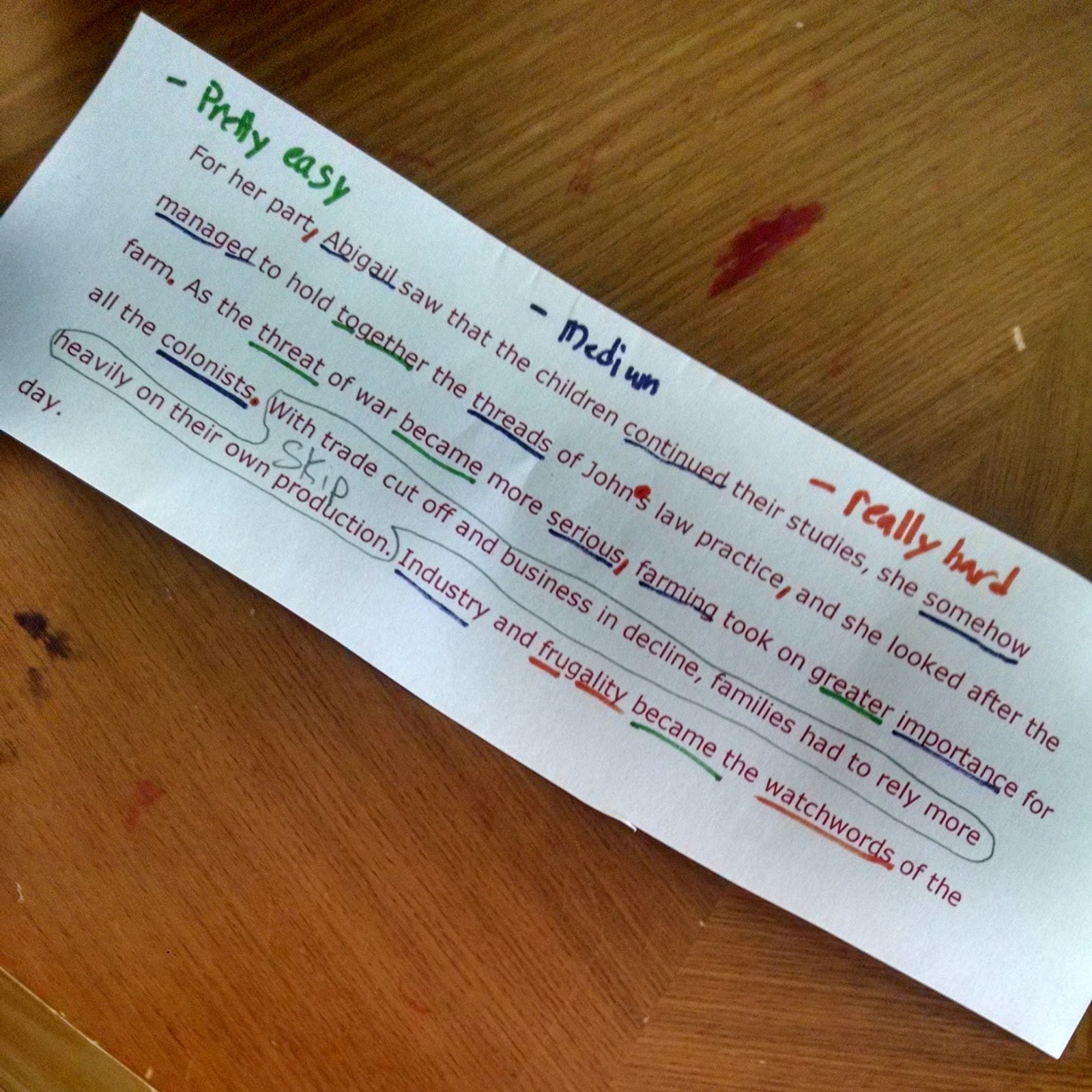 M-girl's studying of the passage.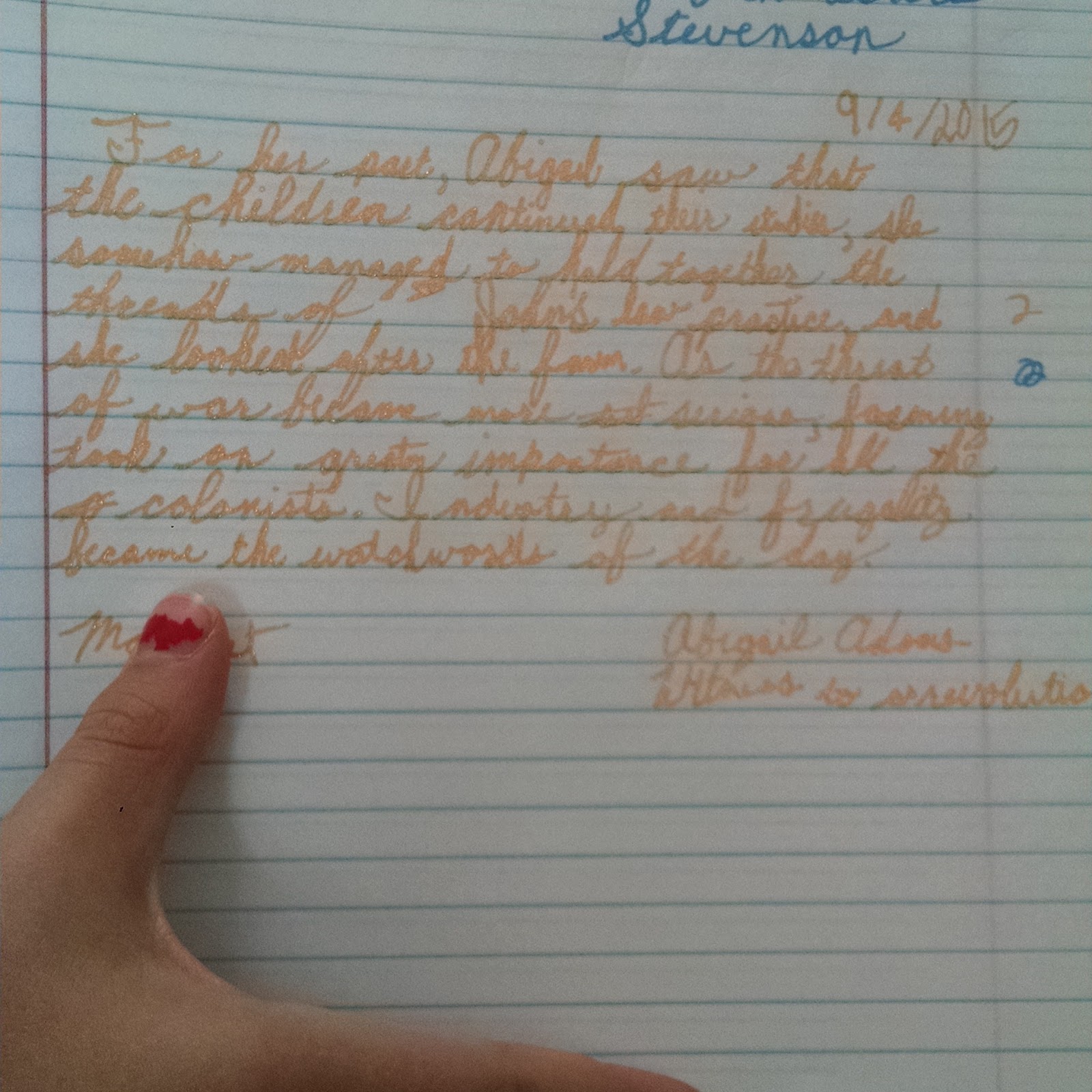 M-girl's writing of the passage (in sparkly gel pen)
We read Act 4 Scene 2 of A Midsummer Night's Dream. We've been enjoying this. We read through a lot of
George Washington's World
and I am really enjoying it. Yesterday we read about Voltaire, Captain Cook, and Lavoisier. Lavoisier is in a book Jason is currently reading (
The Measure of All Things
) and he read some of it to M-girl one sick Sunday. She made the connections between the two. So fun.
I read the Age of Fable chapter 'Glaucus and Scylla" aloud.
On Friday we listened to Brahms' 'Variations on a theme of Haydn.'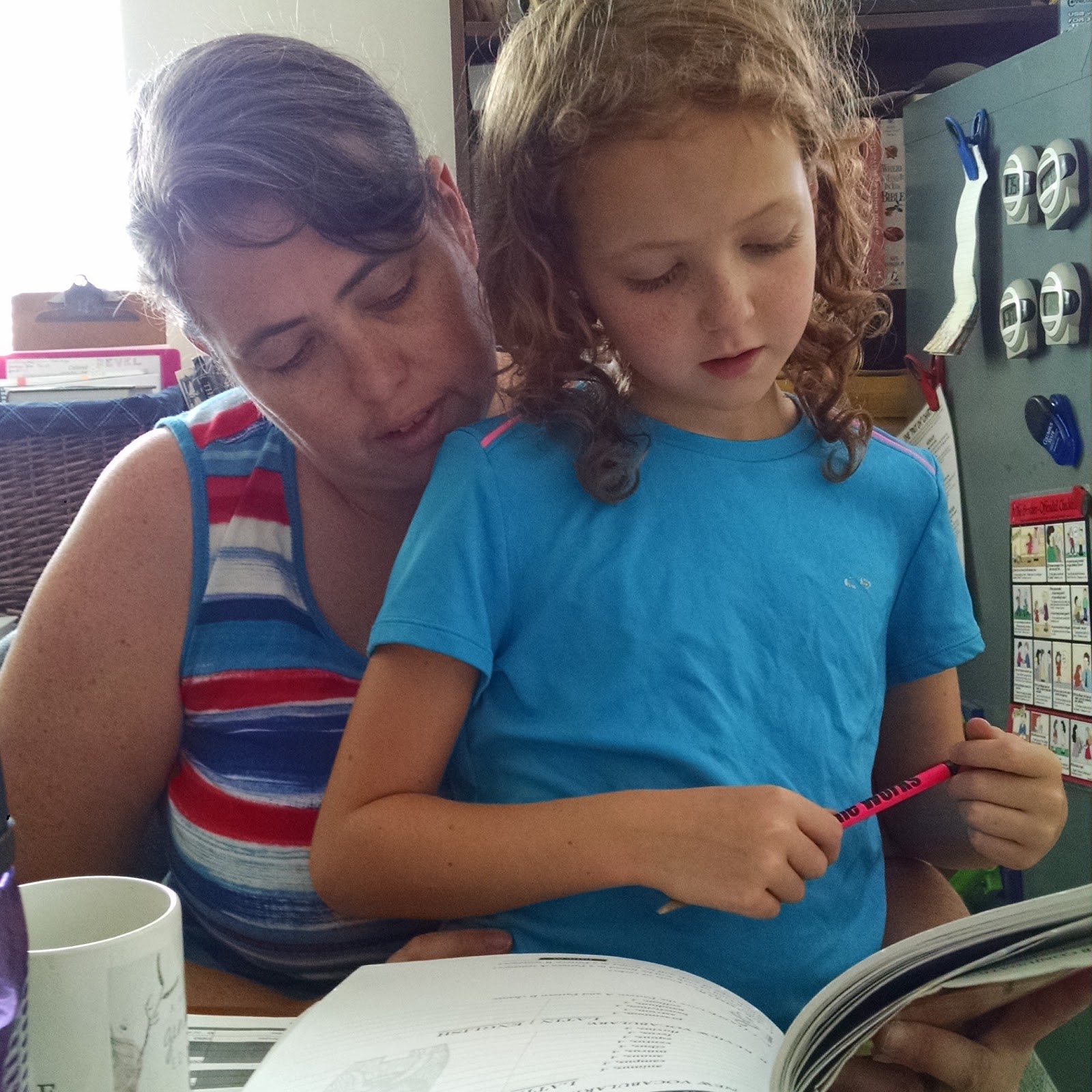 Sometimes you need Mommy's lap to concentrate on Latin derivatives.
We reviewed some Latin chants and worked on derivatives one day. I'm struggling with keeping Latin in our schedule at the moment. This is something I need to improve upon.
We did read three chapters of Kidnapped. David and Alan just battled with the sailors on the ship. We finish Grovetime with Kidnapped or when we've hit close to 1.5 hours. That was a lot of typing for 1.5 hours over four days LOL.
We have a 30 minute break after Grovetime and all of us are ready for it.
The children practice piano for 15 mintes (M-girl & N-boy) or 3 songs 3x each (R-girl; that turns into about 15 minutes but don't tell her). R-girl also gets points with her teacher for practicing with a good attitude. They did copywork three days. I don't assign it the same day we write our studied dictation. They did blobbing several days. I think I'm going to change the blobbing assignment.
We did math four days, although one of those days we only did Calculadder. N-boy is still working on geometric ideas like perimeter, symmetry, and similarity. R-girl worked on writing mathematical statements in different ways: (6+4)*3=6*3+4*3. M-girl is reviewing long division and multiplication at the beginning of Year 4.
The children read and narrated from Abigail Adams, Storybook of Science, Stories from the History of Rome, and Long's Geography.
R-girl and M-girl had soccer practice(s). N-boy's practice was cancelled. We enjoyed First Friday in our town. We walked with Daddy. We read some of Harry Potter and the Sorcerer's Stone at dinner with Daddy. I started a class for Women Counseling Women at our church on Thursday night. We did our grocery shopping Tuesday morning at 8am. It might be the perfect time to grocery shop.
It was a full week!