Our Weekly Amble for August 21-25, 2017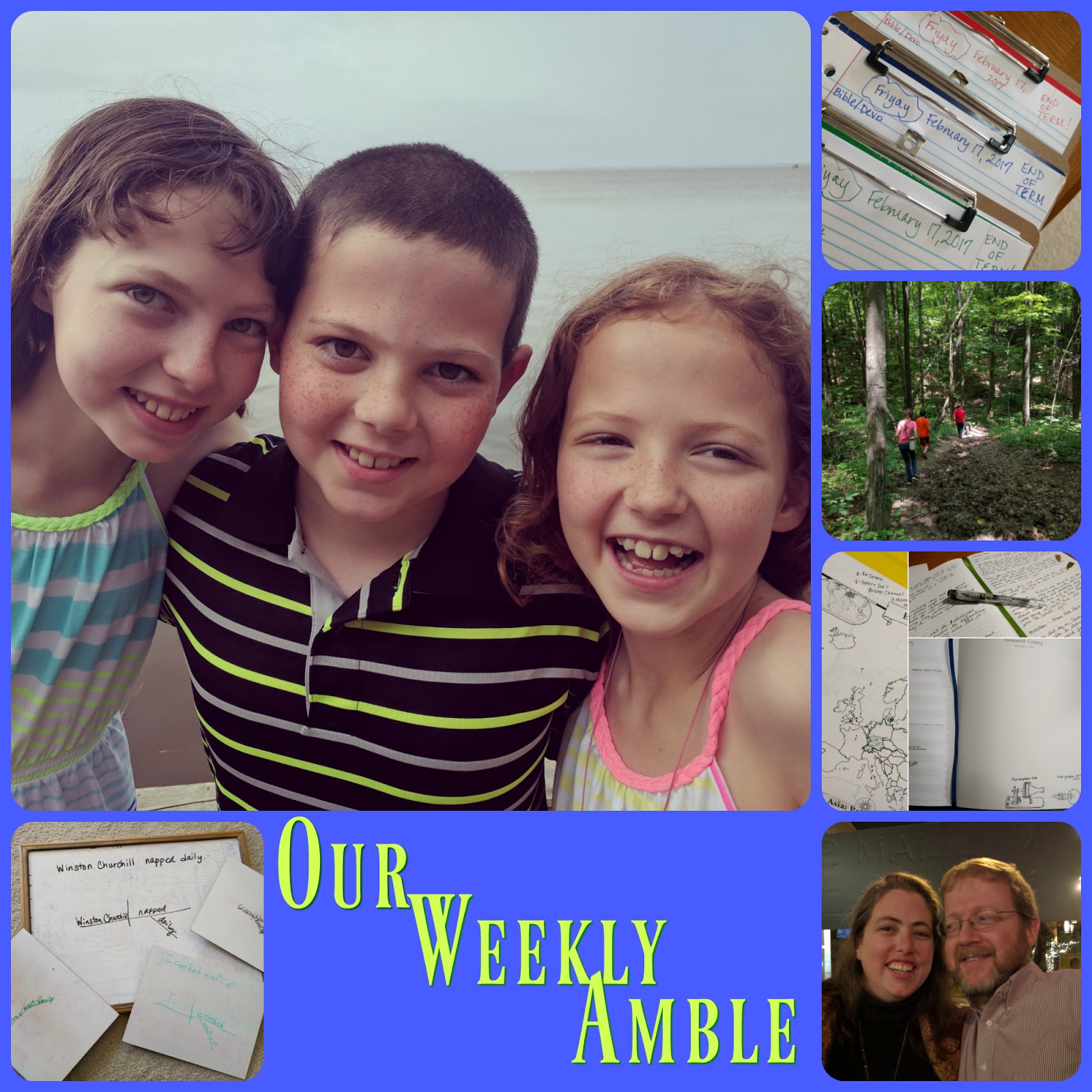 Habits are hard y'all …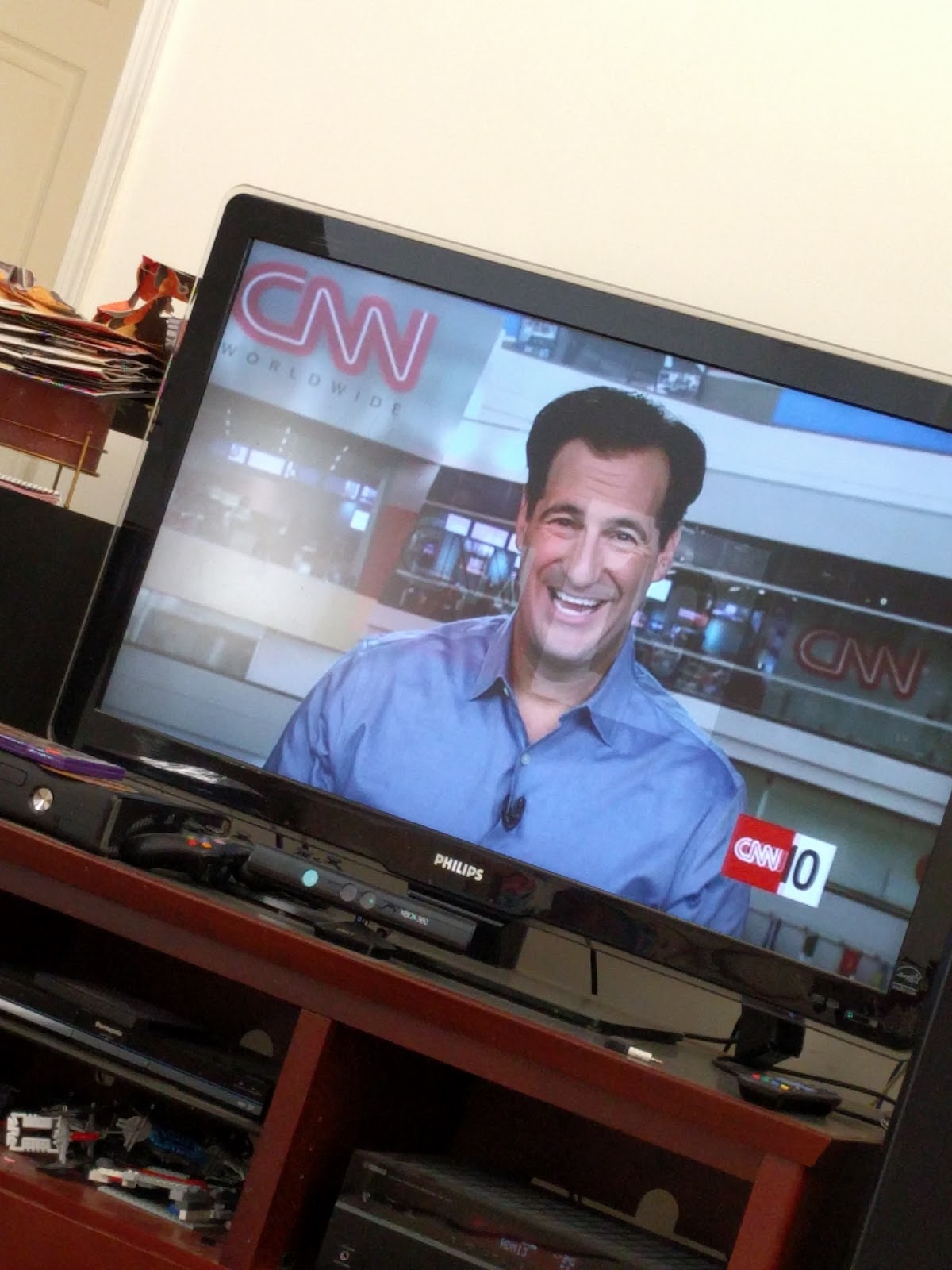 It was the first week of our second to last term of the year. We have 2 weeks of Ambleside Online Year 6, Term 1 to finish before starting in on Term 2. I'd love to do all of Term 2 in the 4 and then 6 weeks (that's 10, total) we have before Yuletide Session. If we manage that, it'll be the first year we don't lose time over the course of a year and that would be a major win!
If we can't get it done without losing our minds, I'll be OK. We're not in a hurry. I'm going to see if I can get the plan around. It does mean a number of days with 5-6 readings and 4 is just about right for us. I've also been learning more from my Charlotte Mason peeps about a more exact routine. So I need to think more about that. I think I'll try to institute more of that when we get to Term 2 work. Brandy's Day in the Life post this week was especially inspirational for how to do this.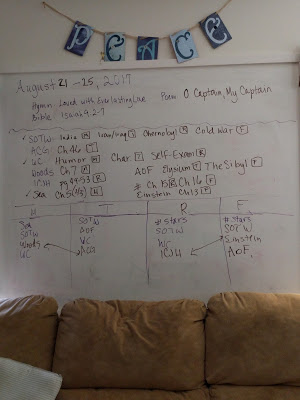 Our Monday Planning Session
We've added watching CNN 10 (formerly Student News) to our morning before school starts. The kids like knowing a little about current events and this is the shortest, least annoying means I can find. We've already had some discussions about how media -ahem- mediates the information they present.
On Monday R-girl needed some orthodontic repair, so we didn't do Whatchamacallit. Between orthodontia, first day of a new term, and the eclipse, the rest of the day was hard. Our Monday planning meeting was a struggle with people wanting their favorite books later and less liked books earlier in the week. There was a lot of wrangling. In a lot of ways it might be easier if each did their own year.
Lessons took forever on Monday and there was too much fighting. The eclipse was cool and fun, the rest was yucky. But we persevered and finished. Piano lessons moved from Monday to Thursday (I think this will be good, but when organ starts up the schedule will be different this year.) All three kids had soccer practices – at three separate parks beginning at different times but ending at the same time. Ack.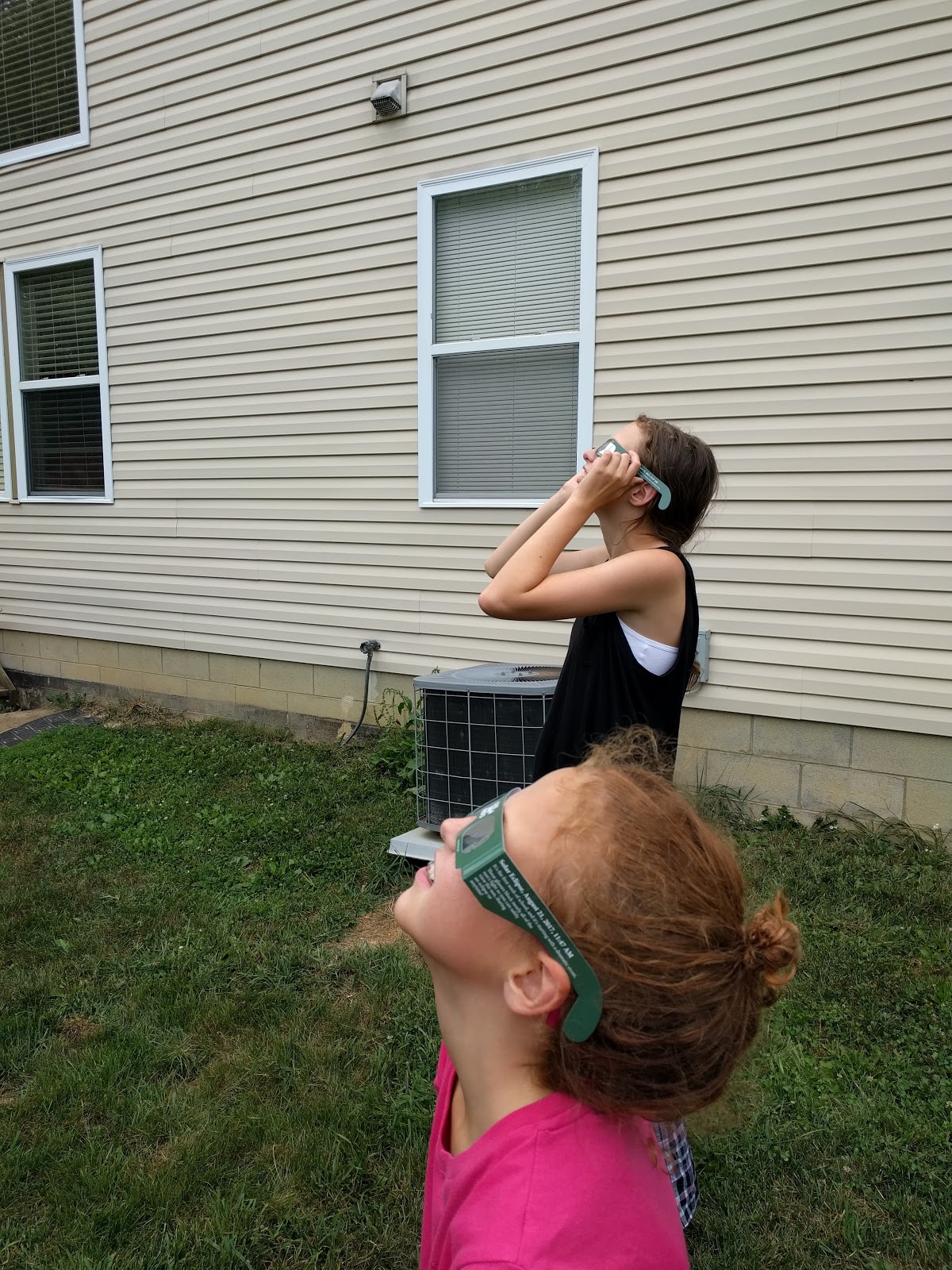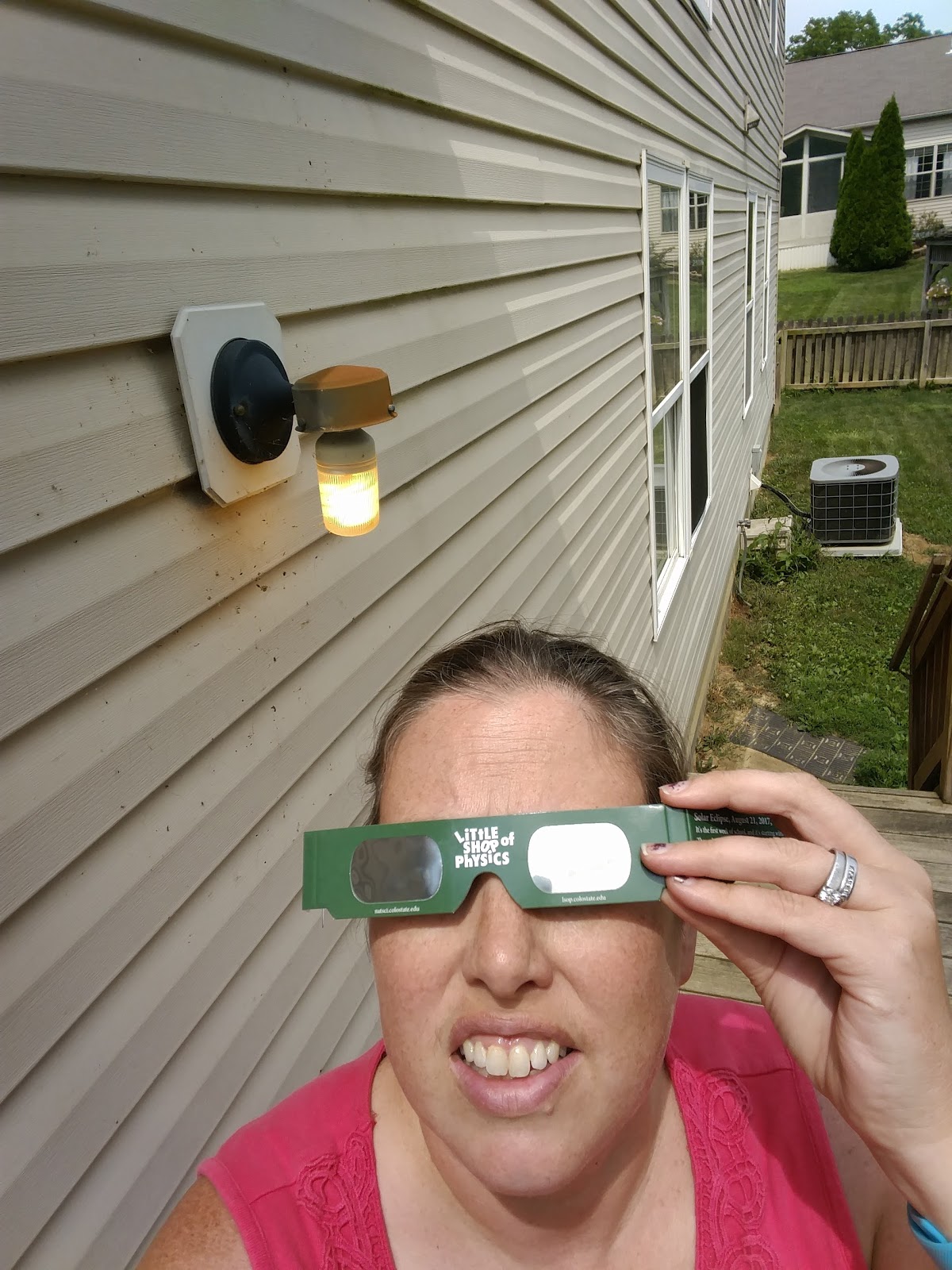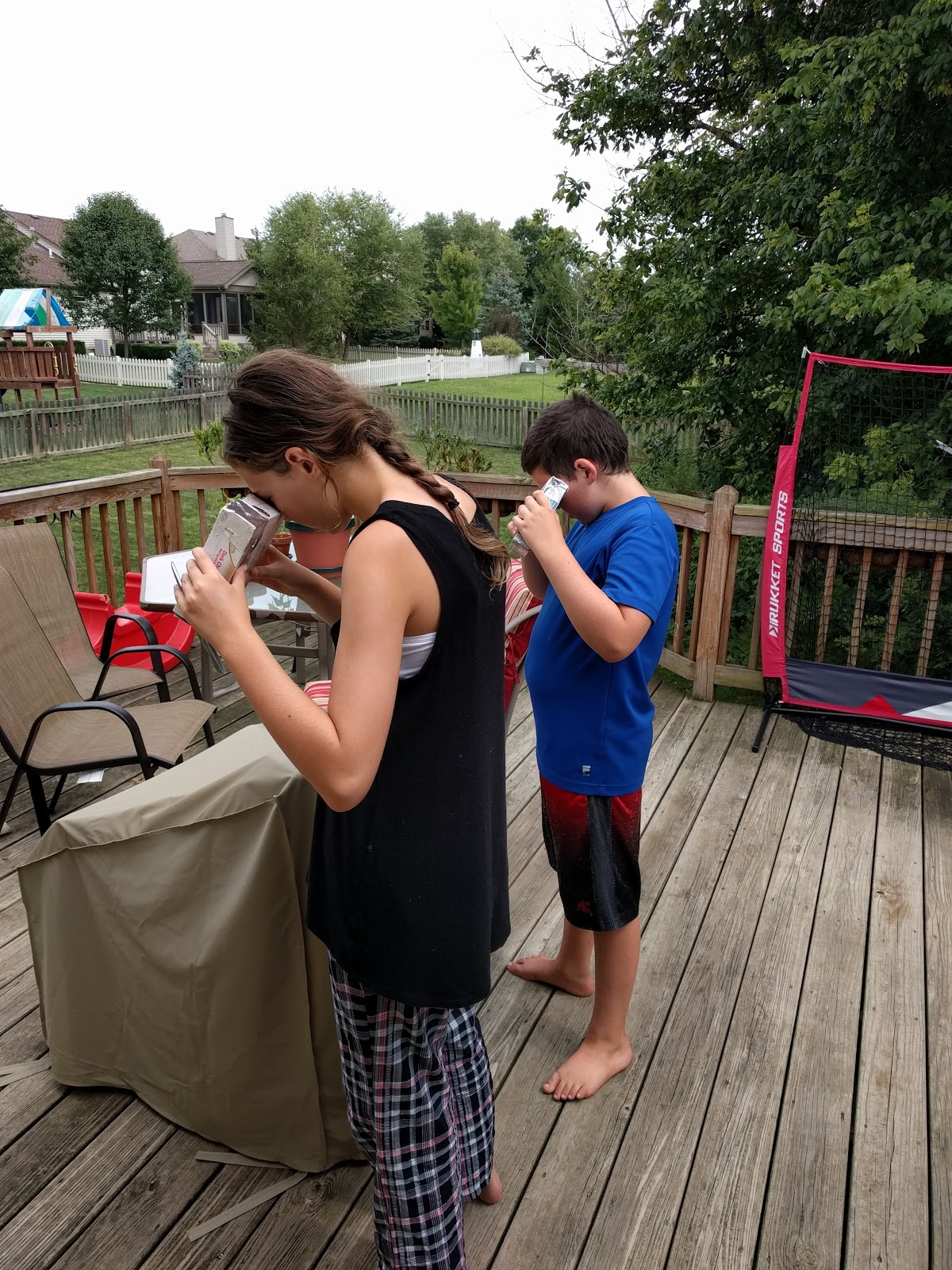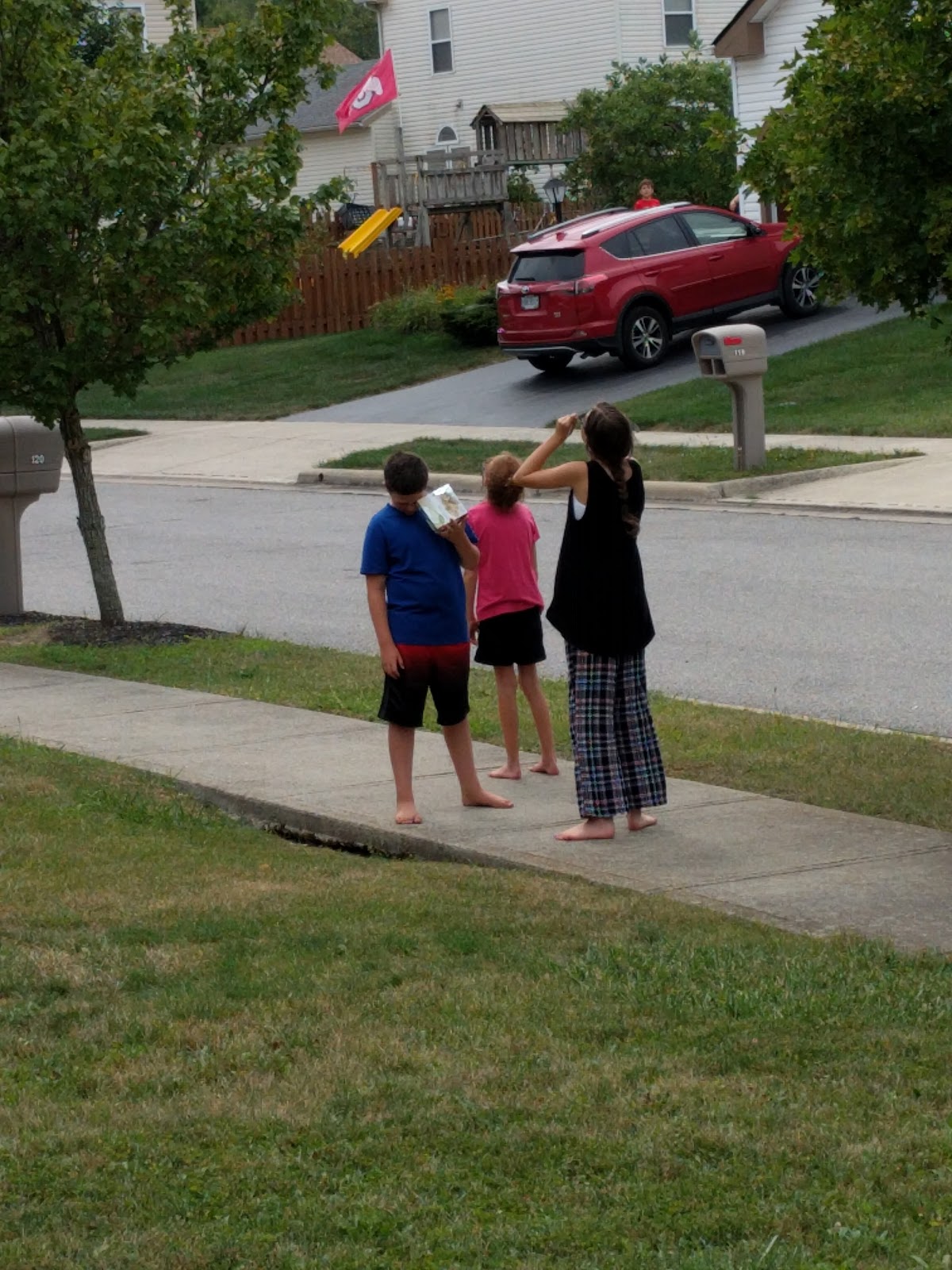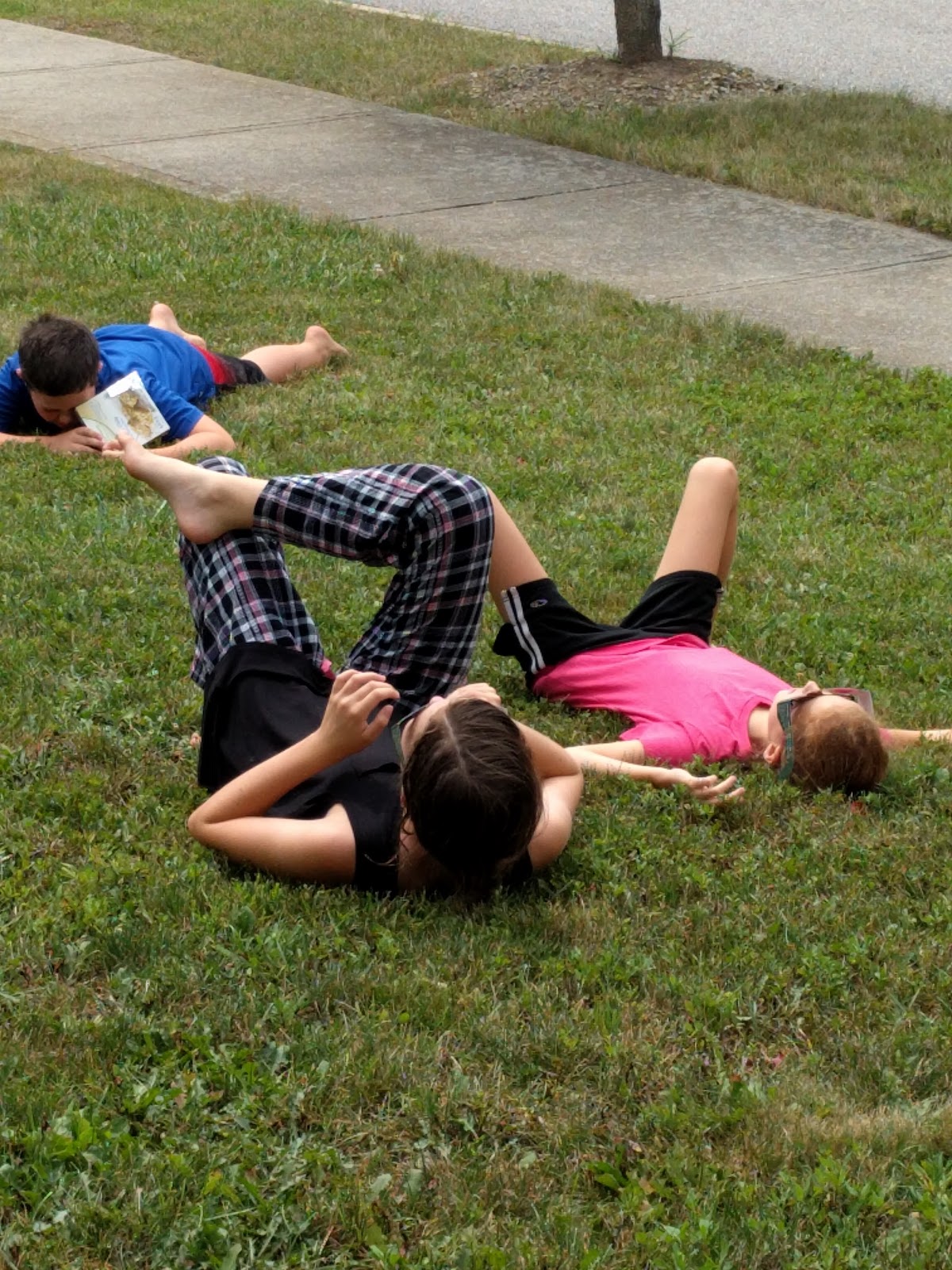 I know the first day back from break is often difficult, throwing in the excitement of an EVENT made it moreso. I should have taken those things into account and thought about our school day more carefully than I did. Education is an Atmosphere, a Discipline, and a Life. Mama controls that and I let circumstances control me. Better preparation needed.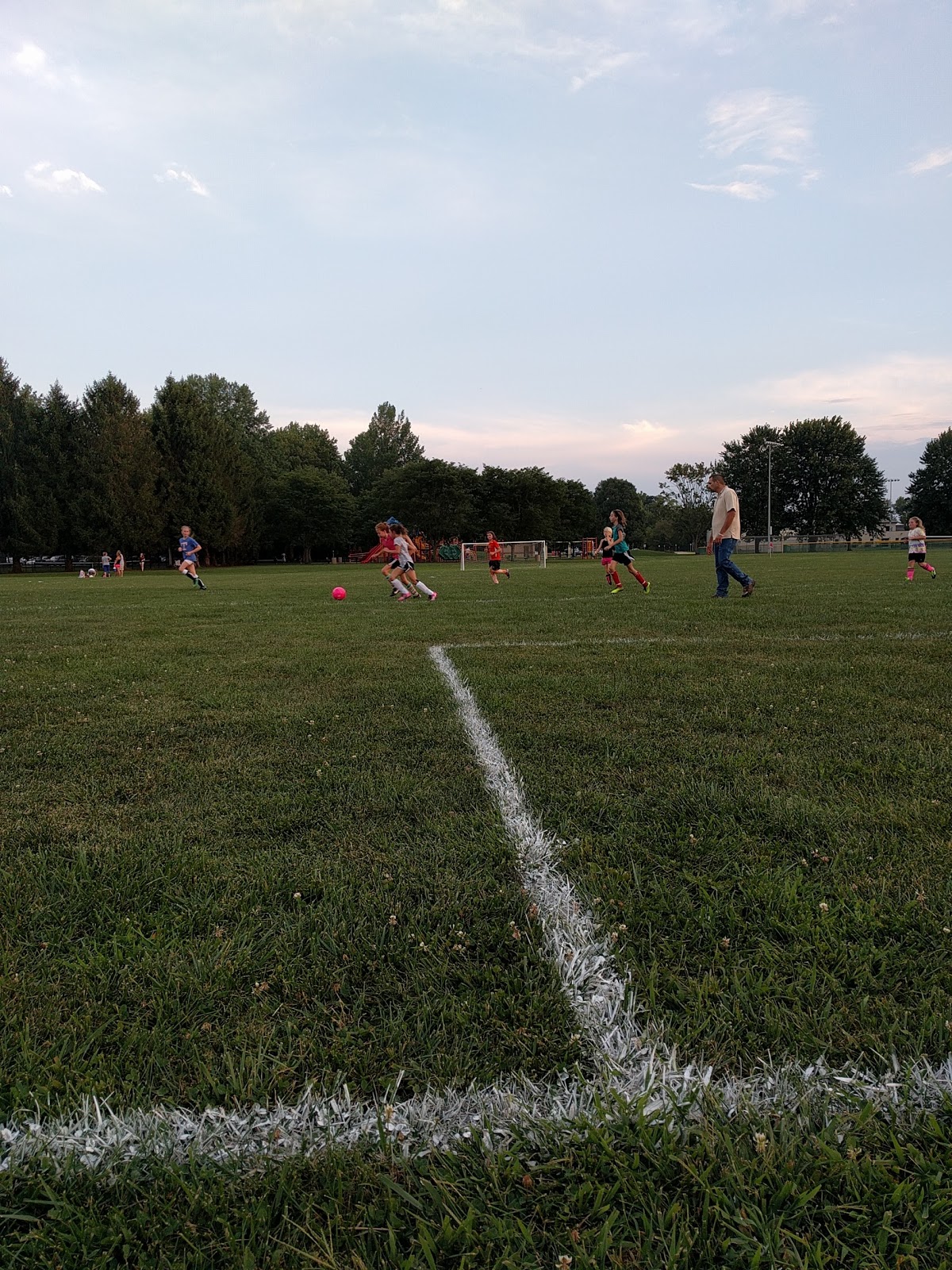 Soccer practice, though.
Tuesday went much better. We had a walk in the morning (which always – always – makes a difference) before lessons. We had a really good Whatchamacallit. We moved forward to Writing and Rhetoric Narrative book 2. We worked better and got things done appropriately. We've been finishing Story of the World IV and we're getting to history I remember. That's a little strange.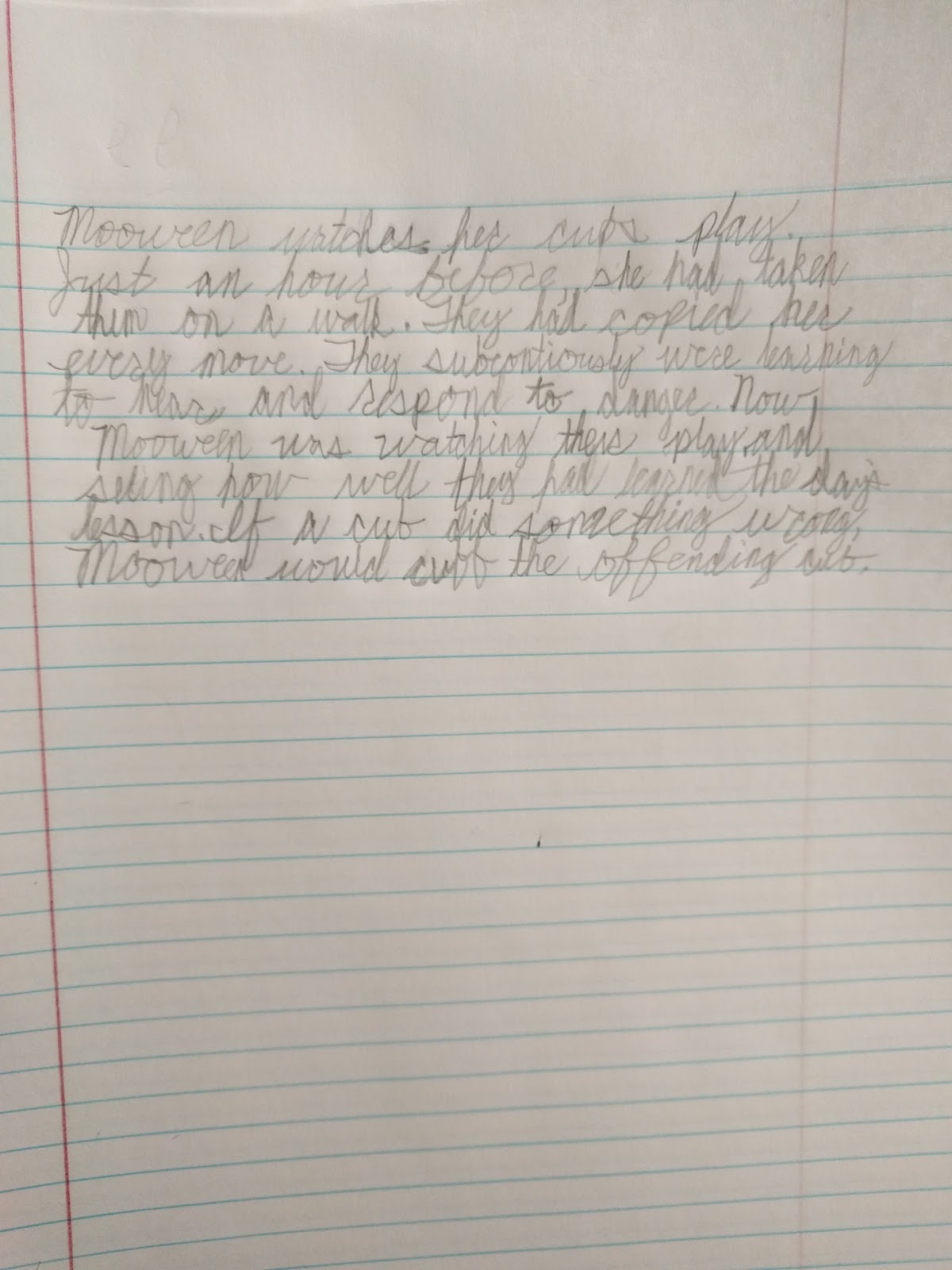 N-boy (age 11) School of the Woods written narration
Wednesday was a field trip day. We went to the Ohio History Connection (museum) and Ohio Village. We had a great time and learned about small town life in 1896 Ohio.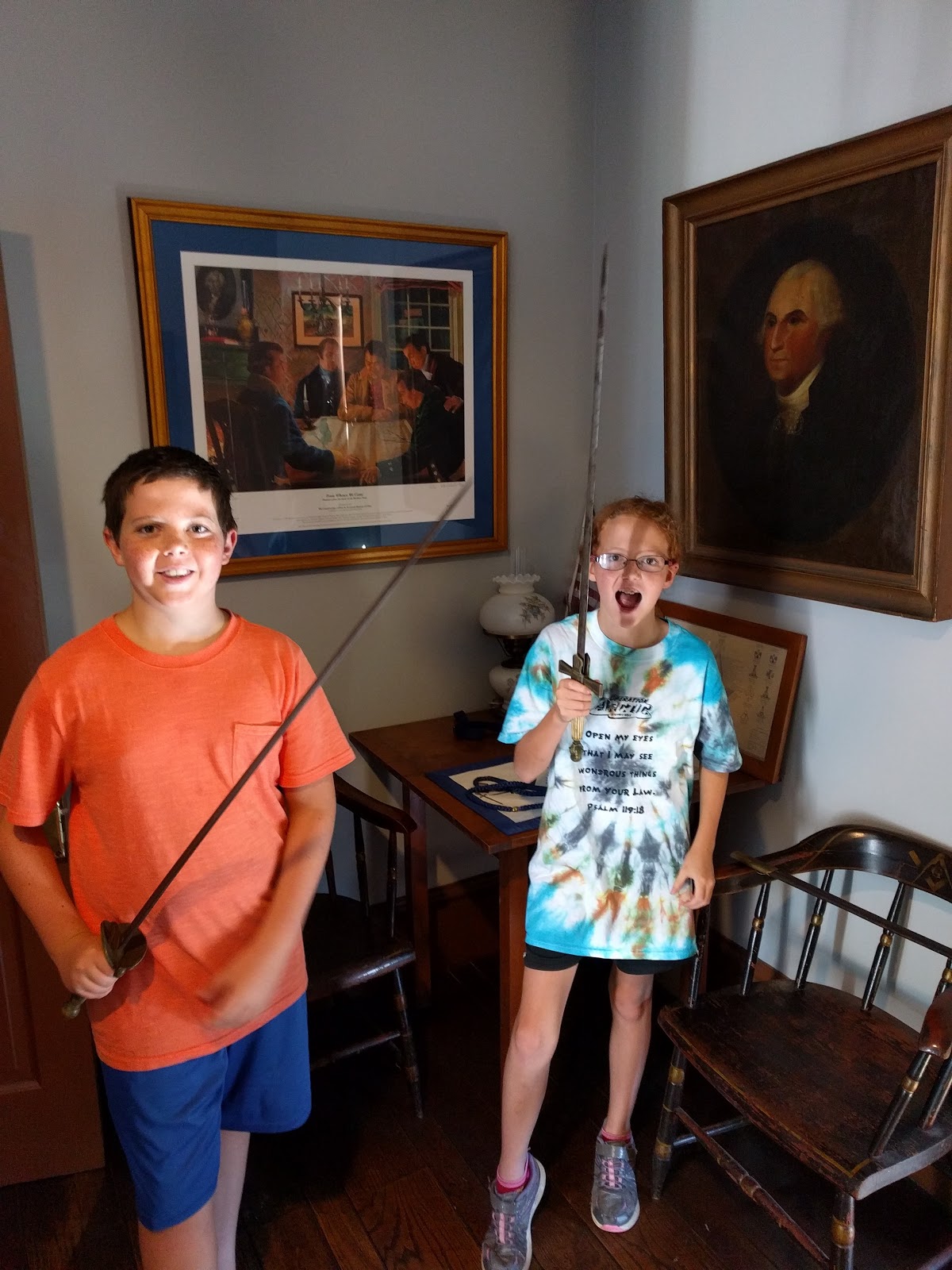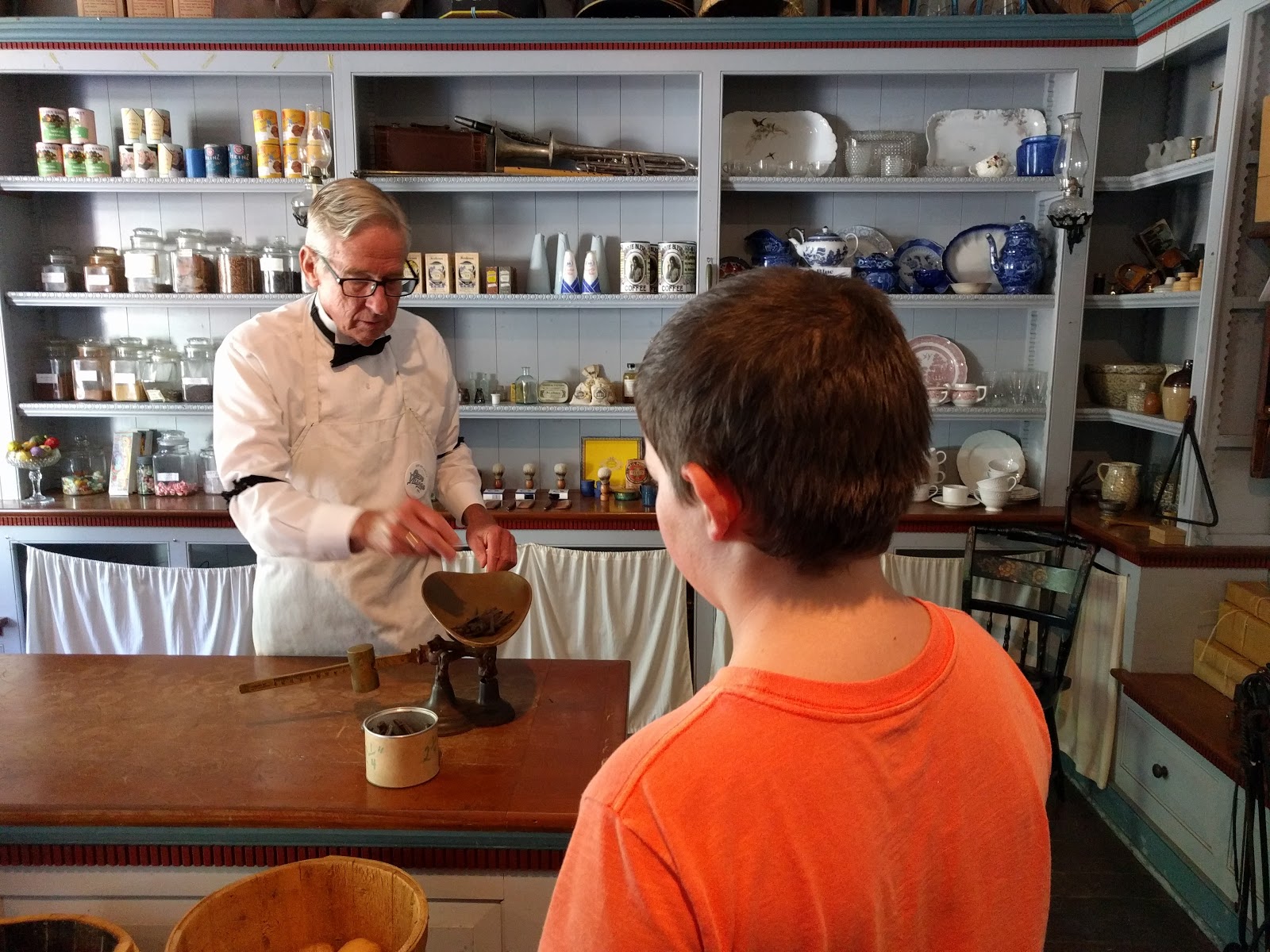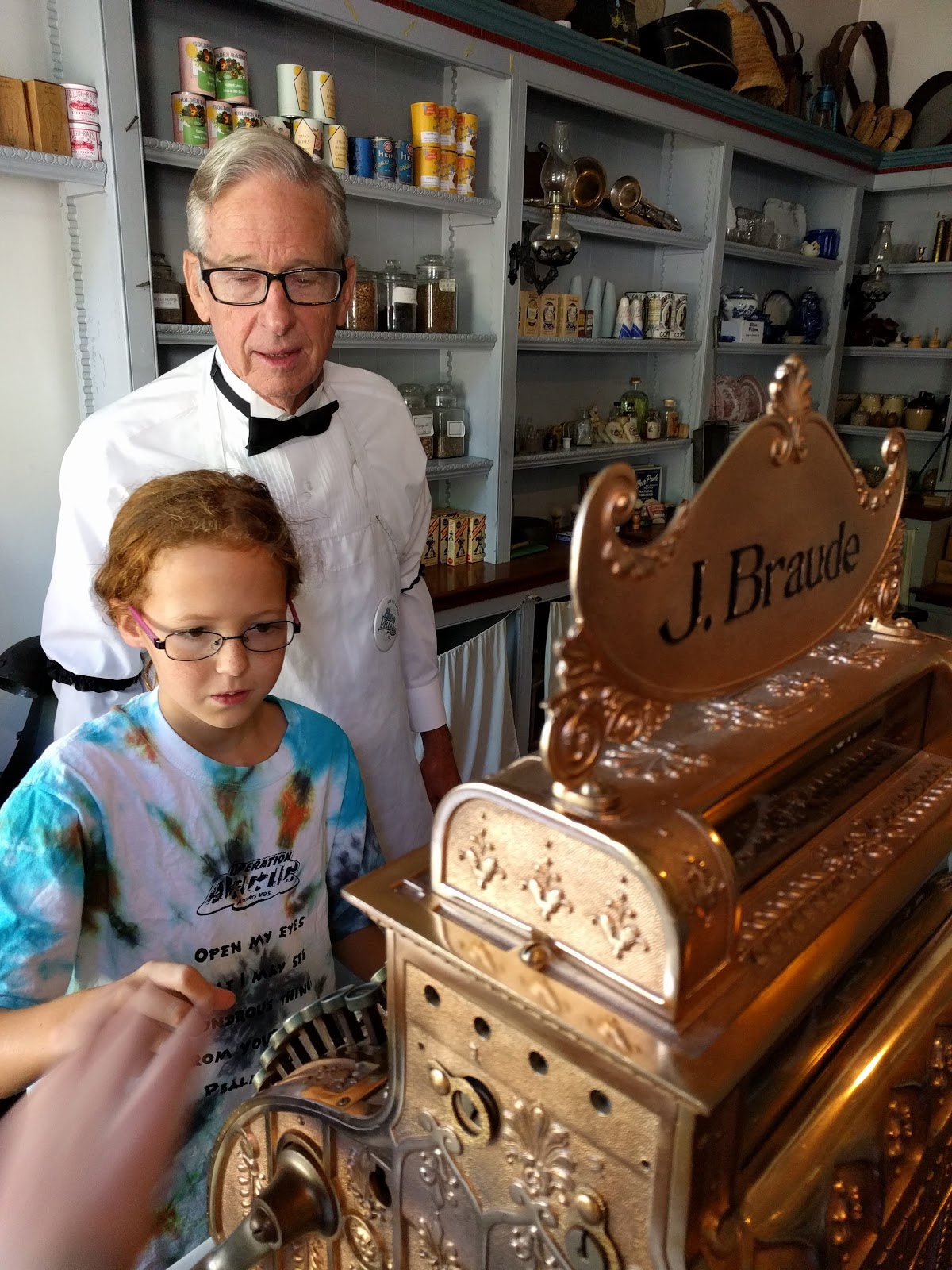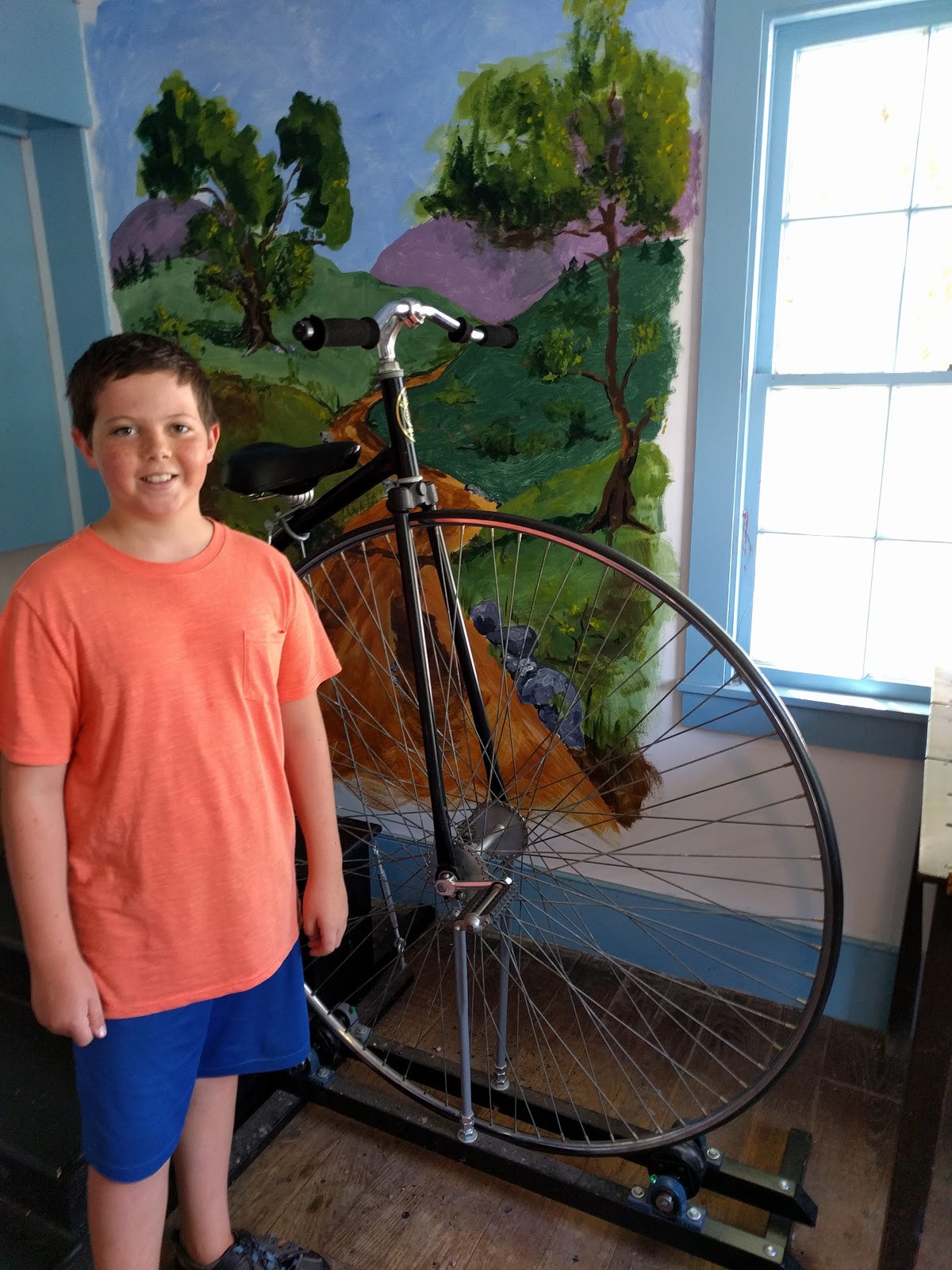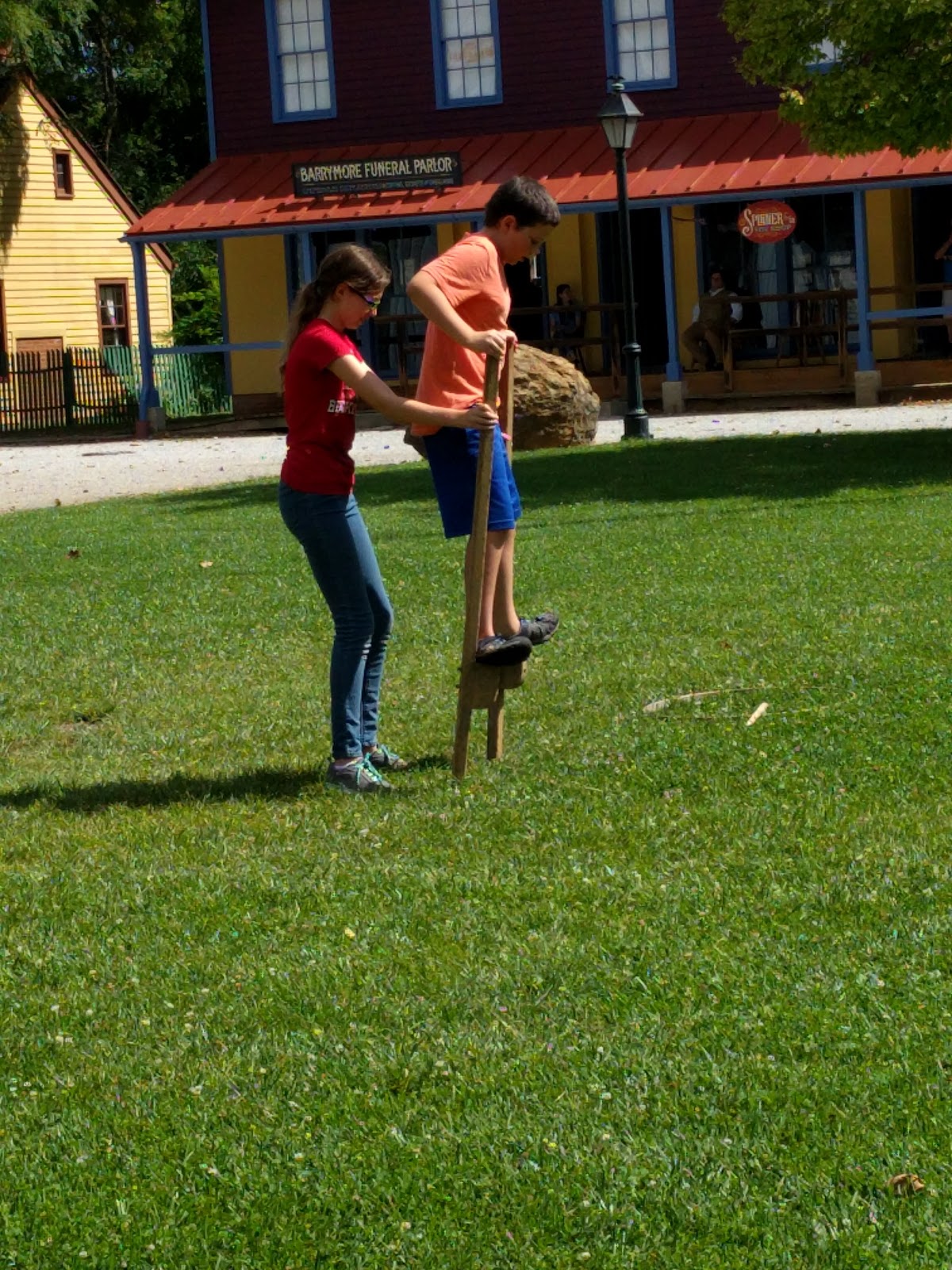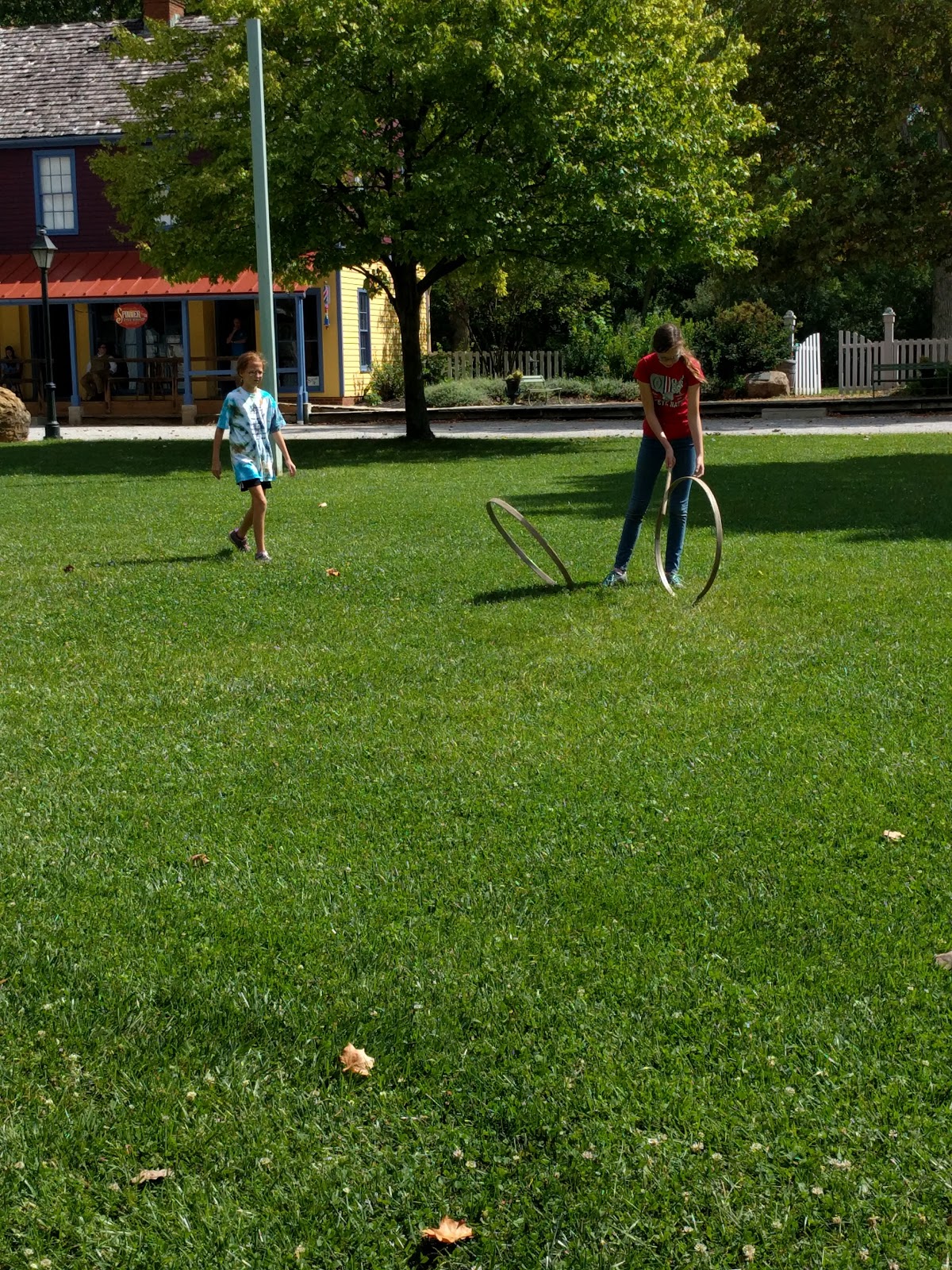 In the museum we saw historic military flags, gear, and weapons; household goods; and – surprisingly my favorite – the Natural History area. (which they called Natural History!!) We also saw a 1950s Lustron house which was crazy odd.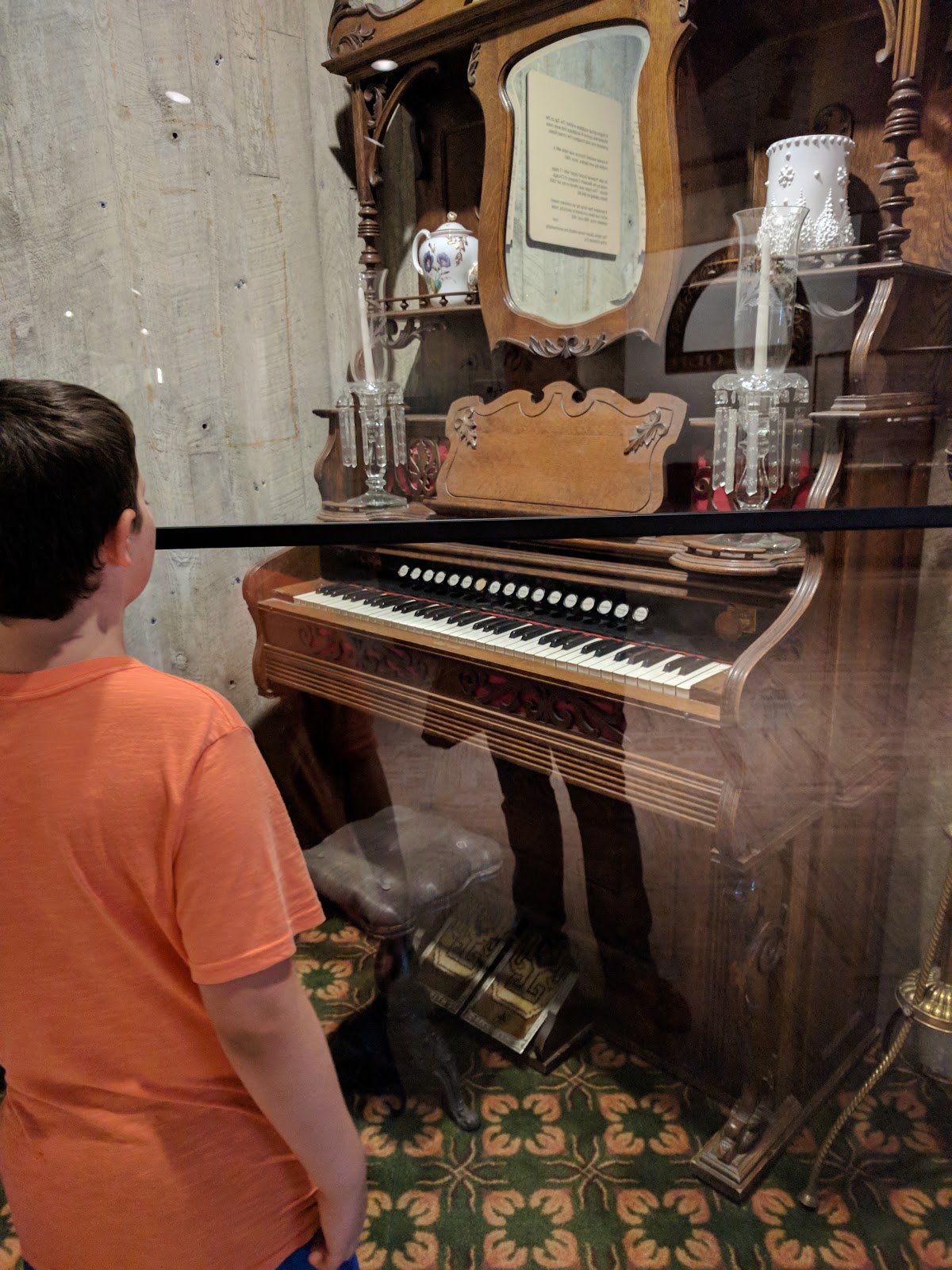 Of course he found an organ.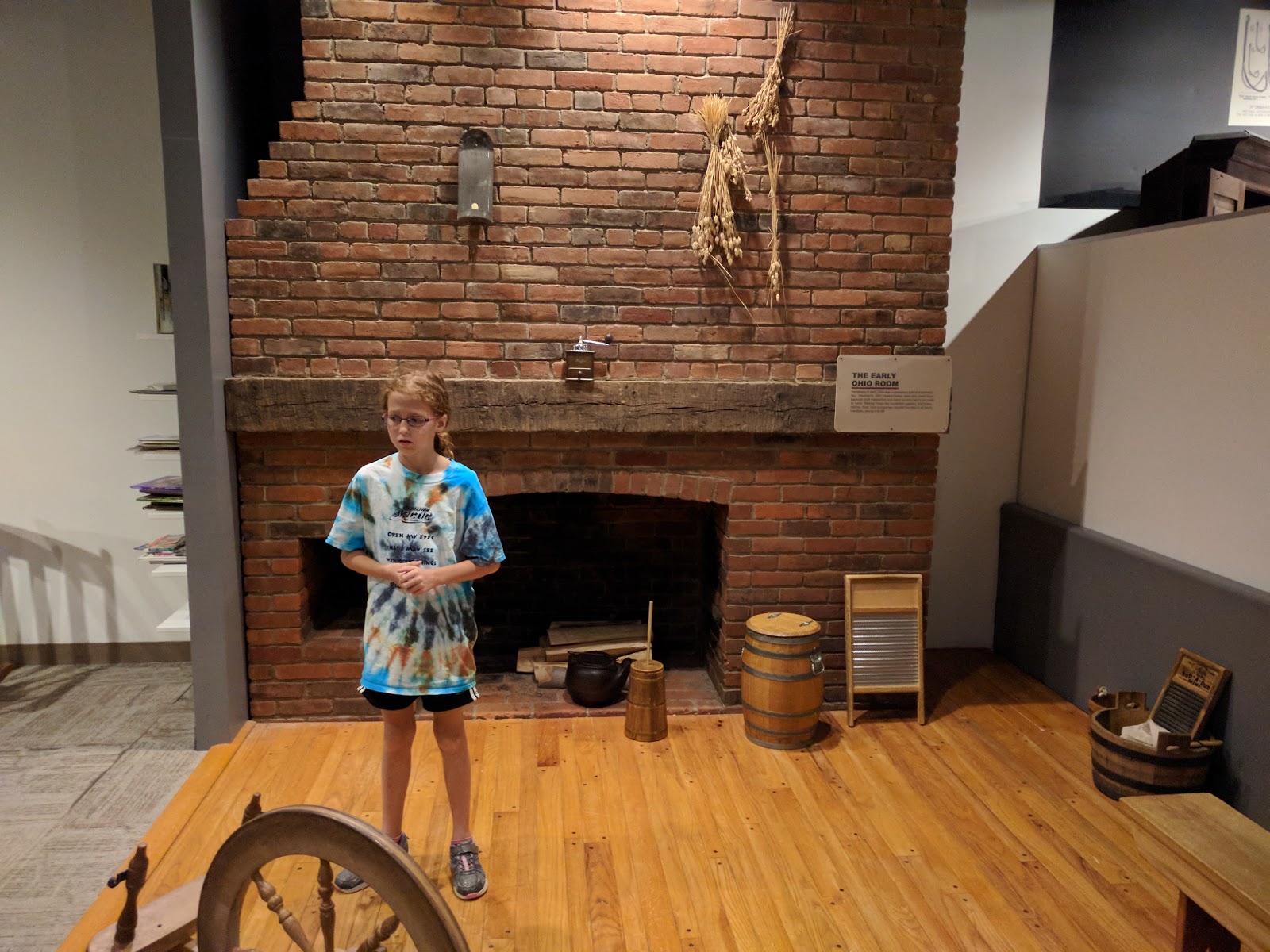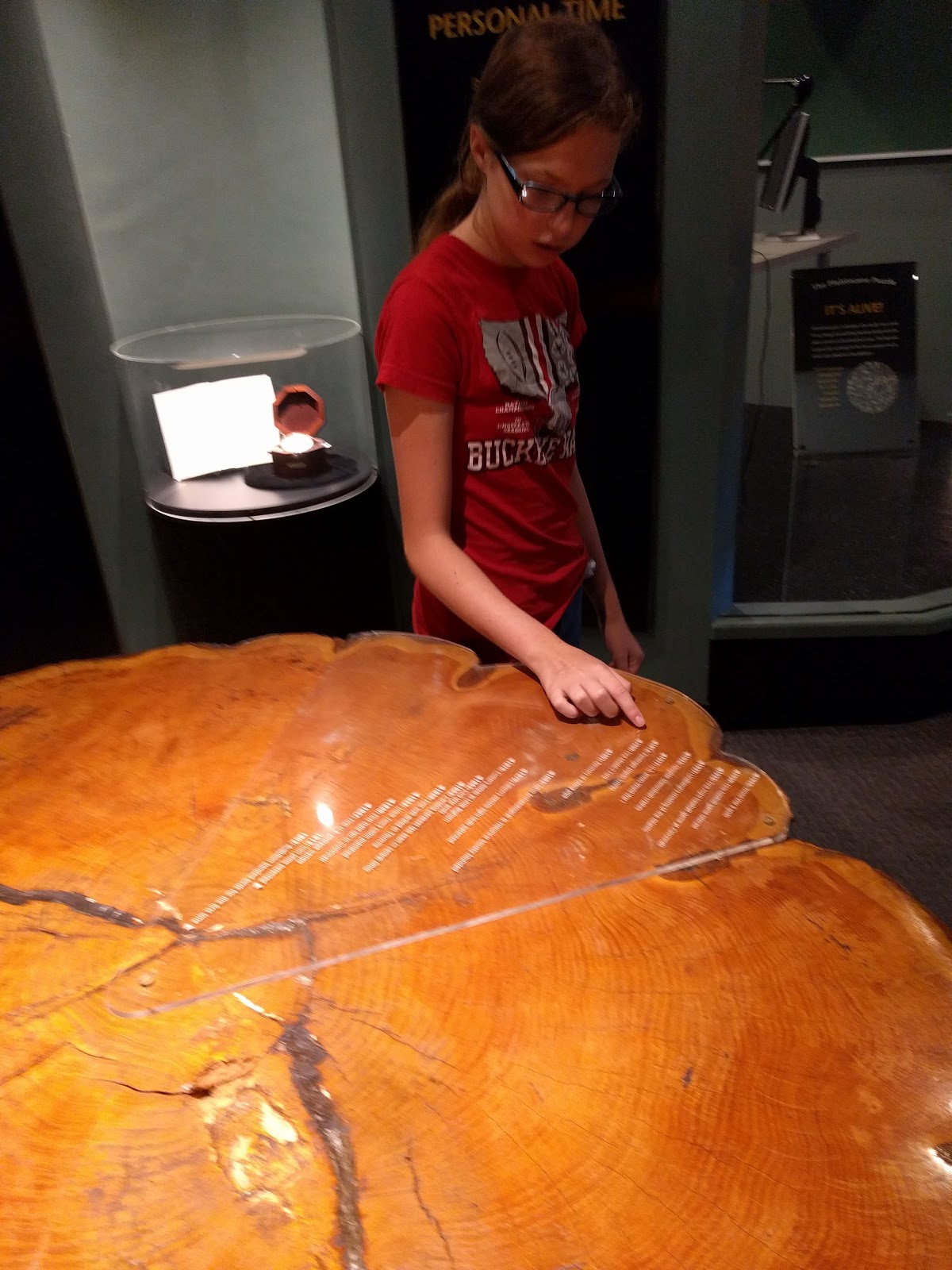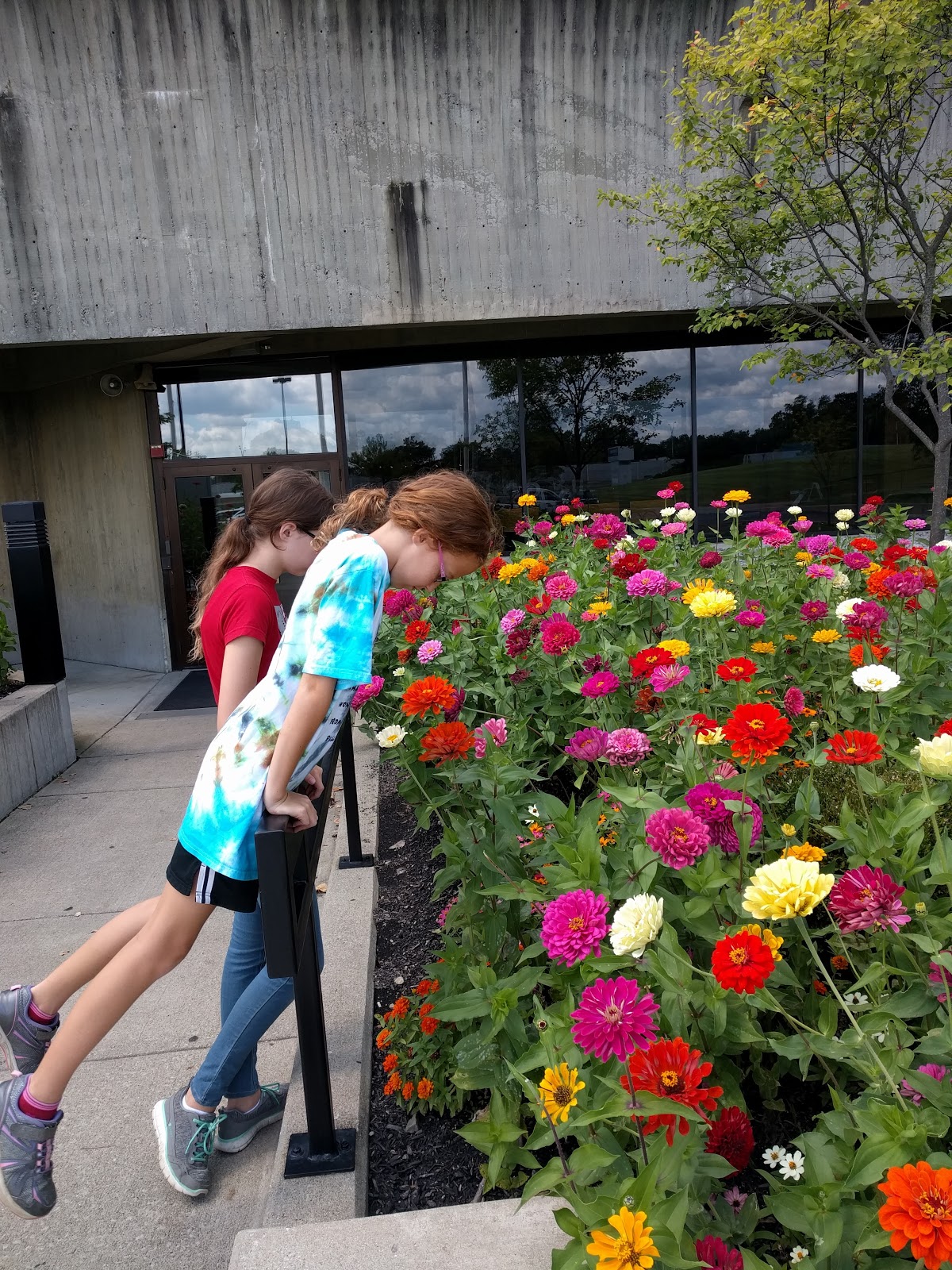 We hit the sporting goods store – N-boy needed cleats, socks, and shorts – and the grocery – I've been limping along without a plan still – on our way home. We started Harry Potter Book 6 at dinner.
Thursday was pretty good as school goes. We had a great Whatchamacallit. We're working on 'O Captain! My Captain!' for memory work after finishing 'The Road Not Taken.' Our hymn for August is 'Loved with an Everlasting Love' and we're memorizing Isaiah 9: 2-7. We worked on some Plutarch. I want to finish Publicola before our Art and More with Friends group starts up next month. Math, readings, Latin, Copywork, Geography rounded out the day. M-girl and N-boy both had soccer practice, too. We also had friends ask us to dog sit while they went on a trip, so that was excitement throughout the day and made it a little harder, but glad to help.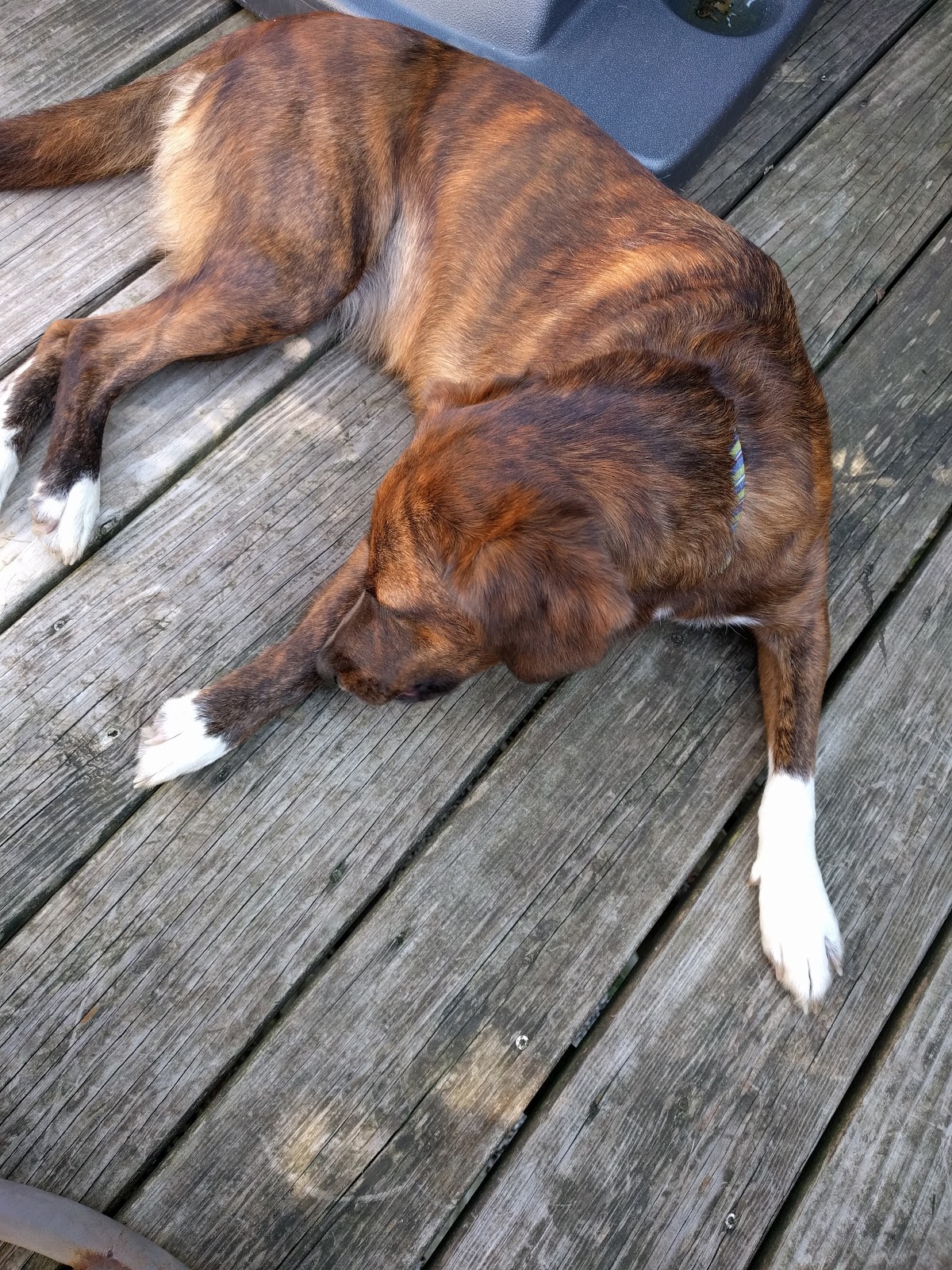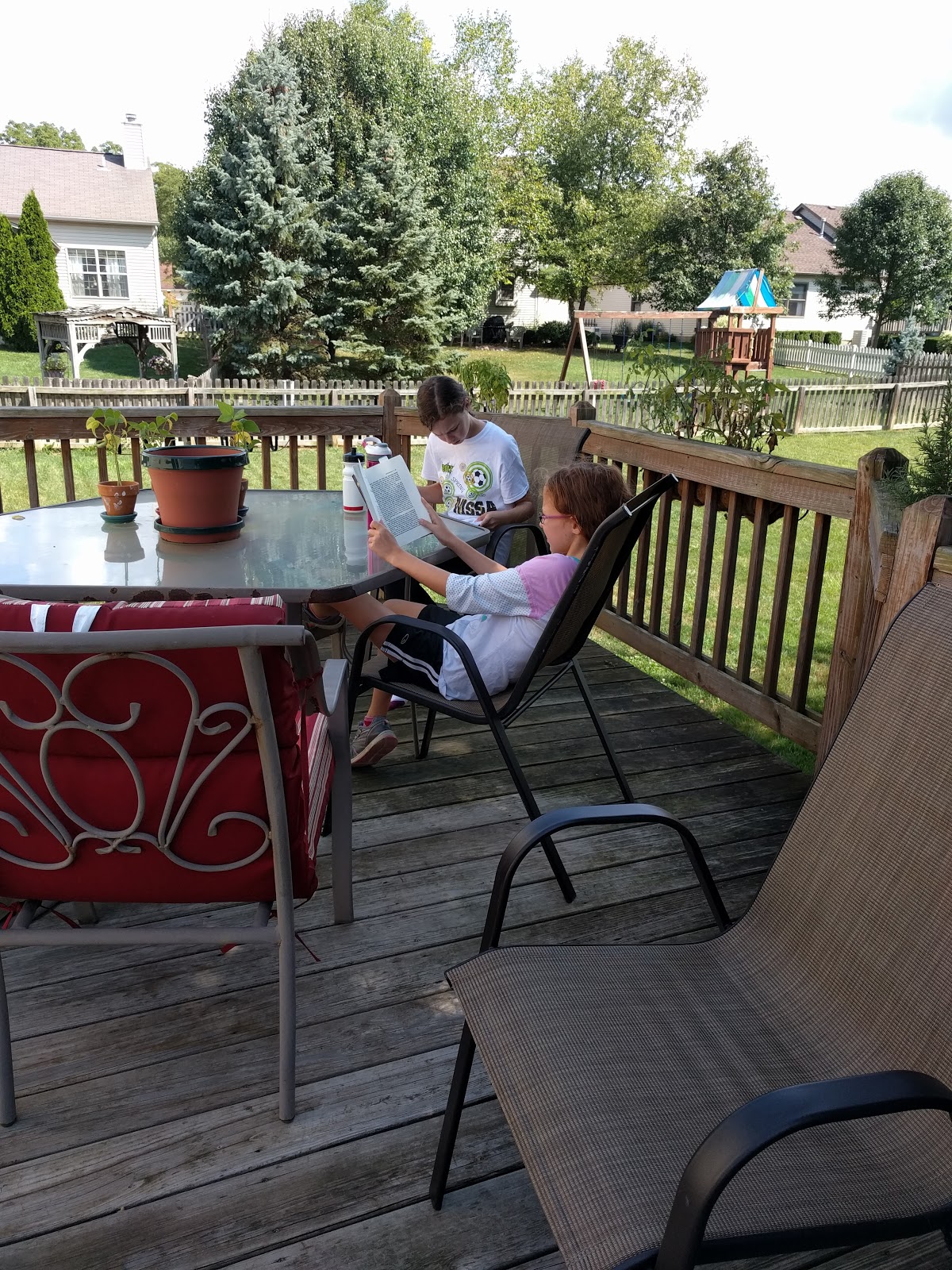 Today was hard again. It was late last night. The kids didn't get into bed until well after 9, so I let them sleep in. I got them up at 8:30 but the morning still went poorly. We did a Minimum Viable Whatchamacallit – Bible section, poetry reading, and 5 minute Free write. Readings and math and attitudes and all took forever and necessitated one text to Daddy "So and so needs you to do math with them tonight" which resulted in a call home and more focused attention to lessons. So that was a win. But everything led to arguments and took forever. Everyone walks from now on … and we may have no more sleeping in days during the week. Just sayin': routine is routine. Why do I always forget?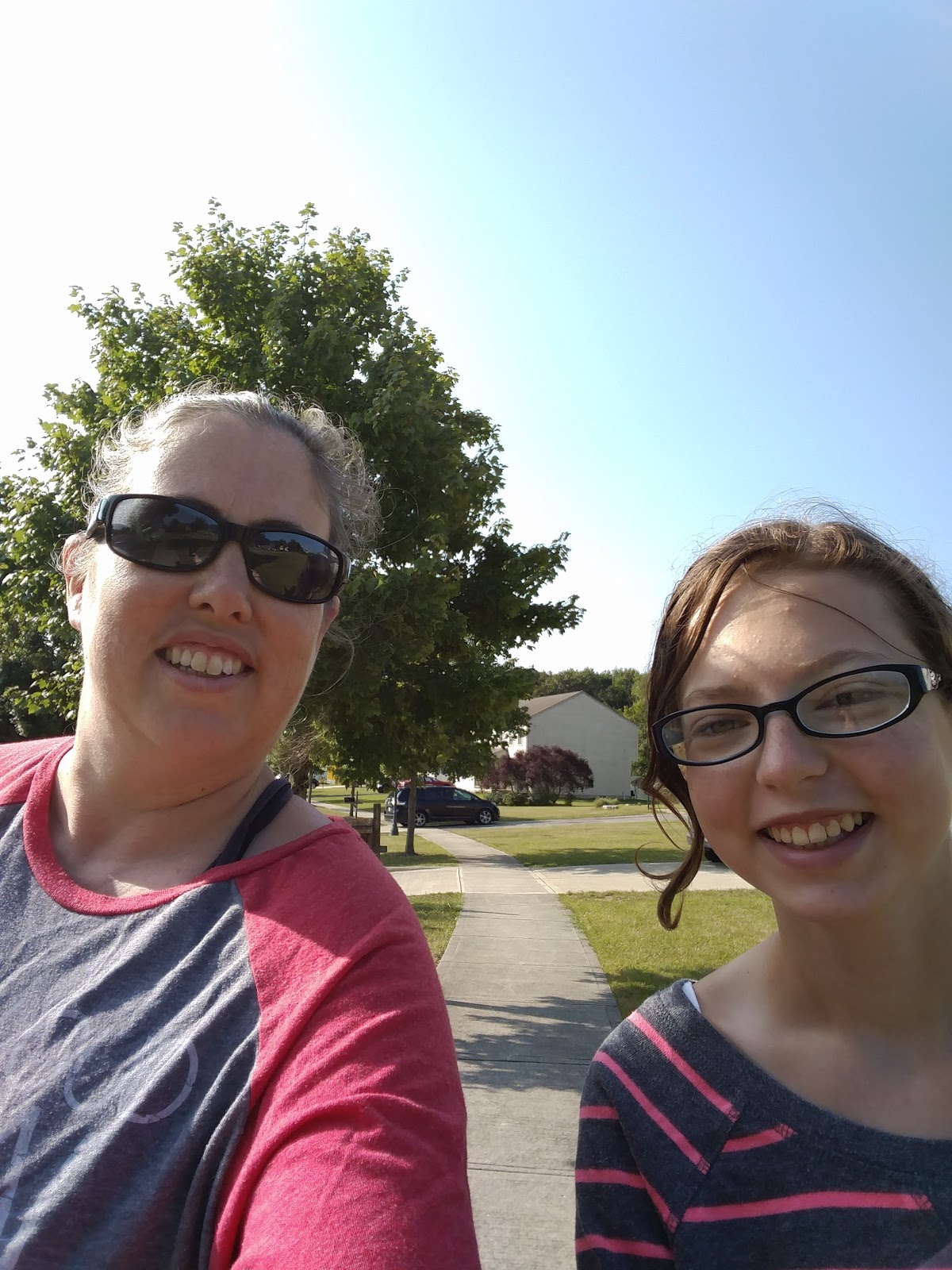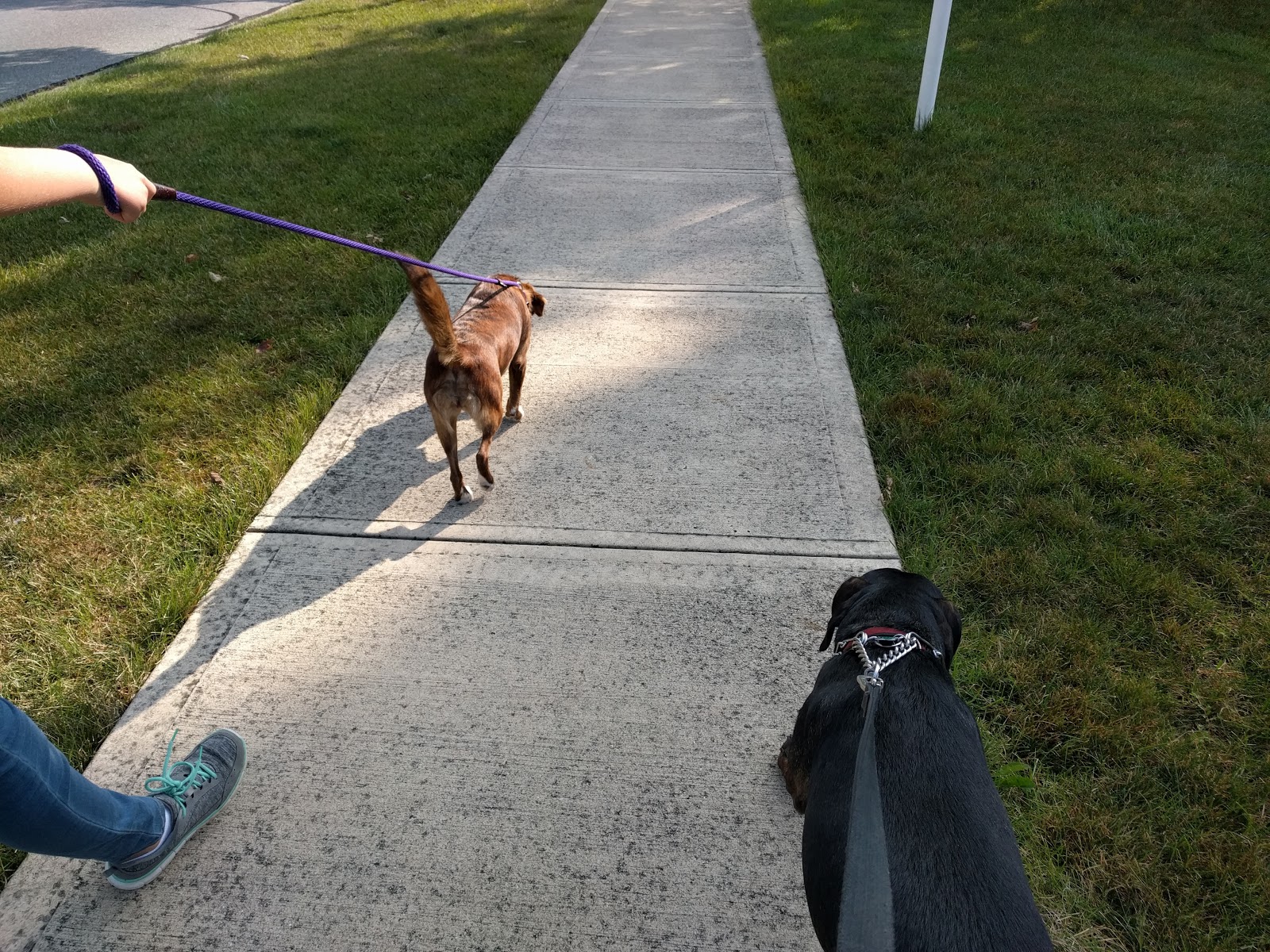 Anyway. That's been our week – some rough, some great. My personal preparation and routines need some help, too, which is easier to structure when everyone else is back to school. I'm excited about the prospect of two soccer free evenings per week this fall. It's the little things.