Our Weekly Amble for August 17-21, 2015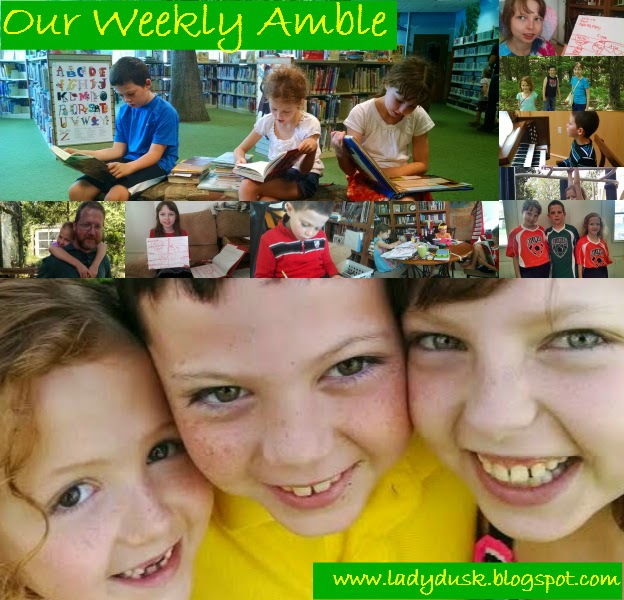 So, I did one of these posts about a month ago in July, then we went on vacation. We had a week of preparation, where we did some lessons, cleaned, and packed. We had the week of vacation itself, which was a wonderful time.
We came home and had a pre-planned reset week where we caught up the laundry (ugh) and cleaned children's bedrooms (double ugh) and worked on other house cleaning projects (like bathrooms – triple ugh). On Saturday we visited my in-laws and left N-boy with them for a few days. N-boy got home in time for piano lessons on Wednesday afternoon.
Monday, Tuesday, and Wednesday morning the girls and I finished the house cleaning (I finished all of the Homeschool Snapshots podcast, listened to the Your Morning Basket first episode, The Mason Jar second episode, and am almost caught up on Read Aloud Revival), painted nails, had a tea party, played games, visited with friends, and the girls painted … like art. They got it out, put newspaper on the table, painted, then cleaned it all up without any intervention on my part. Who knew?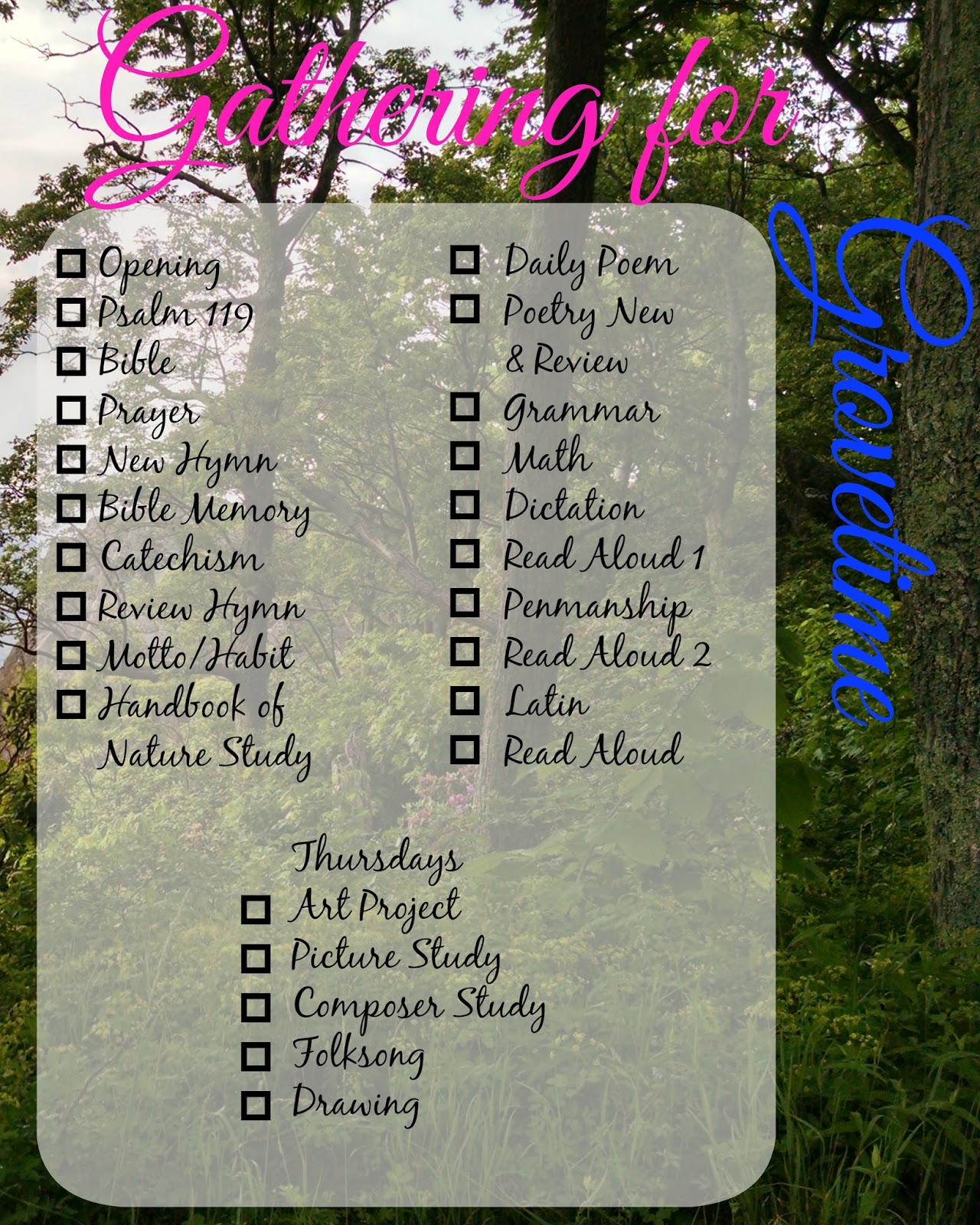 Thursday and Friday we did actual lessons. We did Circle Time both days. Our Circle Time has changed slightly this week because I was able to listen to Cindy Rollins both on the Your Morning Basket podcast and The Mason Jar podcast. We've done Circle Time for years and I slowed things down this year, took a lot of the repetition and redundancy out. All of us work on the same memory items. We only do two hymns a day. It's way better. I loved that Cindy said she did one scene of Shakespeare per day, so that is the big addition I made for our Circle Time. I also added, from Mystie's example, one section of Psalm 119 each morning right after our opening (Doxology or Gloria Patri).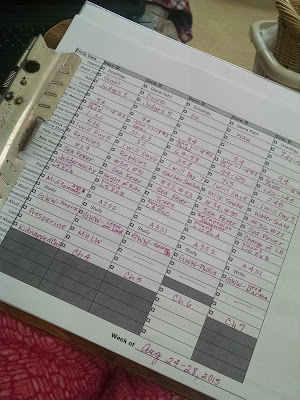 I made a pretty page for my kiddos so they could track where they were in Grovetime. I added Shakespeare to *my* list, but not theirs. Boo. It's still pretty though, and we do Shakespeare after Math, please just pretend it is there, that's what we will do.
I have the official page, though. This is complete and ready for next week. My chart isn't nearly as pretty. I can do Grovetime without the big full chart if I follow the "do the next thing, move the post-it tab" principle, but I do love seeing the whole week at a glance like this.
So, our schedule at the beginning of the month made it so we didn't do Grovetime until this week. Some of our content changed:
We added Psalm 119 reading letter by letter.
We finished Psalm 24 and began John 1:1-18.
We started 'How Firm a Foundation' as our newest hymn. Happily it is only three verses and we know parts of it pretty well, so we can learn it in August.
We finished the Weather section in the Handbook of Nature Study, so will begin the Reptiles section next week.
We finished Robinson Crusoe on our drive (thank you librivox!), so we started Kidnapped by Robert Louis Stevenson. I'm glad I'm reading it aloud, I was surprised how poetic it is. We found some alliteration and rhyming just as I was reading.

I did some commonplacing from Shakespeare and Kidnapped.

And, of course, we restarted A Midsummer Night's Dream, I read the first two scenes from the Complete Works of William Shakespeare set of books Jason inherited from his grandparents. They were really dusty on my shelf.
Next week we should finish (Lord willing) my
eBook
(it's free, did you download it yet?) and I think we're going to try to use Laying Down the Rails. I need to study up! The 'Index Card a Day' is still a hit!
Everyone did two math lessons this week. M-girl is still in the beginning of Year 4 and so it has all been review. It's going well. N-boy struggled with his attitude which made his math harder, but he reviewed order of operations and area and perimeter. R-girl is learning her x9 multiplication tables.
We reviewed a little bit of our Latin chants, did some penmanship, finished the reading from Week 6 of term 2 that hadn't been completed (I always forget that second page with Stories from the History of Rome and the Geography reading). We've been doing a section from George Washington's World every day because that's what fell behind when I was sick, we're almost back on track with it, and read about the start of the Seven Year's War today. We've been enjoying Emily Dickinson's poetry and are almost finished memorizing Sea Fever by John Masefield.
I've always struggled with starting lessons mid-week. It just makes sense to me to start on Monday, but
Pam Barnhill
, in a
Periscope
broadcast this summer, said to plan to restart school midweek because that eases everyone back in. So even though we've only really been off for 2.5 weeks, I took her advice and started yesterday. I'm glad I did, those first couple of days back to routine can be doozies, and today was. Hopefully, we got a lot of that out of our system and can hit the ground running on Monday.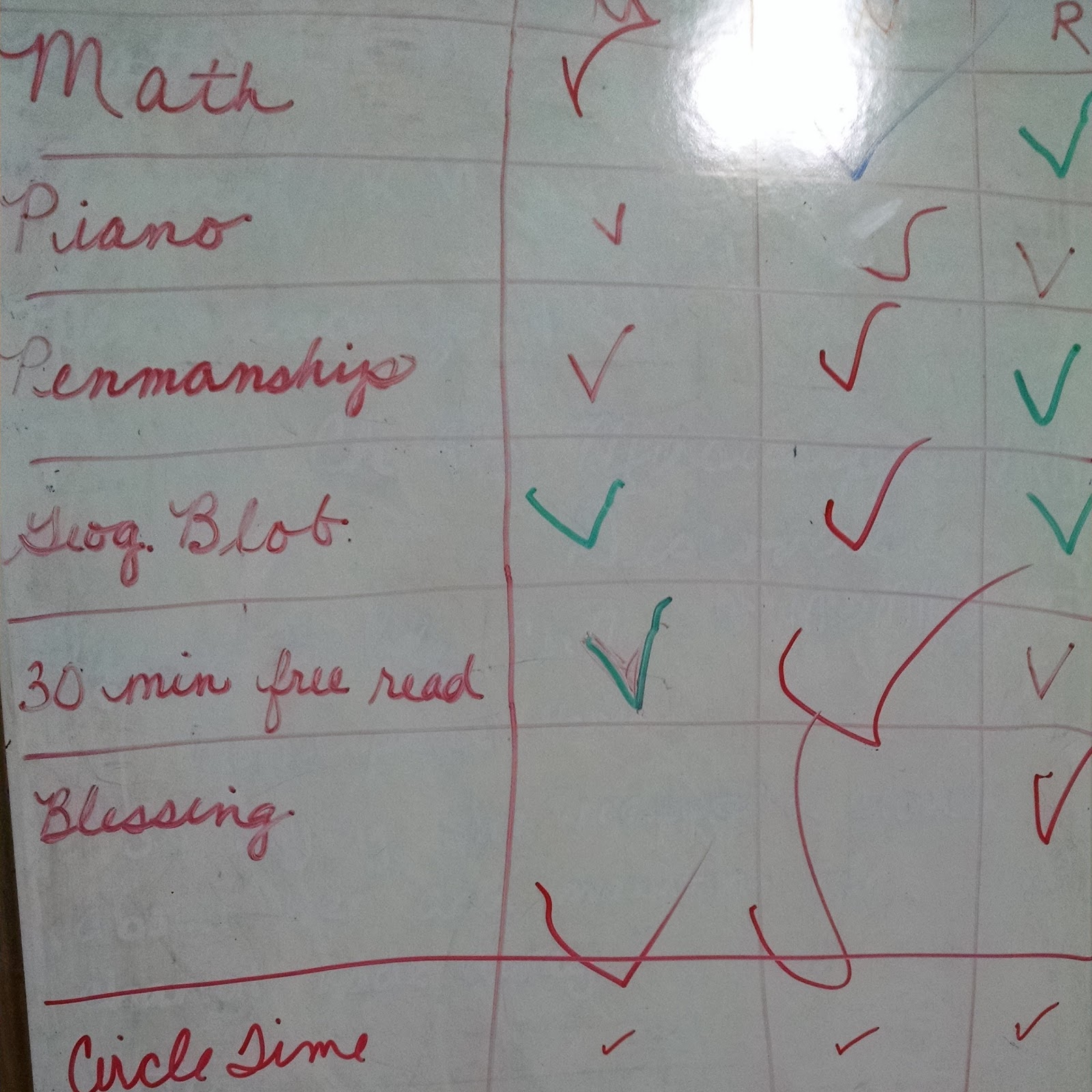 And, just so you know we live in the real world and I don't always have pretty charts, this was today's school. When everything is checked, you're done.
Mommy wasn't done with school, though,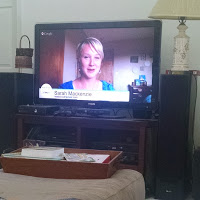 I watched Sarah Mackenzie and Adam Andrews on the Read Aloud Revival membership site via chromecast while I caught up on the ironing this afternoon. A little Mother Culture, teacher training.