Homeschool Mom & Reader Toolkit
Back in the fall, Brandy shared her Toolbox, her mobile command center. In that post she asked if we had one and what it was like.
I immediately loved the idea as I'd been using a canvas bookbag, but I wanted something different than a shower caddy.
At Anna's, I saw that she has a pretty basket (maybe originally sewing?) for her kindle and books and pens and bullet journal, so I started to look for something like that.
I tried a basket that I had on hand, but really desired something that had more dividers and pocket.
Finally, I found the right search terms on Amazon: craft tote. Then, I found a pretty craft tote I thought would work. (Full disclosure, I originally purchased the medium size, but it was too small for all my things!)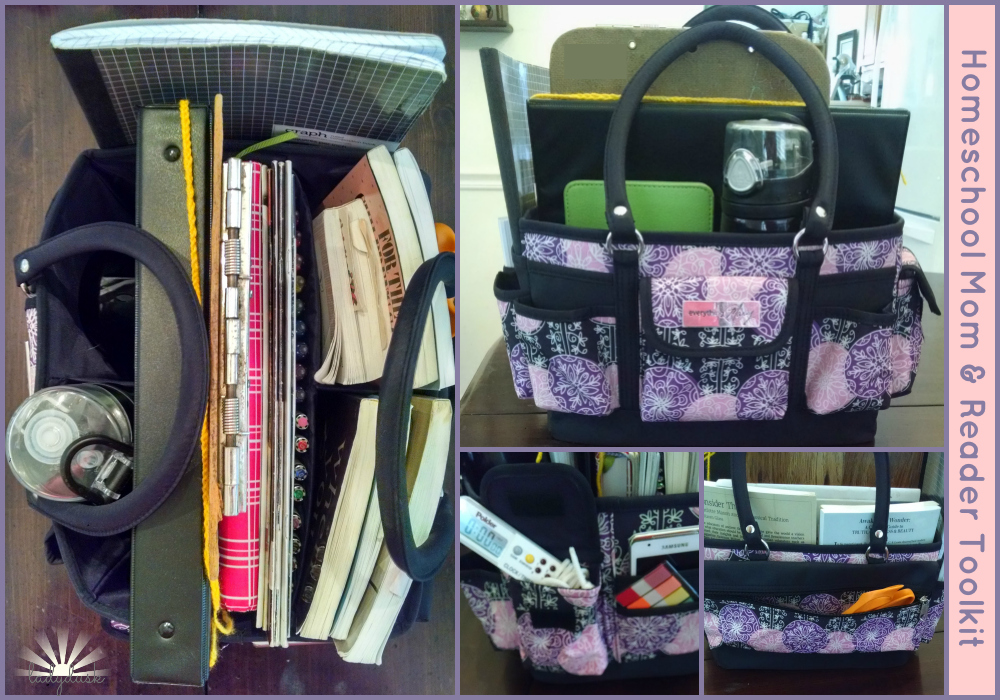 I've tried to give many views of all the pockets.
There are pockets on all four outsides. Two are velcro clasped, one side is a big pocket that is zippered.
In one of the front pockets, I have ear buds and the other two are empty!
One one side is a velcroed pouch, where I keep my Polder timer (I wrote about it yesterday). It has two "flush" pockets. In the front one, I put a packet of Post-it Flags (great for marking commonplace quotes). The other holds my mp3 player for Circle Time hymns.
The big, open pockets on the other side are perfect for holding my phone and a pack of index cards – useful for everything. Behind them is a thin pocket where, with care, my bullet journal fits for easy access.
The back has a single zipper pocket where I put some scissors and pencils and a black Sharpie marker.
The inside is divided into five sections. The front and back has a divider down the middle as you can see in the far left picture above. I can fit my tablet and speakers in one pocket and my water bottle in the other. I don't have to use it for that, though. I have books in the back two pockets. This area holds perhaps too many books.
The very center does not have a divider, so it is the perfect size for my eCourse notebook, Commonplace Book, and CiRCE and Memoria Press magalogs. It also has elastic for holding a lot of pens – and highlighters – in place.
I know Brandy has washi tape in hers, but I haven't caught the washi tape love yet, so I haven't any in mine.
Anyway, I've been using this for a week now, and some things have migrated around a little, but I'm really enjoying the ease and the functionality of this tote. I'm intrigued by book darts and think they might be a lovely addition.
Do you readers have other tools in your toolbox? Do you have one? Like Brandy, I'd love to see!