Attend!: Putting Myself in the Right Place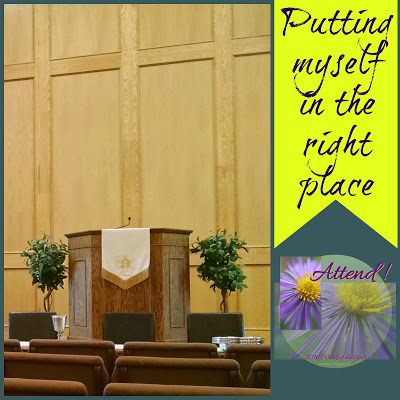 Sometimes contrasts help us see the most clearly.
I missed a lot of church services this winter. I missed more than any since I let them talk me into not attending worship for the 6 weeks after M-girl was born. I had this cough and I felt awful. I missed several evening services.
Worst of all, I missed all of Easter Sunday – both worship services – due to sickness.
Now, I'm not saying I should have attended those services; it's questionable whether I attended too many services as it was.
But the contrast is what I want to think about. The contrast of my normal practice – Attend! worship twice on the Lord's Day – versus missing worship services was stark. I very much missed those services I missed.
A couple of weeks ago, I had the opportunity to Attend! the Great Homeschool Convention in Cincinnati. I've gone for years and years. I love going with friends and family and meeting up with other friends. I learn so much.
So far this year, I've written about being company on life's pathways. I've written about using our eyes and ears to gather information and thinking about it.
In order for both of those to happen, we have to put ourselves in the right places.
Not being in attendance for some worship services means I was not grasping hold of the means of grace that were available to me. Not being in worship means I lost out on the exhortation of God's Word proclaimed and the encouragement toward good works that fellowship fosters. Not being in worship services means that I missed out on singing and praising God (through which He changes me).
It matters what we Attend! with our physical presence. Especially if we're going to Attend!
When I Attend! the homeschool convention, I put myself in the right place to learn. If I show up – without the intention of Attend! – I waste my time and that of the speakers, vendors, promoters, and organizers. If I don't look and listen and process ideas, if I am a lone ranger with no interaction with others, if I just show up without interactions, do I truly Attend!? I don't think so.
I have to put myself in the right place, yes. That's what this whole post is about.
Being in the right place is only the first step. Accompanying the right people as well as looking at and listening to and apprehending the right ideas are also wrapped up in what it means to Attend!
To Attend! I have to put myself in the right place in order to

walk with others and notice their needs

and to

observe and contemplate ideas

.