Wednesdays with Words: Crowd of Wonders
We have continued to enjoy Robinson Crusoe together as a family. Well, most of us. One of the girls keeps asking when it will get exciting, so we try to explain it to her.
I've been thinking about wonder in relationship to learning and loving and living a God fearing life recently and couldn't pass up this passage where Robinson considers his circumstances and what all God has done for him.
With these reflections I worked my mind up, not only to resignation to the will of God in the present disposition of my circumstances, but even to a sincere thankfulness for my condition, and that I, who was yet a living man, ought not to complain seeing I had not the due punishment of my sins; that I enjoyed so many mercies which I had no reason to have expected in that place; that I ought never more to repine at my condition, but to rejoyce (sic), and to give daily thanks for that daily bread which nothing but a croud (sic) of wonders could have brought. That I ought to consider I had been fed even by miracle, even as great as that of feeding Elijah by ravens, nay, by a long series of miracles; and that I could hardly have named a place in the unhabitable part of the world where I could have been cast more to my advantage; a place where as I had no society, which was my affliction on one hand, so I found no ravenous beast, no furious wolves or tygers to threaten my life, no venomous creatures or poisonous, which I might feed on to my hurt, no [other people] to murther and devour me. (pg 142-143, spelling theirs, italics mine)
I love that phrasing, "a crowd of wonders." I certainly have a crowd of wonders in my life, can I open my eyes to see them?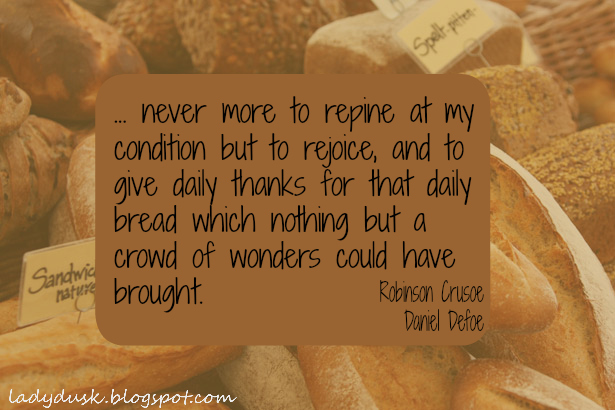 ');