The Simple Woman's Daybook for Monday, April 4, 2016
For Today… Square Root Day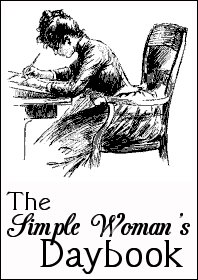 Outside my window….
there is snow falling from the sky. In April. Ugh.
I am thinking… about the homeschool convention and all that I learned there.
I am thankful… for time spent with friends and family learning about my vocation.
I am wearing… black sweatpants and Buckeye hoodie. Did I mention it's snowing?
I am creating… a couple of blog posts in my head … about convention and about Attend!
I am going… to take turns around the house to get to my step goal for the day … if I succeed, that is.
I am wondering… how the rest of the week will go.
I am reading… Awakenng Wonder … or, rather, I'm not which is why it is still showing up here.
I am hoping… my Memoria Press order comes soon. We're going to need new grammar books sooner rather than later.
I am learning… more and more what it means to embody, seek, and aspire to truth, goodness, and beauty.
In my kitchen… the dishwasher needs to be emptied and refilled. I probably will get some steps doing that.
In my garden… did I mention it's snowing?
In the homeschool… the children played with Greek Code Cracker and perused Hungry Planet and Material World which I brought home from Cincinnati.
A favorite quote for today…


A peek into one of my days…
One of my favorite things… Great Homeschool Convention! I had so much fun this weekend spending time with many of you and learning.
From the board room… I generally throw Easter ideas onto my April board, but since Easter was early this year they won't be as applicable. There are others ideas, though, too!
Post Script… I almost never recommend things for which to pay here, but one amazing opportunity I had this weekend was because I've joined the Read-Aloud Revival Membership site. I don't get anything for telling you that membership has priviledges. We had a meetup, at which I met several blog readers and enjoyed fellowship with likeminded reader-alouders. I've taken amazing classes like Focus and Align which were only for members and very helpful for our homeschool. The forums are picking up steam as we go. I'm glad I joined.
Linking up with The Simple Woman.