Our Weekly Amble for April 25-29, 2016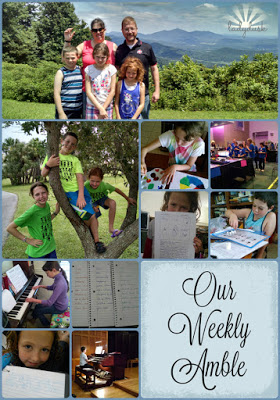 It's been a while since I've written about Our Weekly Amble. While it's one of my favorite posts to write, sometimes when I get to the weekend things are moving too fast and I'm too tired to get it written.
We had a good week this week. Back to Circle Time – which I've decided to call Whatchamacallit because it's a catchall name for a catchall time of day – after a couple of weeks in a slump, we accomplished it the four days I expected to.
Because we had been in a slump – and the advice I had received included, "It's all in your attitude mama. … The problem is you (me). … wake up and drive that train or you are just going to miserable and frustrated." Or, get off your duff, Dawn, and just do it, already. Spot on. Exactly what I needed to hear.
The children almost have all of Romans 8 memorized; and since it will stay in our loop, it's likely close enough. We've also learned 'This is My Father's World' sufficiently in April to move on.
The Beauty Loop is working really well. We didn't do it on Monday, but on Tuesday we read an act of 'The Taming of the Shrew.' Our Index Card characters help follow the story better.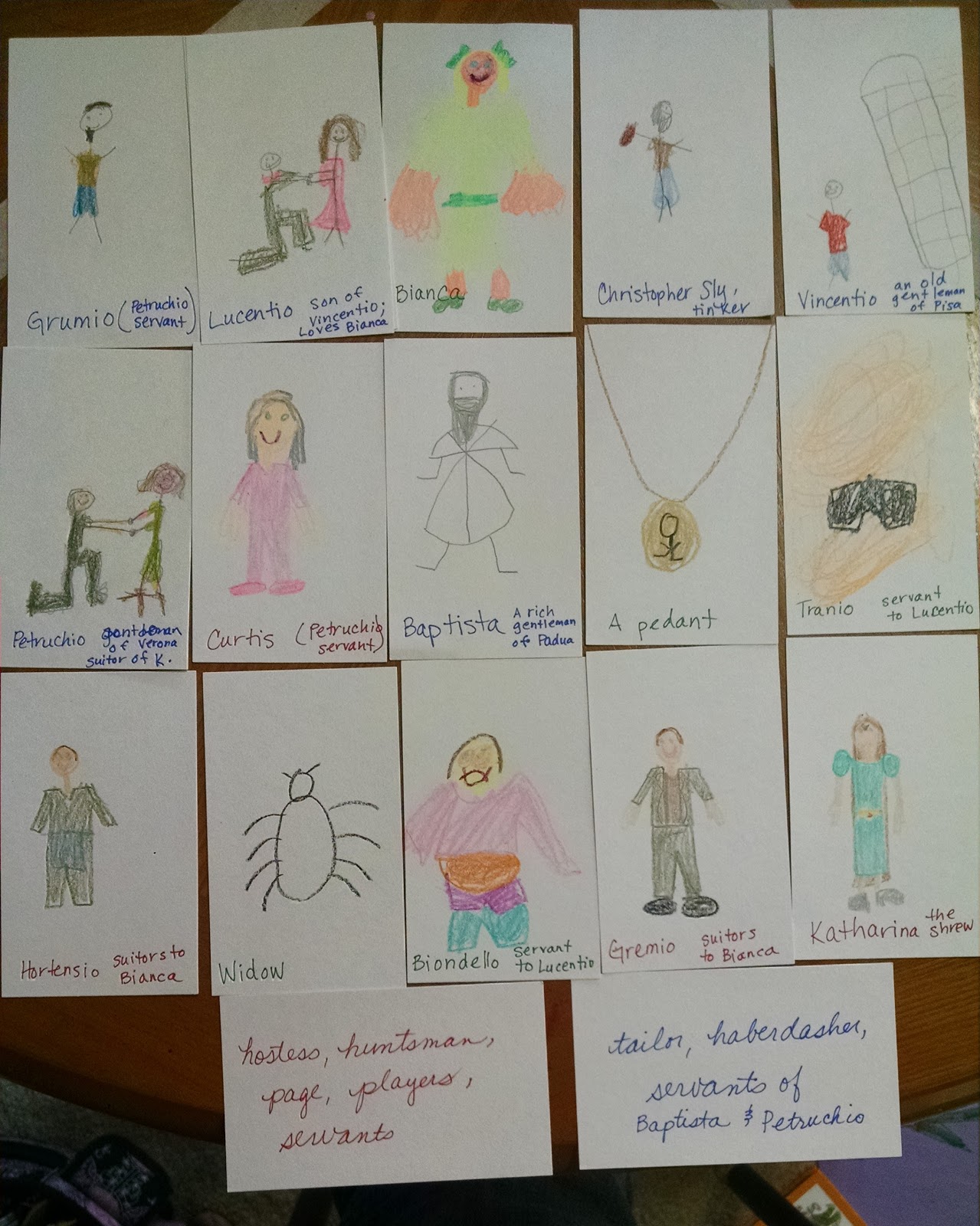 Wednesday, we did a drawing lesson:
We have a new "fun read" for the end of Whatchamacallit: The Good Master by Kate Seredy. We all enjoyed her A Tree for Peter. While the tone and story of The Good Master seem more light-hearted, the excellent writing style continues. I'm sure we'll all enjoy it.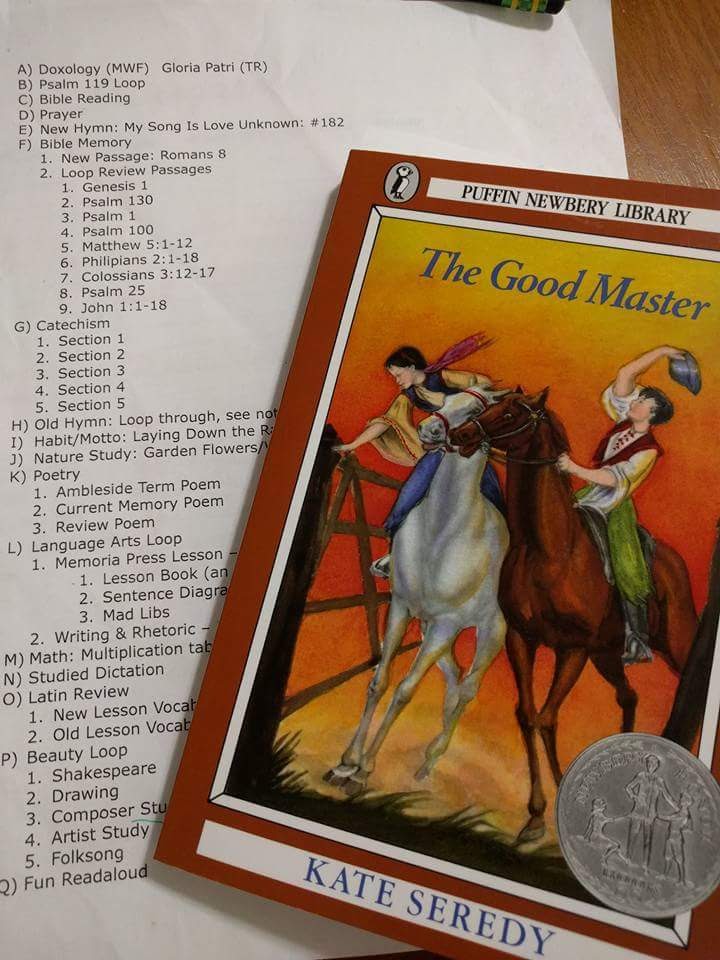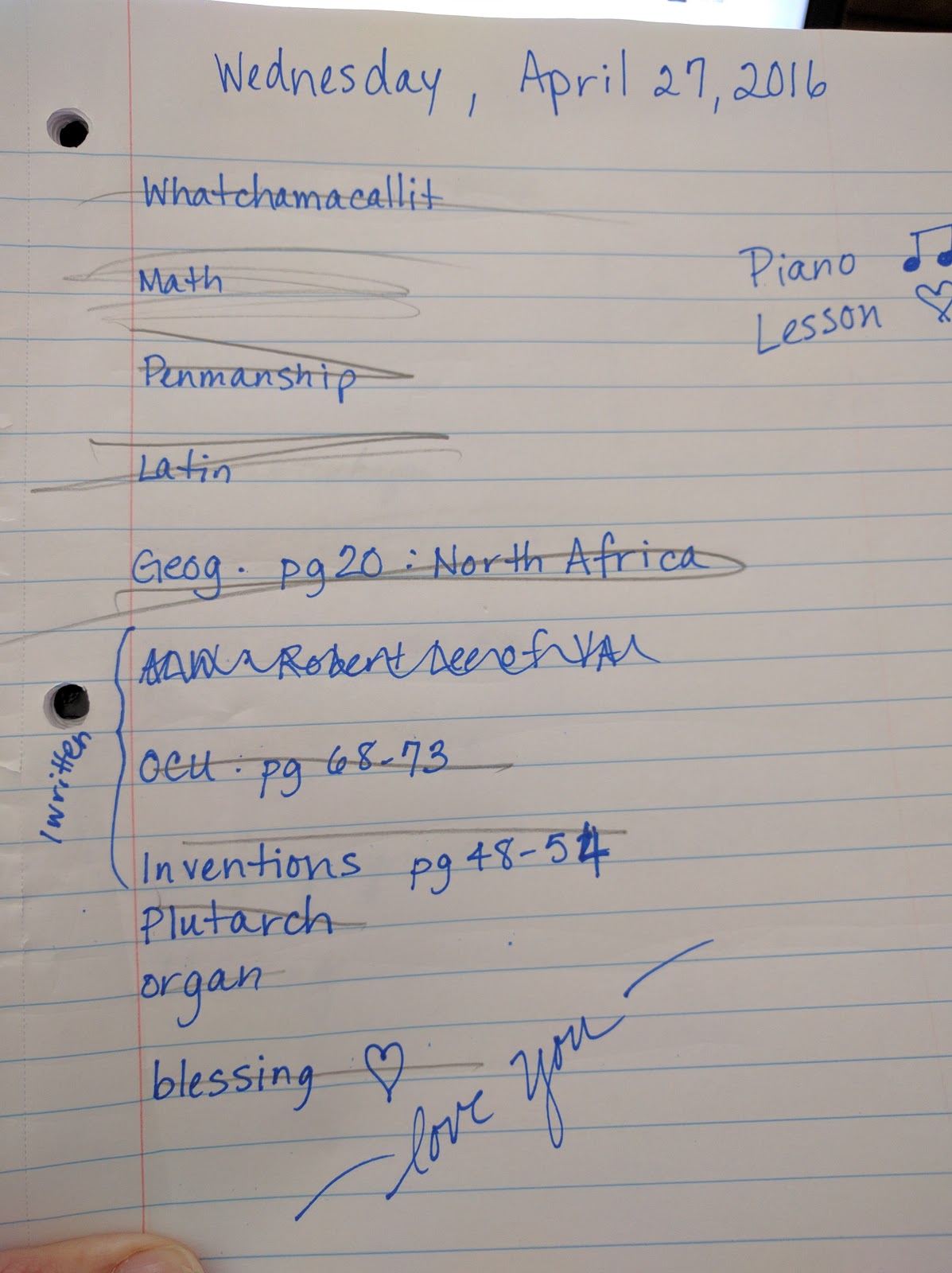 Pam asked, on the Homeschool Snapshots podcast interview, what book our homeschool was like and I replied with Swiss Family Robinson because my children sometimes do things singly, sometimes together with either just two or all three of them. I write out their assignments in spiral notebooks (to the right is a sample day from this week, a relatively light day at that).
Anyway, our day probably looks a little chaotic with children, or groups of children wandering from this room to that to complete their assignments. There aren't any smooth transitions. I may be working with one child on math when another is ready to narrate, so I might listen to the narration while the first is doing a problem set on their workbook page. There's generally some piano going on in the background.
On Thursday, R-girl did a narration about her geography reading while M-girl played piano and N-boy was (in theory) reading an assignment, but was really "video bombing" with his voice. Things like that can be frustrating, but we learn to move forward and accomplish the work that needs to be done.
Everyone did math this week. M-girl has been killing it at fractions; all that cooking and piano have paid off. N-boy is working on estimation, which he hates, but is doing fine with it. R-girl finished the first section of Y3 math – which has a lot of review – and got to do Khan Academy math on Thursday. Always a treat.
We finished a big review section in Latin that included a lot of translation work and sentence labeling. The sentence labeling crossed over into our Grammar lessons and sentence diagramming. I love those connections! We really need to practice our chants better. Time to put the CD back in the van and practice whenever we go anywhere!
We read, this week, about New York City and Washington D.C. in The Book of Marvels. The children also read about Abraham Lincoln's family moving from Kentucky to Indiana in Abe Lincoln's World.
We had several soccer games and practices to attend as well as our regularly scheduled organ and piano lessons. Monday and Tuesday evenings we enjoyed taking the dogs for a walk as a family. Good exercise and good company. Glad the weather is beginning to cooperate.
On Friday, we had the opportunity to participate in TeenPact for our state. It's extra fun because our cousins (and their teachers – my MIL and SIL) come too. It just so happened, that yesterday was the anniversary of the day that President Lincoln's funeral cortege came through Columbus and he was laid on view in the rotunda of the Ohio Statehouse. This was reenacted yesterday.
But TeenPact itself was a lot of fun! We had the opportunity to go through the statehouse, pray for our elected officials, and learn about what they do. The children were all to bring a bill to be put before the children's legislature and worked through them first in "committee" and then before the entire "house" (of children), learning some of Parliamentary Procedure as they went. It was a long and successful day.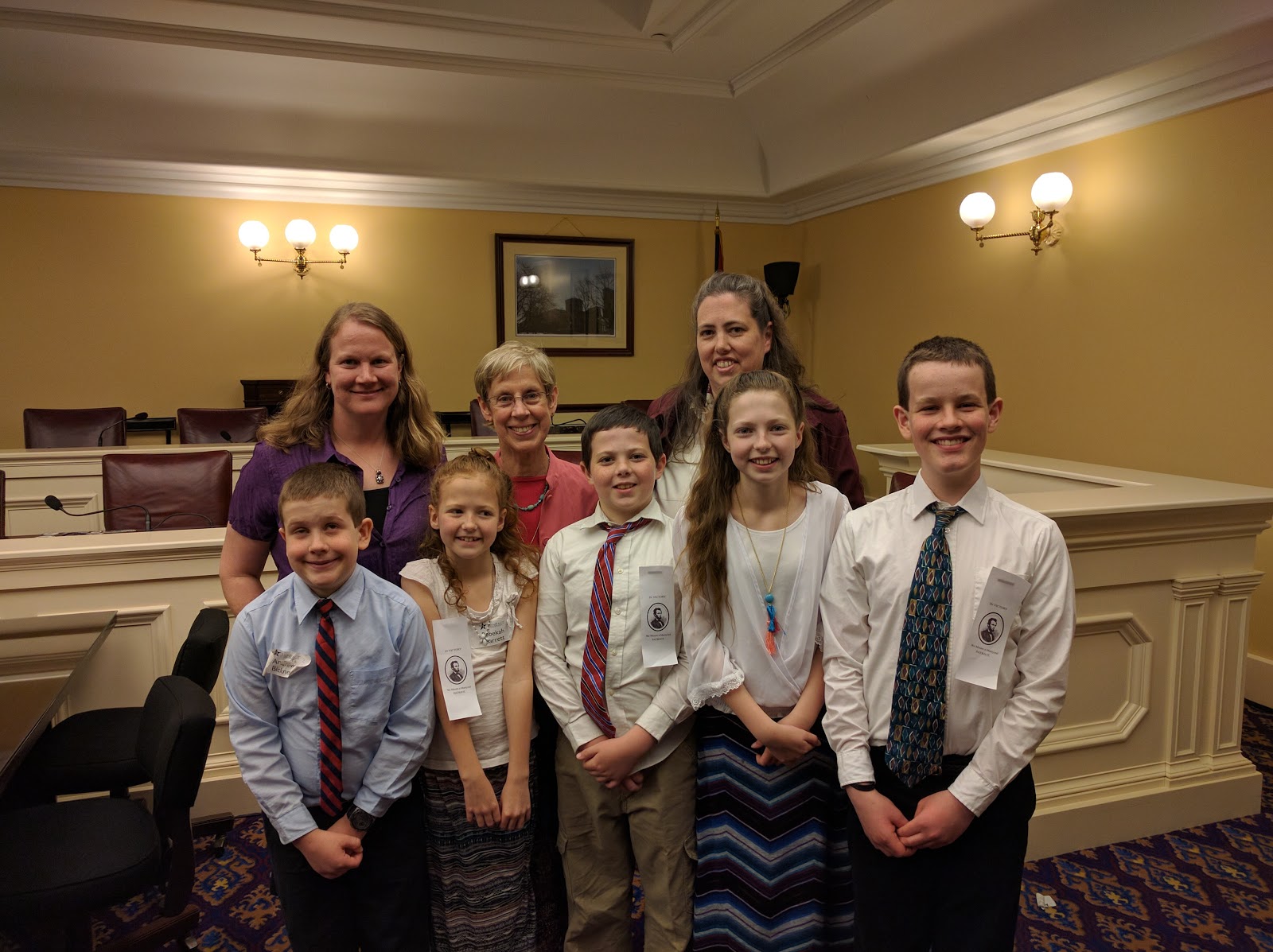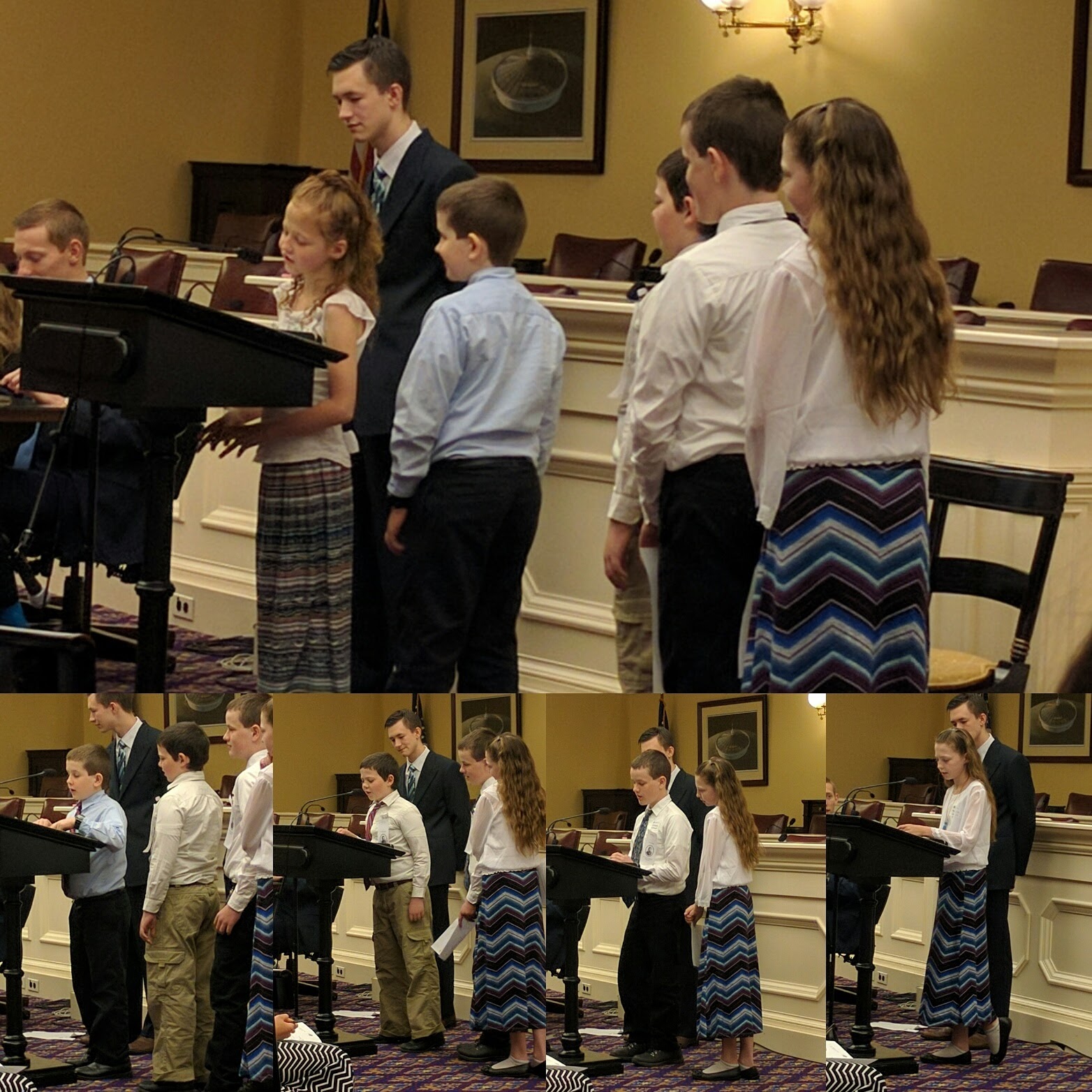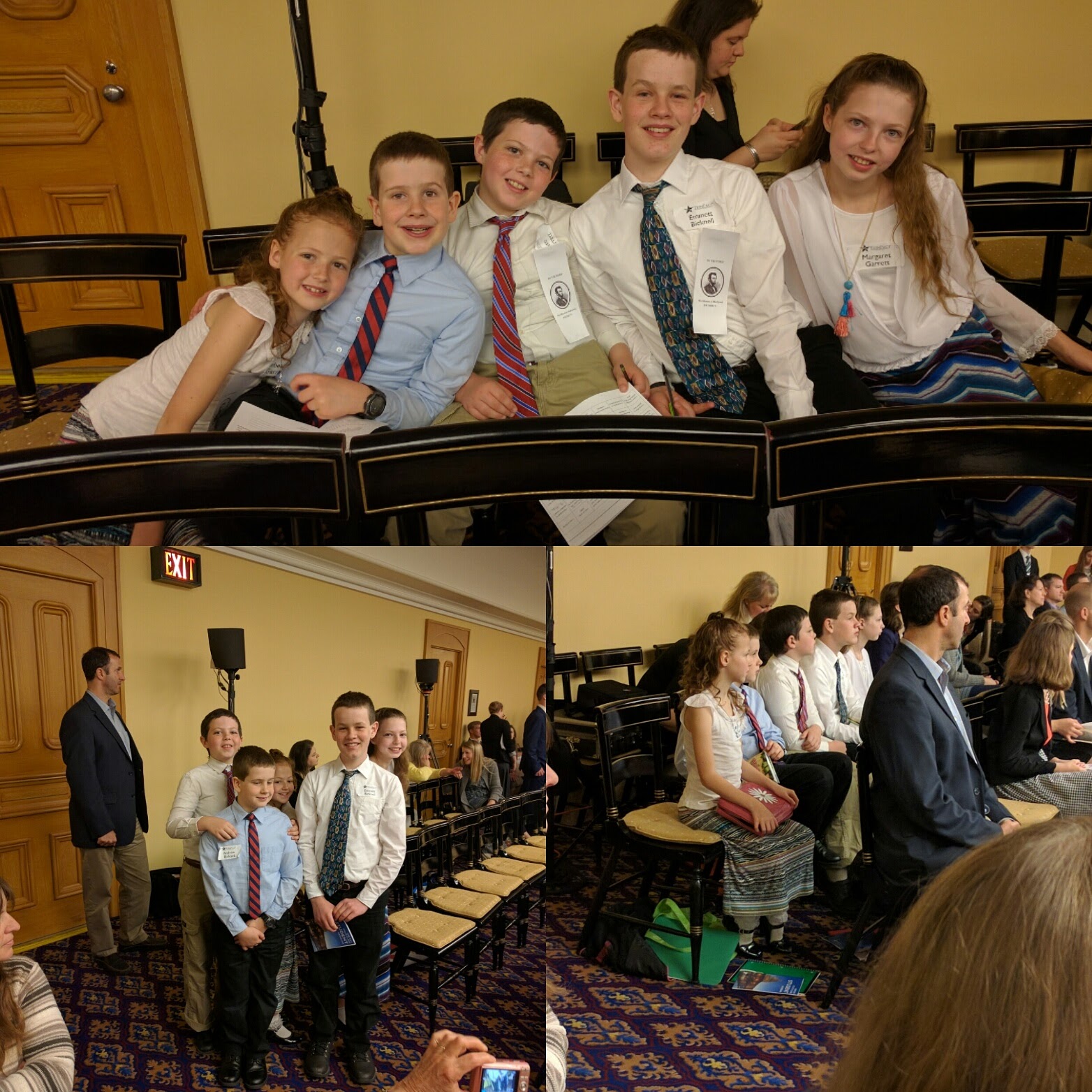 Overall, an excellent week. It felt good to be back in the groove.